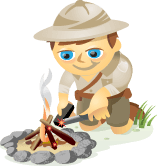 Do you use Twitter to sell products?
Are you looking for useful Twitter tools to help you sell?
In this article I'll share eight Twitter tools that help you analyze data, gain insights and boost sales.
The result: you'll improve your marketing campaigns and keep your customers coming back for more.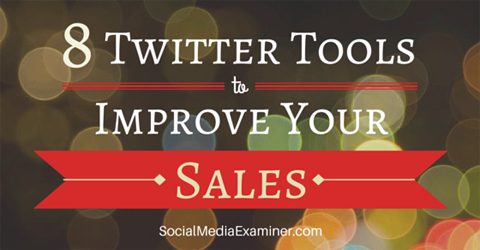 Listen to this article:
Where to subscribe: Apple Podcast | Google Podcasts | Spotify | RSS
#1: Create Twitter Coupons
Everyone loves a deal!
To launch exclusive deals via Twitter, use social coupon platform TwtQpon. While apps like Groupon and Living Social simply create online coupons, TwtQpon offers a fantastic opportunity to boost sales of your products on social networks.
With TwtQpon, you can create three types of online coupons on Twitter: percentage online, money discount online and free product in-store.
Here's how TwtQpon works:
Design a TwtQpon for your ecommerce store and launch it.
The coupon appears in the Twitter feed of your followers and alerts them for the items you are selling. (You can also share the TwtQpon on other social networks.)
The "Tweet to Claim It" link on the coupon asks users to tweet a link to the coupon you created.
The coupon code gets unlocked and users are redirected to the product page on your ecommerce site. TwtQpons are redeemable both online (via a code) and offline (via print).
Customers enter the discount code and make the transaction.

Plus:
Online retailers are able to export a list of users who've claimed their coupons in real time.
White-label services are available for an additional fee for those who want to host the coupon on their domain with no mention of TwtQpon.
TwtQpon is an excellent tool that helps online retailers close sales while enhancing their social media marketing reach via Twitter and other social networks.
#2: Target Local Customers
Targeted advertising is the heart and soul of every marketing campaign.
SocialBro, an outstanding community management and analysis tool, saves you money by geo-targeting Twitter ads. Just like Facebook graph search, you can reach targeted customers within specific locations where you sell your products. This tool also allows you to set filters for advanced searches and helps you find active individuals locally in your niche.
Here's how to target local customers on Twitter with SocialBro.
Your Guide to the Future of Business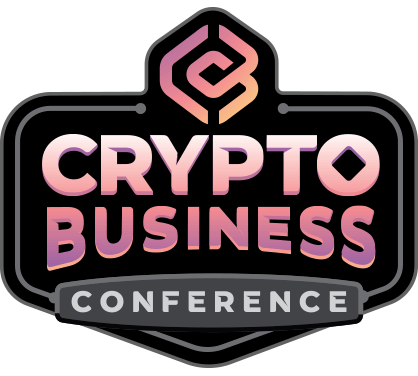 The Web3 renaissance opens up new opportunities for entrepreneurs, creators, and marketers who are ready to embrace the changes. But, who can you trust?

Introducing the Crypto Business Conference; a premium event for anyone who wants to learn how to put Web3 to work for their business.

Join us in sunny San Diego, California, for the first-ever crypto conference for business pioneers…not finance and tech nerds. You'll get actionable, business-building ideas from proven innovators—without all the techie jargon.
CLAIM YOUR SEAT
First, sign up for SocialBro using your main Twitter account. (SocialBro is free for those with fewer than 5,000 contacts.) Then authorize the SocialBro app to access it.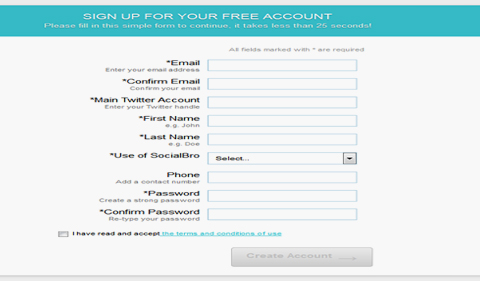 Now, go to the top navigation bar in your Dashboard.
Select the Search icon to explore bios with names and locations, as well as set advanced filters.
To do a geo-targeted search, go to the Target icon drop-down (this is available with paid accounts).
Audience exploration is just one of SocialBro's offerings. It has follow/unfollow tools, in-depth analytics and filtration, export to Excel functionality and more.
#3: Analyze Followers
One way brands can amp up engagement and increase brand loyalty is to find their most important followers and reward them.
SocialRank helps you analyze your followers and tracks verified accounts that follow you on Twitter. You get monthly reports to your inbox about the Best Followers, Most Valuable and Most Engaged people in your Twitter network, which you can target and engage.
The paid subscription for this tool ($25/month) allows you to break down followers demographically and set up advanced filters to save time.
#4: Auto-Tweet Posts With Featured Images
Whenever you launch a new marketing campaign, notify your network and followers with an attention-grabbing image.
Twibble sends out auto-tweets with graphics included. Unlike other automation tools, such as Twitterfeed and Dlvr.it, Twibble inserts a featured image in every tweet from any RSS feed. More visually appealing tweets get more retweets and a higher click-through rate.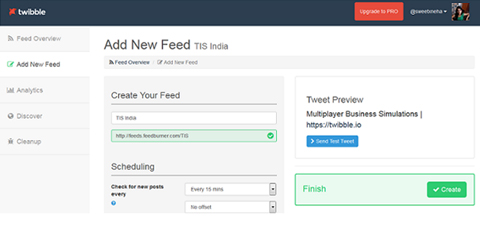 Here's how to use Twibble.
Launch Social Projects Faster and Easier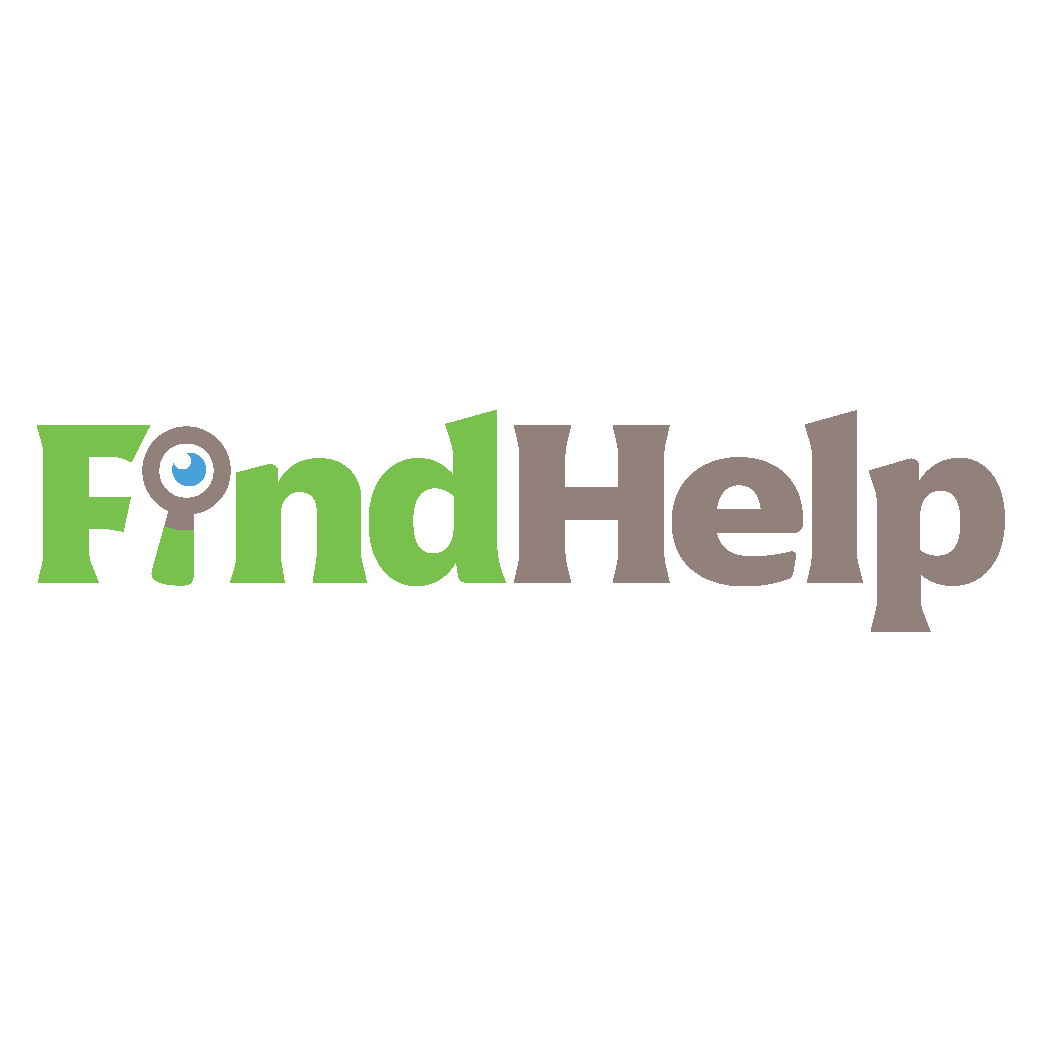 Looking for a content creator, campaign manager, or strategist for your social channels or a special project?

Find the right expert for even the most complicated project or campaign in just a few clicks with our new FindHelp marketplace. You'll have more time to focus on other areas of your business without sacrificing your social presence. Browse highly qualified Facebook and Instagram experts today.
FIND HELP TODAY
Go to twibble.io and sign up with your Twitter account. Authorize Twibble to access your account and then enter your email to complete registration.
Click the Add New Feed tab to create a feed.
Configure the scheduling feature and fill in all the necessary fields. Customize your tweet by entering custom URL for link shortening and add hashtags. After you finish everything, preview your tweet and click Create.
Once the feed's created, content from your RSS feed will be auto-tweeted from your Twitter account whenever it's updated.
#5: Monitor Brand Reputation
Brand reputation matters, especially when you sell products online. No matter how good your ecommerce marketing campaigns are, you still need to know who's saying what about your brand on social media.
Monitor your website reputation with Twilert. Set up real-time email alerts using keywords, hashtags, brand names, products or anything else related to your business.

With Twilert, you're also able to narrow down the results by geographic locations to keep an eye on competitors' business, as well as newly launched products and branded hashtags. View trending topics, track conversations and more.
#6: Create Instant Online Surveys
Online surveys boost engagement of your ecommerce campaigns, help gain customer insights about your products and let you collect relevant feedback.
Create four types of surveys with Twtpoll: a #hashtag survey, one-question survey, multi-question survey and quiz. (If the interface looks familiar, it's because Twtpoll and TwtQpon are both from 63 Labs.)
The hashtag survey uses #hashtag in answer choices and votes are sent via tweet using @reply. One-question surveys let you create online polls. Multi-question surveys allow you to ask different types of questions of your followers. Finally, a quiz is a series of questions and the final results are displayed at the end. Twtpoll charges by the question or by the month.

Here's how to use Twtpoll.
Login to your Twitter account and go to twtpoll.com.
On the home page, click the create a Twitter Survey tab.
Choose which kind of survey to create for your ecommerce marketing campaign.
Create the poll and add filters to segment desired results.
Define your audience if you'd like to limit responses.
After you create the survey, click the Activate link on top right to start collecting votes.
Twtpoll offers the option to add a brand logo and schedule the best time to tweet your survey, as well as other exciting features.
#7: Explore Analytics
Although the Twitter analytics dashboard easily measures, explores and tracks the performance of your tweets, Hootsuite is still a must-have for your marketing arsenal.
Hootsuite measures the reach and effectiveness of your marketing campaigns, and provides actionable metrics to track social media engagement on Twitter.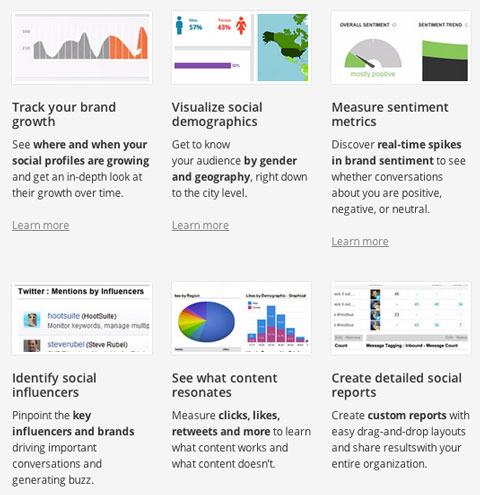 Here's how to use Hootsuite for Twitter analytics:
Go to Hootsuite and sign up for a free 30-day trial.
Link your Twitter account.
In your Hootsuite dashboard, hover over the panel on the left and click the Analytics tab.
The dashboard will display your Twitter Profile Overview Report with all the useful data. Examine the level of engagement, follower growth, most popular links and more.
Use Hootsuite to plan bulk marketing tasks for your ecommerce marketing campaign, schedule tweets in advance, integrate RSS feeds, collaborate with people and update content on multiple networks. Plus, the Hootsuite App Directory allows you to manage important apps (like Instagram and YouTube) in the social media analytics dashboard.
#8: Block Spammers
Marketing campaigns on Twitter attract a lot of spam.
Try TwitBlock, a wonderful free tool that blocks spammers and removes clutter from your Twitter stream.
TwitBlock lets you know how many of your followers are junk and also allows you to block them by acting as a bulk-blocking tool for Twitter.
Spot the spammers and get rid of nuisance accounts, so you know the people you are tweeting with are genuine.
Conclusion
If you sell on Twitter or have an ecommerce site, you need to do everything you can to study customer trends, analyze online habits and keep your brand solid. That way you can improve your reach, engagement and sales.
What do you think? Which Twitter tools support your sales? What tools do you use to monitor your ecommerce campaigns on Twitter? Please share your thoughts and recommendations in the comments.
Curious about NFTs, DAOs, and Web3?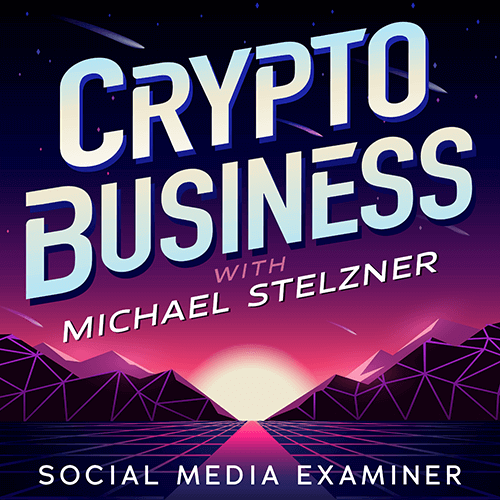 Follow the Crypto Business podcast to find out how NFTs, social tokens, DAOs (and so much more) will affect your business in the near future.

Every Friday, host Michael Stelzner interviews leading industry experts about what works right now in Web3 and what to expect in the future, so you can prepare your business for the shift, even if you're a total newbie.
FOLLOW THE SHOW