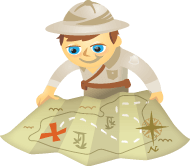 Wondering how to create Instagram videos that will resonate with your audience?
Looking for inspiration?
In this article, you'll discover seven ways to use Instagram video to enhance your stories and timeline with engaging content.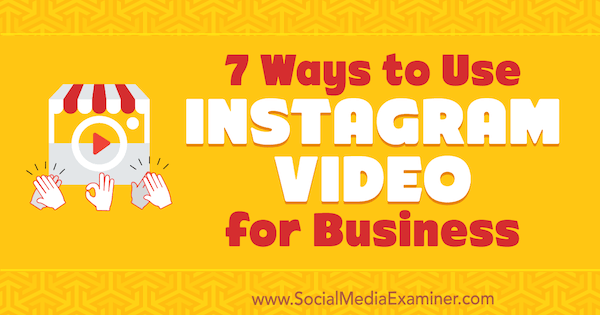 #1: Integrate Instagram Stories Video
An estimated 250+ million active users view Instagram Stories every day. Because Stories content has only a 24-hour lifespan, it generates a sense of urgency. Here are some ways you can use Instagram Stories video to promote your business.
Share Limited-Time Offers
The time-sensitive nature of Instagram Stories gives you a great opportunity to tap into people's love of deals. One way to do this is to include a limited-time offer in your Instagram story. Randomly choose the post that will feature the offer to keep viewers guessing.
Set up the offer so it can be redeemed only within the lifespan of the story itself (24 hours). This tactic will keep people coming back to your stories in hopes of catching one of these deals.
Introduce the People Behind Your Products and Services
Once your stories have attracted the attention of your audience, go beyond special offers, coupons, or deals. You can add a human touch to your content by showing the people behind your brand.
For instance, get individual team members to share how they contribute to getting your product to market. Or create a brief montage of how you manufacture your product.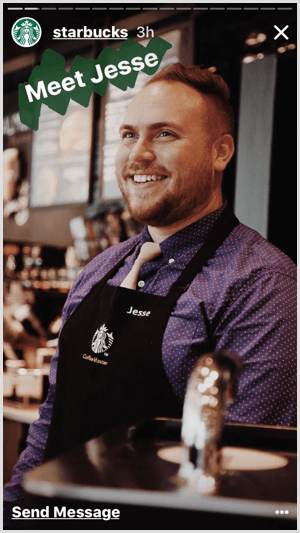 Show Your Products in Action
Showing viewers a sneak peek of your product can be a nice visual companion to a spec sheet. When you create your video, give viewers a feel for what the product looks like and any notable features it offers. Remember, Instagram Stories are about genuine in-the-moment interactions. Make sure the video is unscripted and a spontaneous representation of your product in action.
Invite an Influencer to Take Over Your Story
Long gone are the days when only big brands with deep pockets could attach a recognizable face to their products and services. Thanks to social media, especially Instagram, businesses of all sizes can reach out to influencers in a wide variety of niches.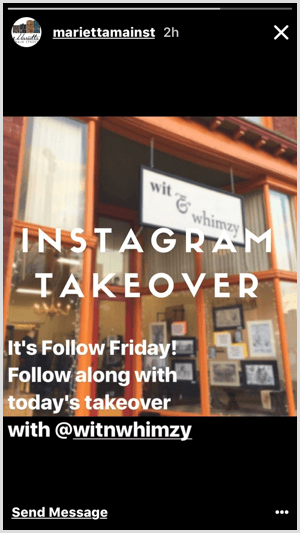 Partnering with a relevant influencer to take over your Instagram story allows you to introduce your content to their audience. In the example below, photographer and publisher Kris Graves announces a takeover of the 10×10 Photos Instagram account.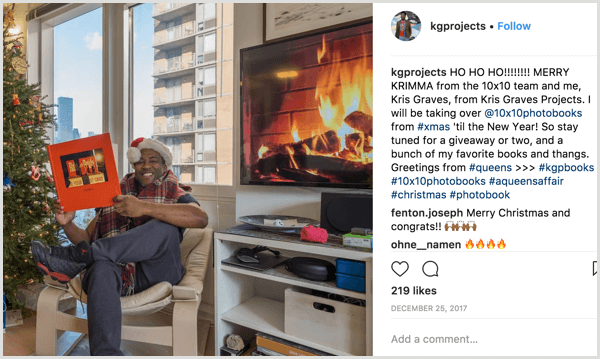 #2: Incorporate Instagram Timeline Videos
Videos play automatically and can be up to 60 seconds long, making them a breeze for viewers to get through. Here are a few examples of how your business might use timeline videos.
Highlight Your Products
Showcase your products in a cool, sexy way. When creating a product video, focus on a few key features to keep your viewers interested and dazzle them with attention-grabbing footage, like in this video from Korg:
Produce a DIY
You're probably thinking, is 1 minute enough time to make a truly useful how-to video? The short answer is yes. You'd be surprised at what you can accomplish.
In this short video, Nikon shows viewers how to take high-speed photos with a DSLR camera:
Create Short Commercials
Short commercials on Instagram can be funny, emotional, or inspirational. They're a great way to portray your product in an artistic way or link it to a particular lifestyle. To illustrate, this Lithium Cycles commercial appeals to an active lifestyle:
Conclusion
While there's no surefire way to make the perfect Instagram video, the tactics above can help you create more effective videos for your Instagram presence.
Remember that the examples featured in this article are just that: examples. What worked for these businesses might not necessarily work for you. You'll have to find that out for yourself. Review engagement data regularly and apply the tactics users respond to most. Use this information to perfect your Instagram video.
What do you think? What types of Instagram videos work with your audience? Do your videos have a specific visual style? Please share your thoughts in the comments below.