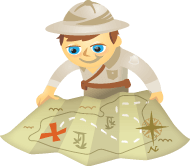 Want to increase the effectiveness of your Facebook ads?
Looking for ways to get more out of your ad budget?
In this article, you'll discover seven tips to take the performance of your next Facebook ad campaign to a higher level.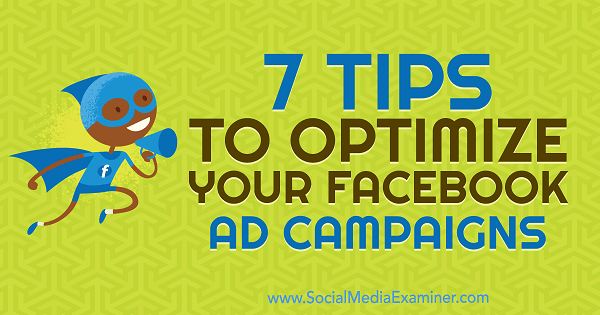 #1: Build a Sales Funnel
The main difference between Google ads and Facebook ads is the type of traffic they generate. People who click Google ads are actively looking to buy, while people who click Facebook ads are in browse mode and may take longer to decide to buy. This can be a problem if you have a smaller Facebook ad budget and are looking for conversions.
So rather than run a Facebook campaign that's immediately focused on purchasing, it's better to create additional experiences for your website visitors. By launching several campaigns with different objectives, you can create your own Facebook ad funnel.
Create an Engagement Funnel
An engagement funnel works well if you already have an engaging piece of content. Video is especially effective for this purpose.
First, create a post engagement campaign targeting your ideal customer. The goal is to create an initial connection with your customers. Monitor and optimize your post engagement campaign until it reaches a certain threshold (typically 2,000-3,000 video views).
Next, create a traffic or conversion campaign targeting those who viewed at least 25% of your video. Visitors who have been exposed to your messages previously have three to five times higher conversion rates than cold traffic.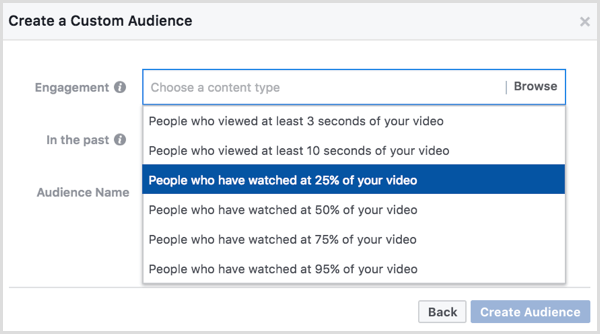 Set Up a View Content Conversion Funnel
This method is also a great way to help mature your pixel. First, create a view content conversion campaign targeted to your ideal audience. Your goal is not only to drive traffic to your website, but also to learn more about the type of customers who are interested in your offer. Monitor and optimize your campaign until it reaches a certain threshold (typically 500 conversions).
Then create a follow-up campaign where you target people who visited your website, as well as a lookalike audience based on the view count pixel results.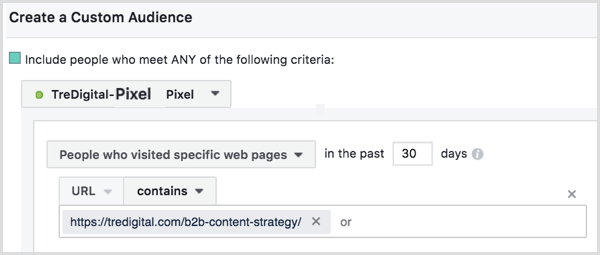 #2: Monitor Ad Frequency to Manage Exposure
Ad frequency is the number of times a user sees your advertising campaign. Your Facebook audience is more likely to recall your ad if they see it more than once. However, if they see your ad too often, they'll stop paying attention, leading to increased costs and diminished effectiveness.
To optimize your ads for exposure, add a frequency cap to your advertising report and watch how it affects your costs.

Typically, costs start to rise after the audience is saturated. When you see the frequency exceed 1.7, watch your cost per result. If it increases significantly, duplicate your ad set and add new targets. This will help you reset your campaign and refresh your audience.
#3: Scale Your Budget Based on Ad Performance
When you first start your campaign, you'll likely be testing two to three ad sets with several ads within each ad set. To determine the winning ad, watch the cost and other important metrics defined by your campaign goal. Keep the best-performing ad set/ad running and pause the remaining ads.
For the winning ad, increase the budget by 15% to 20%. Repeat this every 24 hours until you see the performance of your ad start to decline.
Tip: Facebook has recently introduced the "learning phase," which is triggered at the beginning of each campaign and lasts until a certain number of actions or time has elapsed. Whether or not you see the learning phase triggered on your campaign, give Facebook about 24 hours to stabilize the performance of your campaign before making any major changes.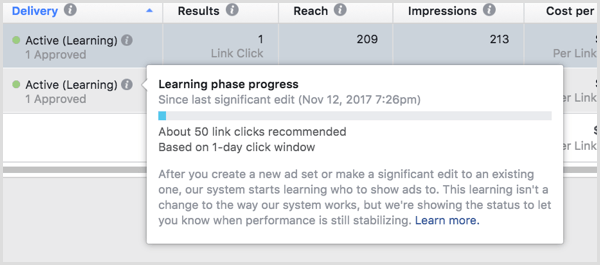 #4: Narrow Delivery to the Right Audience
Matching the right audience with the best ad means success for your ad campaigns. If you're not sure how to define the audience for a brand-new campaign, start with Facebook Audience Insights.
Begin filtering by age, gender, and location. Then add interests to find detailed information about your ideal audience. You can discover pages they're connected to, their household income, activity, purchases, and more.
Your ideal audience size for a small conversion campaign test is around one million active people. Once you believe you've found the right audience, save it for future use via Power Editor.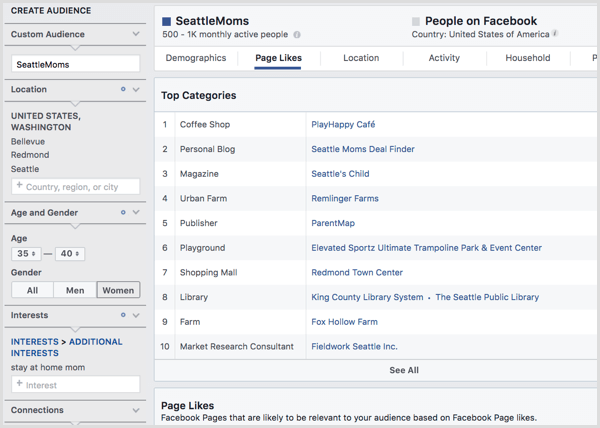 #5: Select Proper Placement for Increased Reach
When creating a campaign, you can choose from different types of placements, devices, and platforms. You can either go with Automatic Placements or Edit Placements. The best choice depends on the type of campaign you're running.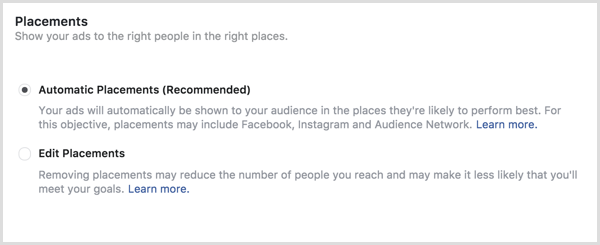 Adding Instagram to the reach, engagement, and video view placements can improve results by 30% to 40%. However, expect to see fewer likes and comments if you're running a Facebook page post ad.
Messenger is an excellent add-on to traffic and conversion campaigns. Messenger ads, in particular, currently perform well.
Audience Network placements can increase the reach and traffic for your ads in general. However, pay particular attention to your key metrics (conversion rates and cost per result, for example).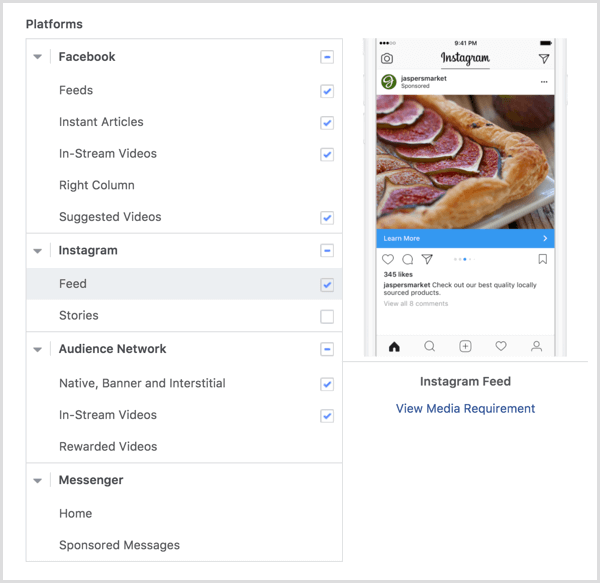 In some cases, running a campaign on a specific device may result in lower costs. In certain niches, Android device users convert at a higher rate and lower cost. Run a mobile device test for your niche to see if you can improve your campaign results.

#6: Choose the Right Bidding Option
Facebook runs its advertising based on an auction. In the simple model, Facebook chooses the best ad based on the bid and performance.
However, Facebook bidding options became a lot more complicated in the last year. First, you determine what result you want to optimize for. Each campaign objective allows you to choose from several options.
For instance, when you run a conversion campaign, you can choose from conversions, landing page views, and link clicks. Conversions is one of the most popular options. However, for lower budgets, select optimizing for clicks until Facebook has sufficient conversion data.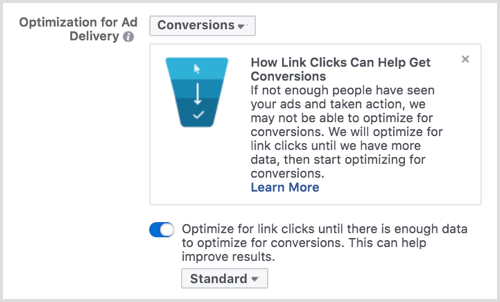 If you want to get more visitors to your blog, consider optimizing for engagement.
Facebook recently changed its manual and automatic bidding options for conversions. You can choose from two new Bid Strategy options:
Lowest Cost, with or without a bid cap (formerly automatic bidding with a maximum bid)
Target Cost, which is focused on maintaining a stable average cost (formerly manual bidding)
If you're new to Facebook ads or have an extremely competitive niche, consider choosing the Lowest Cost option. With the bid fluctuations, you'll be better off.
If your goal is truly to generate results at the lowest possible cost, choose Lowest Cost and Set a Bid Cap. Target Cost will deliver the highest-quality leads at average costs but you may end up paying a bit more. It may also require more management and optimization.

#7: Reuse Old Ad Posts for New Campaigns to Preserve Engagement Stats
Social media is largely about social proof and popularity. The more likes and comments your content receives, the more people will engage with it. Unfortunately, many of the ad tests you perform to optimize your campaigns will also remove your comments and restart your post engagement stats.
With the "social stacking" technique, you can keep those likes and comments while continuing to experiment with your ads. This method works especially well if you're testing different targeting options. To get started, go to the ad preview for your existing ad. Click the icon at the top right and select Facebook Post With Comments.

Then copy the last group of numbers in the Facebook URL that loads after you click on the preview.
Next, create a new Facebook ad and choose Use Existing Post. In the Enter Post ID box, paste the Facebook ID you copied in the previous step and click Submit.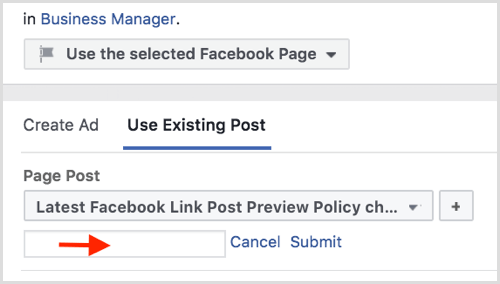 You now have a newly created ad that will carry over all of the previous likes and comments.
Conclusion
Facebook keeps changing the algorithm for ads, and introducing new features and ways to do things. Many of the tips above will keep evolving over time. Most importantly, they won't work for all of your campaigns. Keep experimenting with different tactics and approaches to find the ones that work for you.
What do you think? Which of these tips will you try? What are your best practices for Facebook ads? Please share your thoughts in the comments!