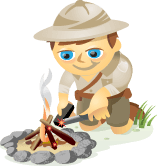 Do you need to increase your productivity?
Looking for browser extensions that simplify your marketing?
In this article, you'll discover six browser extensions to help busy marketers.
#1: Group Multiple Tabs Into a Single Tab With OneTab
Some of the best tools are the simplest ones, and you can't get much simpler than OneTab. When you click the toolbar icon, the tool will pull all of your browser tabs into a simple list under a single tab. You can then organize, sort, and save that tab for later.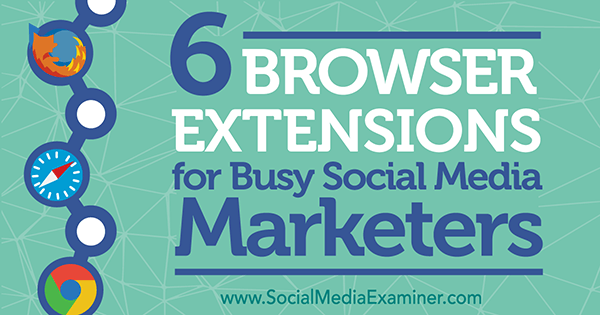 Listen to this article:
Where to subscribe: Apple Podcast | Google Podcasts | Spotify | RSS
This free tool can be especially helpful when you're doing article research online. It's easy to get lost when you're reading article after article and following link after link. With OneTab, just click the toolbar icon when you're done and you can comb back through your tabs days or weeks later.
The tool also gives you the option to save your newly formed list as a web page that others can view.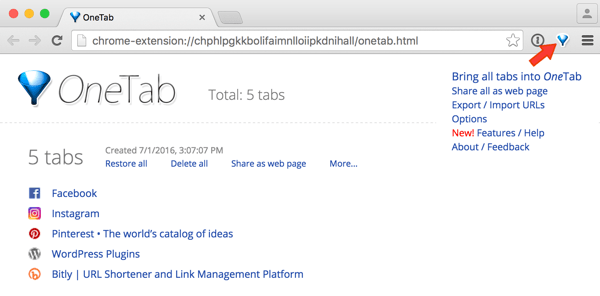 #2: Save Web Pages With Evernote Web Clipper
The Evernote Web Clipper is a fantastic free tool from the Evernote team. It lets you clip a web page and save it as an article, simplified article, full page, bookmark, or screenshot. After you clip it, you can add tags or comments and drop it into a folder in your Evernote account.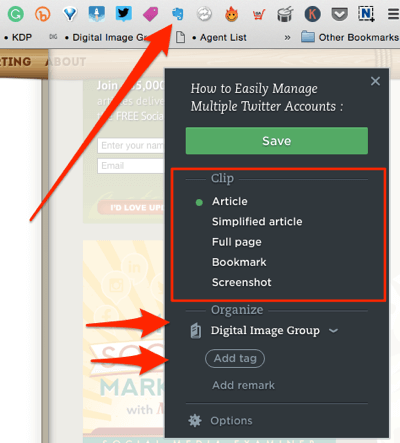 You can then share that article with whomever you like right from the Web Clipper dialog box.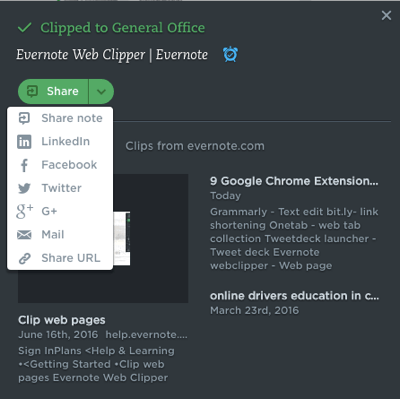 #3: Edit Your Content With Grammarly
Grammarly is a free, simple, powerful editing app that hides on your browser toolbar and edits your work as you write. As with many of these apps, there are both free and paid versions available.
The free version offers a more advanced spelling, punctuation, and grammar check than Microsoft Word. You can paste your copy into the editor on the Grammarly website, upload a document, or just let the extension edit as you create social media posts in whatever program you're using.
The app runs in the background, and if your copy is clean, you'll see a green icon. If your copy needs work, you'll see a red icon along with suggestions.

If you opt for the paid version, you get more robust features like style and sentence structure suggestions, vocabulary enhancement tips, and a plagiarism detector. You also have the option to submit your work to one of their professional proofreaders.
Launch Social Projects Faster and Easier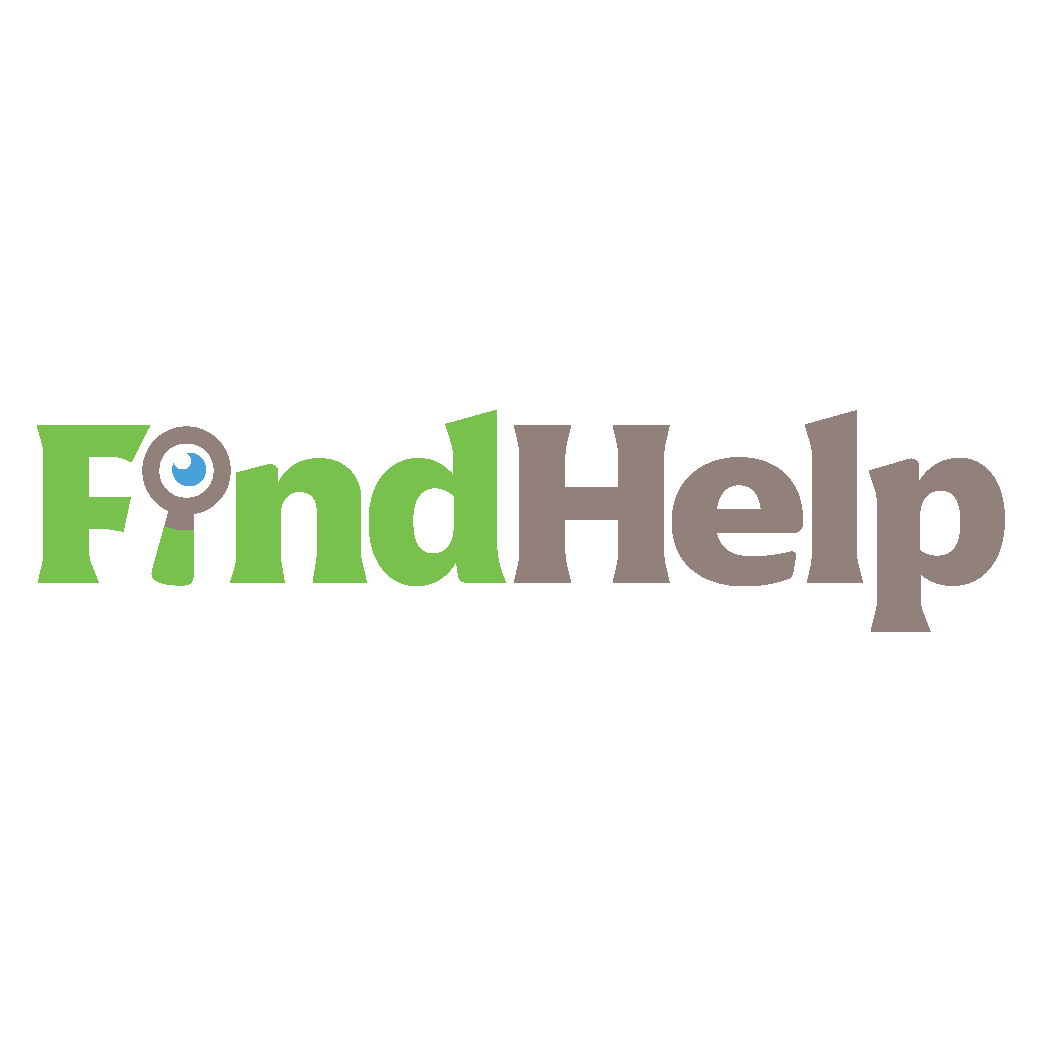 Looking for a content creator, campaign manager, or strategist for your social channels or a special project?

Find the right expert for even the most complicated project or campaign in just a few clicks with our new FindHelp marketplace. You'll have more time to focus on other areas of your business without sacrificing your social presence. Browse highly qualified Facebook and Instagram experts today.
FIND HELP TODAY

#4: Schedule Social Posts With Hootlet
Hootsuite is a powerful social media management tool, and their Hootlet extension offers an easy way to create and schedule social media posts from within your browser.
No Longer Just for Tech and Finance Nerds...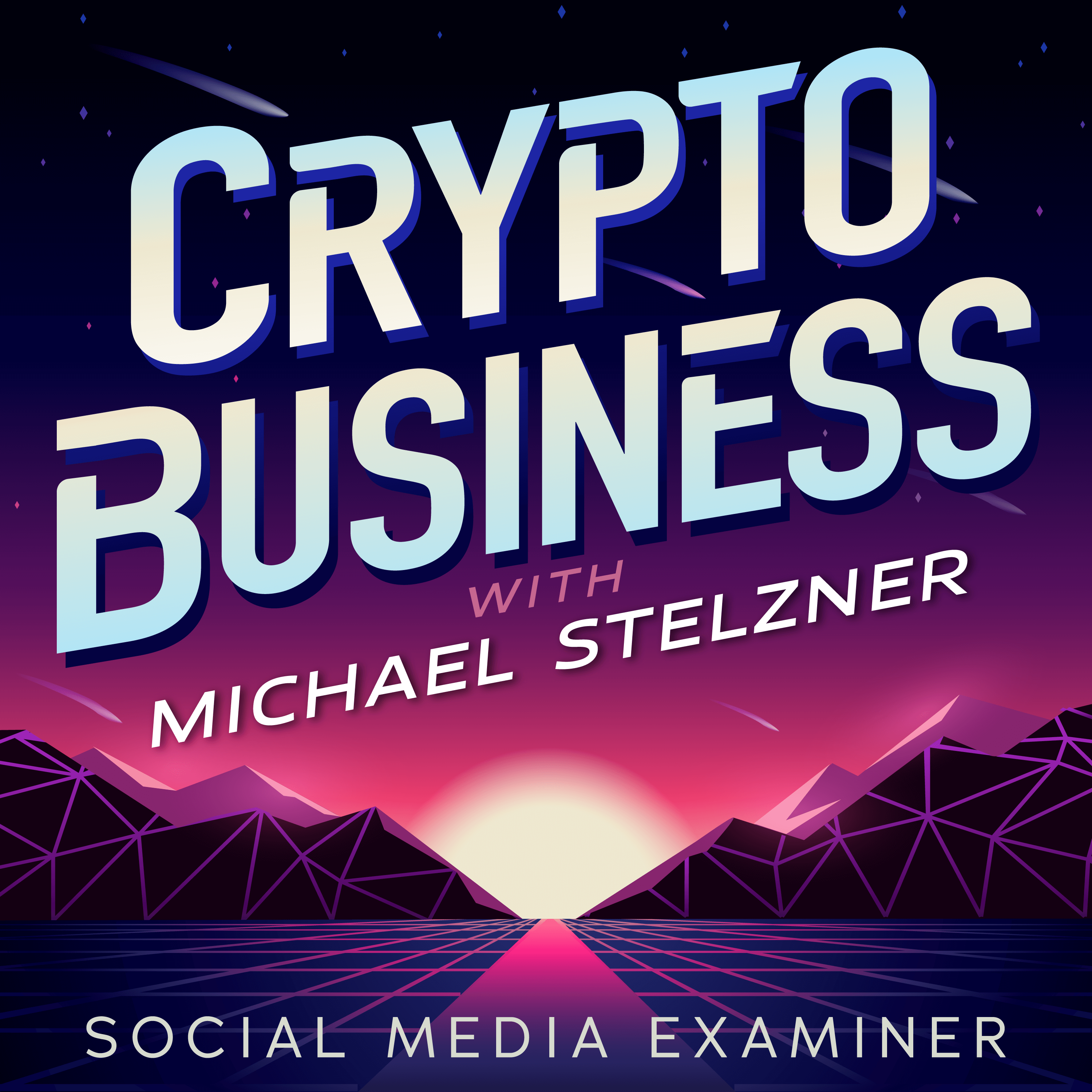 Originally just for people who understood the jargon, Web 3.0 is now the business playground for entrepreneurs, creators, and marketers.

Whether you're a newbie or have already gotten your feet wet, you can learn the ins and outs of NFTs, DAOs, social tokens, and more on the newest show hosted by Michael Stelzner—the Crypto Business podcast.

Follow the show on your favorite podcast platform to find out how to make Web 3.0 work for your business.
FOLLOW THE SHOW
Cruise to a website article that you want to share and click the Hootlet icon to make the magic happen. You can then choose which social media account you want to post it to, edit the post, and post it now or schedule it for later.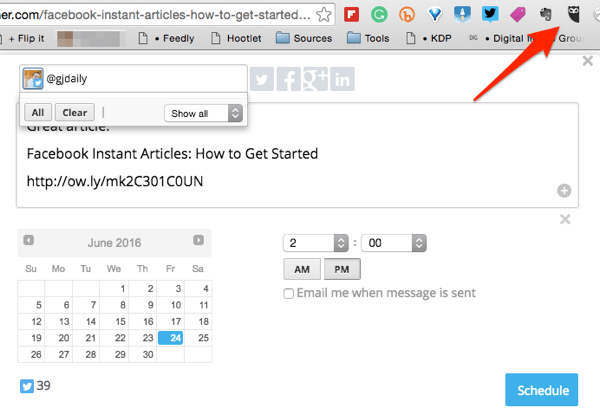 #5: Research Hashtags With RiteTag
RiteTag is a great tool for researching relevant and trending hashtags. To access the free version, you need to use RiteTag's website. Just enter your keyword or topic in the search box.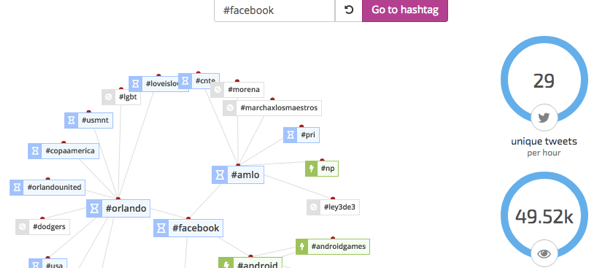 You can get access to the browser extension at the paid level (starting at $11 per month). This allows you to enhance your social media posts with hashtags related to the topic you're writing about.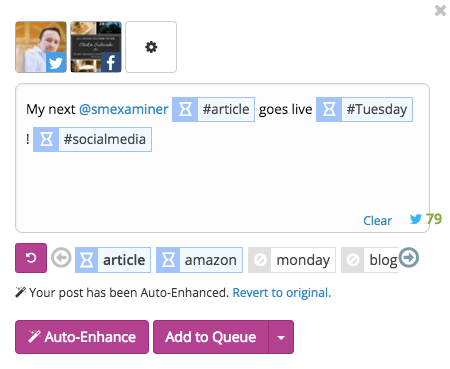 RiteTag's extension lets you upload images to your post, add emojis, edit calls to action in your links, and see your saved tag sets. You can even search for free images or GIFs to add to your posts.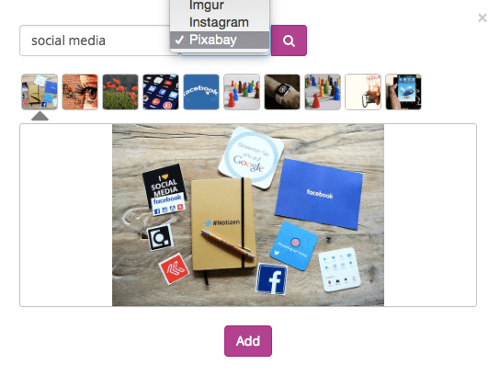 #6: Track Email Opens With RocketBolt
RocketBolt works a little differently from other extensions. The extension itself doesn't do anything when you click it; but you need to have it installed to unlock its functionality. When used in conjunction with Gmail, RocketBolt lets you track individual email open and click-through rates.
Marketers are used to this in programs like MailChimp and Emma, but those programs don't give you that information on the individual level. Why does this matter? Because you can see if a specific person is reading your email.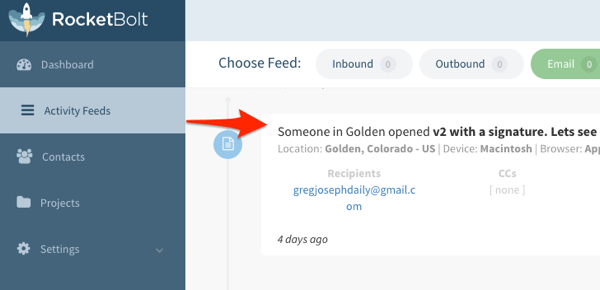 At the paid level, you can track what individuals are saying on social media, and if and when they visit your website, providing unique feedback on how different campaigns are working.
Conclusion
These extensions are powerful tools on their own; however, a pro trick is to install them and start using them together. For example, collect your tabs in OneTab and pull them into a single page with annotations with Evernote Web Clipper.
What do you think? Do you use any of these web browser extensions? What are some tips that you've found with these tools? Let us know in the comments below.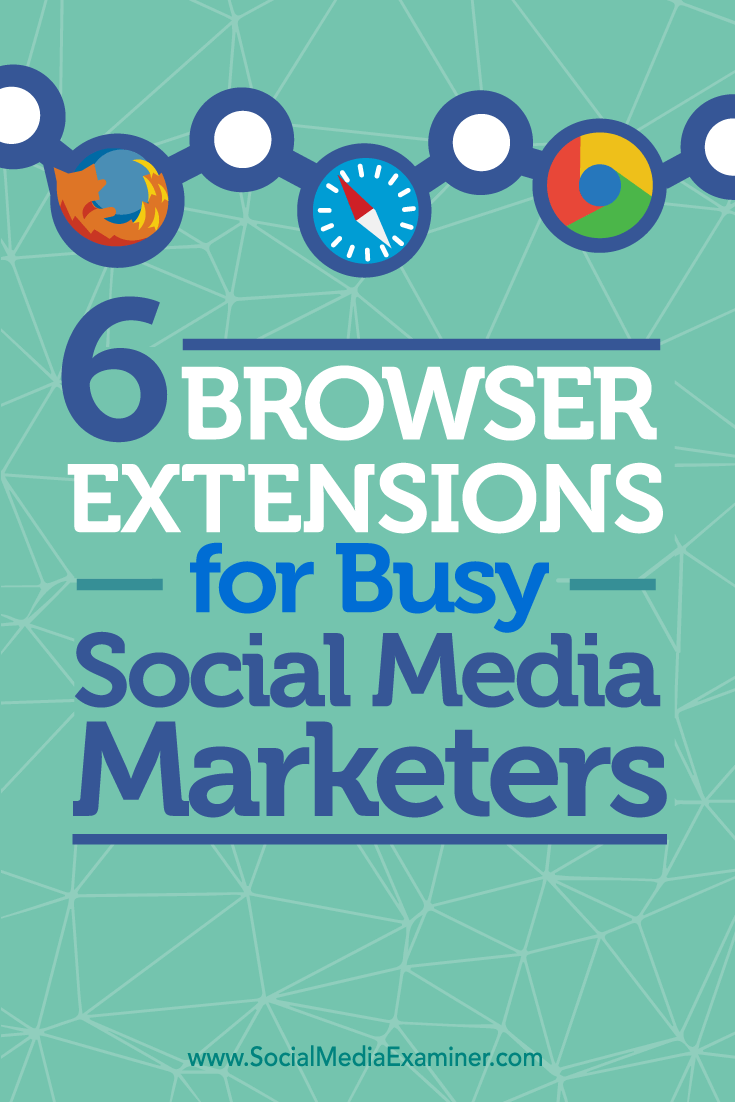 Curious about NFTs, DAOs, and Web 3.0?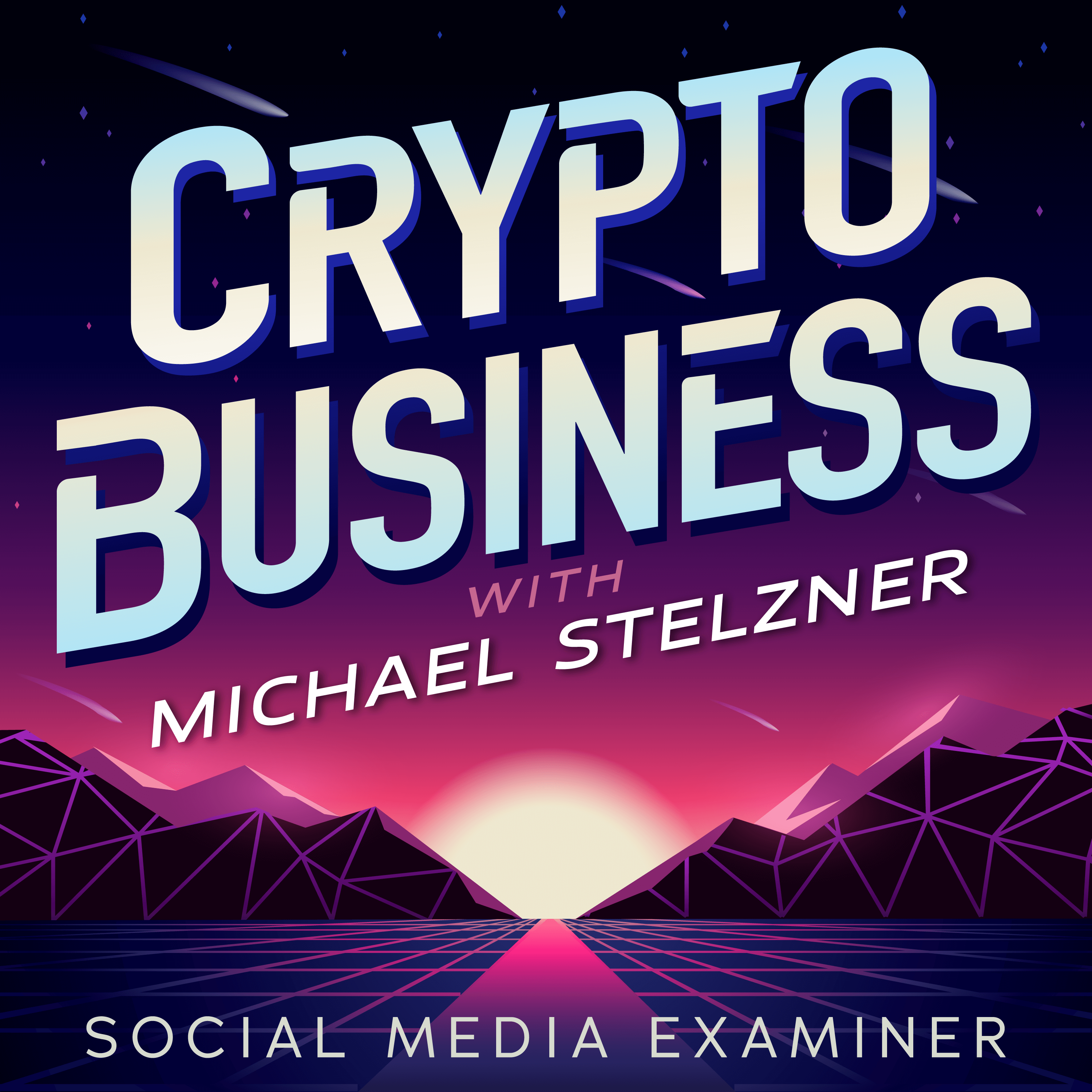 Follow the Crypto Business podcast to find out how NFTs, social tokens, DAOs (and so much more) will affect your business in the near future.

Every Friday, host Michael Stelzner interviews leading industry experts about what works right now in Web 3.0 and what to expect in the future, so you can prepare your business for the shift, even if you're a total newbie.
FOLLOW THE SHOW