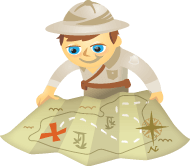 Is your Twitter engagement lagging?
Are you looking for tips to get your numbers back up?
A few simple tweaks can get you more attention and interaction on Twitter.
In this article you'll discover five ways to improve your tweets and up your engagement.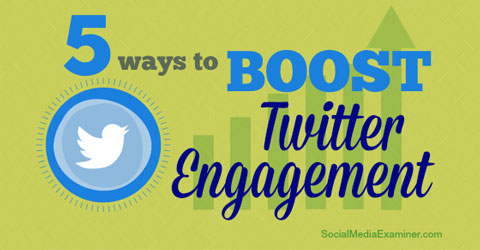 #1: Refine Your Twitter Bio
The most important thing you can do on Twitter is optimize your bio.
Even if people never read a single tweet, they'll see your bio. And when they do, they'll make a snap decision about whether to follow you.To put your best foot forward, include your occupation (e.g., Internet marketer or consultant), the types of updates you share (e.g., social media stats or killer marketing tips) and even hobbies (but perhaps avoid the all-time overused bio description "coffee lover"!).
A guy like Jeff Bullas, for example, knows the importance of a bio and has optimized his completely.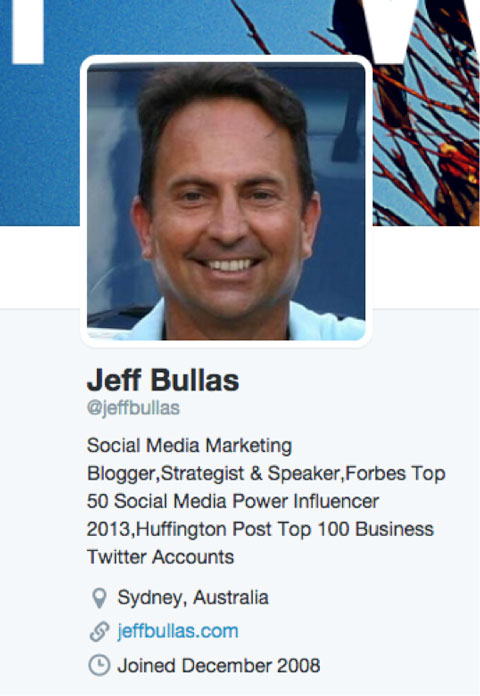 His profile is top-loaded with the most important terms for his niche and abilities (like "Social Media Marketing" and "Strategist & Speaker"). He sprinkles in some bragging—mentions in Forbes and the Huffington Post—to establish his credibility. Perfect.
If you want people in your niche to find and follow you, include the right keywords and all of the right details.
#2: Act Human
People respond to people. In order to invite feedback and deepen engagement, it's essential to be a real person—relaxed and approachable. One of the worst things you can do on Twitter (or any social network) is to be a boring automaton. If you insist on sharing dry, boring updates, you can't expect to gain traffic.
For example, what do you think of this Twitter update? "EComm Industry Int'l Inc. predicts 250% increase in monthly revenue due to new product rollout. Read the entire industry report."
Really engaging stuff, right? Actually, it could be. It just needs a little more spin: "Whoa! We just released the #Zinger product, and I was blown away by the uptick in revenue. Check out the stats!"
Another sure way to increase engagement is to be funny. Don't be shy about adding some levity to social media—humor can shatter corporate stiffness.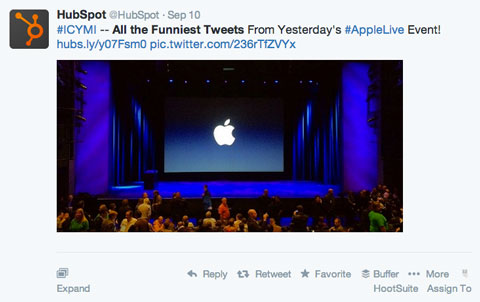 The recent #AppleLive hashtag sparked conversation and got a lot of attention. To stand out a bit, HubSpot gathered the funniest tweets about the event and shared them. Since people love to be entertained, HubSpot knew it was very likely they'd get a boost in interaction.
Get Your FREE Course: Web3 for Beginners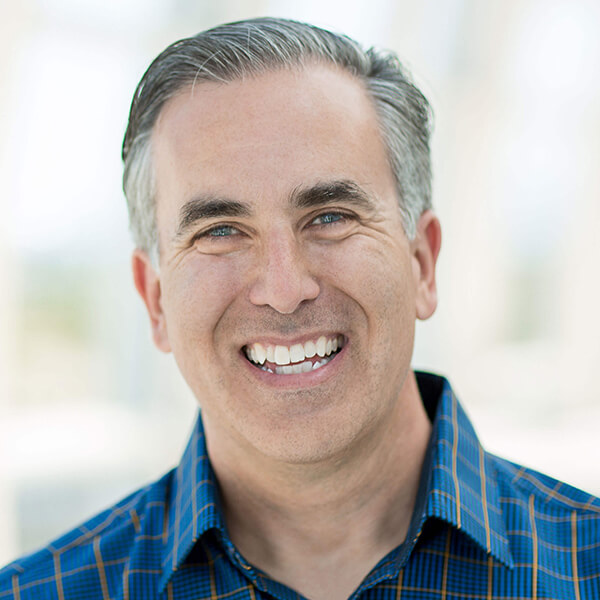 Curious about Web3, but don't know where to start or who to trust?

Introducing Web3 for Beginners, a course taught by Michael Stelzner, the founder of Social Media Examiner.

Learn the basics of Web3 and apply it to your business with this FREE comprehensive course.
CLICK HERE TO GET FREE ACCESS
Of course, don't forget pictures. Visual content is the way to go on social—viewers and fans react to images faster than they do to text. If you can catch their eye with a picture that clearly conveys the main point of your content, they're more likely to pay attention to your update. Go visual, and you'll get more traffic.
#3: Ask People to Act
If you want followers, you can get more of them. If you want shares, you can get more of those, too. All you have to do is ask.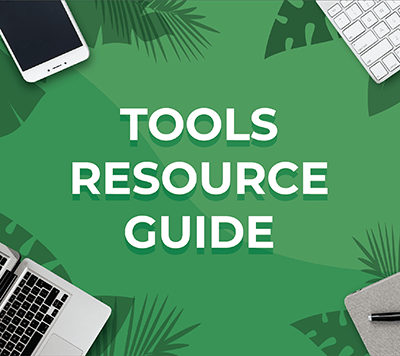 Looking for something to make your life easier?
Discover the tools we recommend to drive engagement, save you time, and boost sales across your entire marketing funnel or business.
Whether you need help planning content, organizing social posts, or developing your strategy, you'll find something for every situation.
FIND YOUR NEXT FAVORITE TOOL
There's nothing wrong with asking people to complete an action. Dan Zarrella did a little survey and discovered that if you type "Please Retweet" in a tweet, you're likely to receive 51% more retweets (as opposed to only 12% when you don't ask)!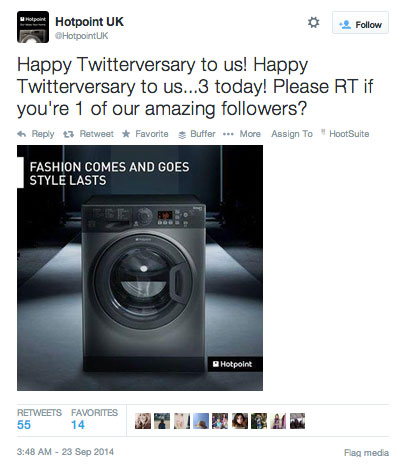 Your goal is to get more engagement for your tweets, right? Sometimes you just have to ask, and many times people are happy to oblige.
#4: Harness the Power of Hashtags
Hashtags let you interact with the most viral and current topics at any given time.
Many users follow specific hashtags to keep up with the topics that interest them. Including those hashtags in your own updates (as long as they're relevant) is an easy way to join the conversation and catch the attention of your audience.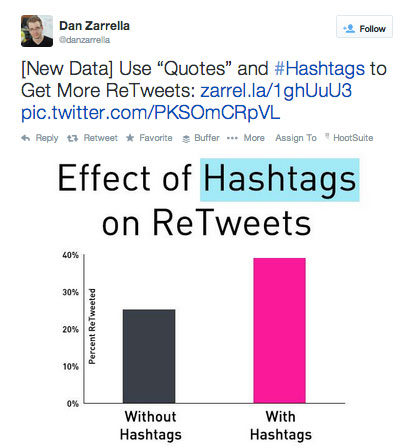 All that from a little # symbol in front of a word or phrase? Absolutely. Hashtags are a source of incredible power on Twitter.
#5: Post Consistently
The surest way to keep engagement flowing is to tweet regularly. When someone checks your Twitter profile, they can tell how active you are and when you last posted just by looking at timestamps.
An irregular schedule (or worse, not posting at all) is a great way to kill your Twitter interaction. If you don't have signs of life, there's no sense in following you.
There is a positive correlation between Twitter activity and Twitter followers. Active Twitter users have more followers. Makes sense, right?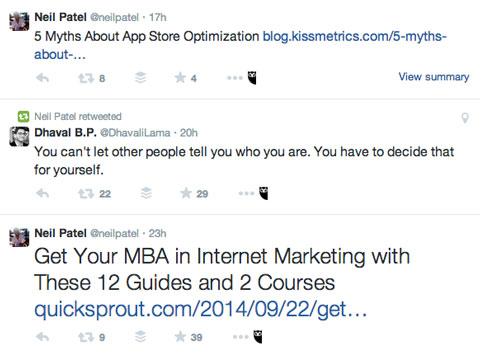 As TechCrunch put it, "The more you tweet, the more followers you get, provided you actually have something interesting to say."
I ran a little test of my own. I planned a period of absolute silence on Twitter followed by a period of intense activity. During the phase of intense activity (regular tweets and updates), my follow rates went way up.
During my test, I deliberately did not follow any new people. I simply became more active, and that's all it took for people to start following me.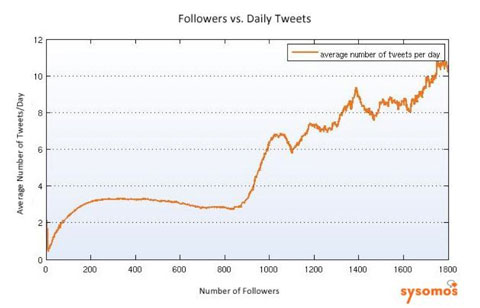 A past study from Sysomos revealed that the top 5% of Twitter users post every day. The most active Twitter users had more than 2,000 followers, compared with less than 100 followers for infrequent tweeters.
Keep in mind that due to the way algorithm feeds work, it's usually not necessary to broadcast information frequently, but you should still be tweeting content regularly.
Over to You
Ready to turn up your Twitter engagement? I thought so. Use short social updates that combine several of the tips in this article—be approachable, keep it interesting and include a call to action. Those kinds of posts, combined with a level of curiosity, encourage some serious click-through power.
Be smart, deliberate and active and the engagement will come.
What do you think? How have you gained Twitter followers and shares? Do you have additional tips or tactics to add to this list? Please leave your comments and questions below.
Get Your FREE Course: Web3 for Beginners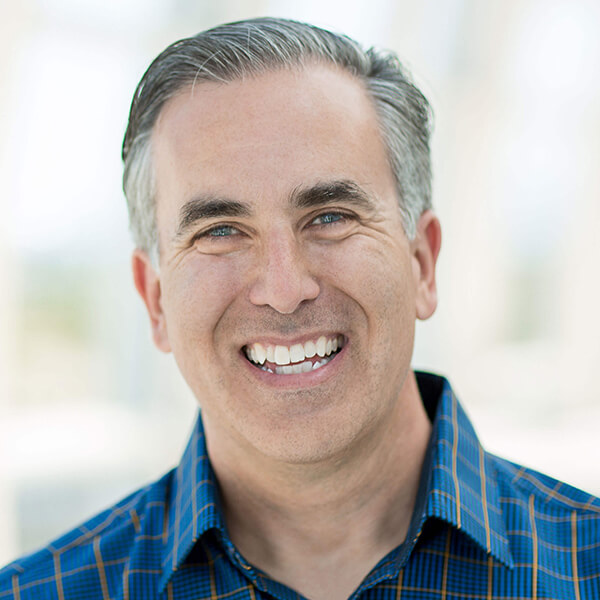 Curious about Web3, but don't know where to start or who to trust?

Introducing Web3 for Beginners, a course taught by Michael Stelzner, the founder of Social Media Examiner.

Learn the basics of Web3 and apply it to your business with this FREE comprehensive course.
CLICK HERE TO GET FREE ACCESS