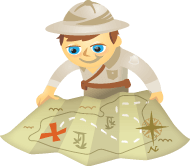 Have you kept up with the changes at LinkedIn?
Did you know you can do more for your company on LinkedIn?
Keep reading to learn more.
What's new with LinkedIn for businesses?
Do you want to increase your opportunities to network with customers, clients, vendors, peers, potential job candidates and even your own employees? If you're a business of any size, you need to have a well-developed "business" presence on LinkedIn.
LinkedIn recently announced an update to company pages that can help companies and small businesses to become more engaged on the network.
Up until now, your company page existed in isolation. Now businesses can update their individual company pages to enable their followers to receive updates and insights about job opportunities, company news, employee moves and more.
Are these the only kinds of updates that companies can post to their pages? Absolutely not, and I'm going to suggest that you think about this as a brand-new opportunity to showcase your thought leadership and expanding your business!
https://www.youtube.com/watch?v=gMknZutnVWE
Although it appears on the surface that the new company updates are designed to help big brands and corporations become more connected with potential candidates and employees, I believe small businesses and professional services that get creative about their company status updates and commit to being active with their company pages can also benefit from increased engagement with industry peers, prospective customers, strategic allies and potential new hires.
There are some great resources from Social Media Examiner for building a business presence on Facebook and Twitter, and both of these networks are essential for positioning your business and engaging your community. Now you can extend the reach of your business with your LinkedIn company page to grow your influence as the industry expert!
How do you take advantage of this new tool as a small business or professional services company participating on LinkedIn?
Below are 5 steps for expanding your business through LinkedIn company pages.
#1: Update/create and complete your company page
Currently there are over 2 million businesses with a LinkedIn company page, many of which are corporations looking for talent on the network.
Get Your FREE Course: Web3 for Beginners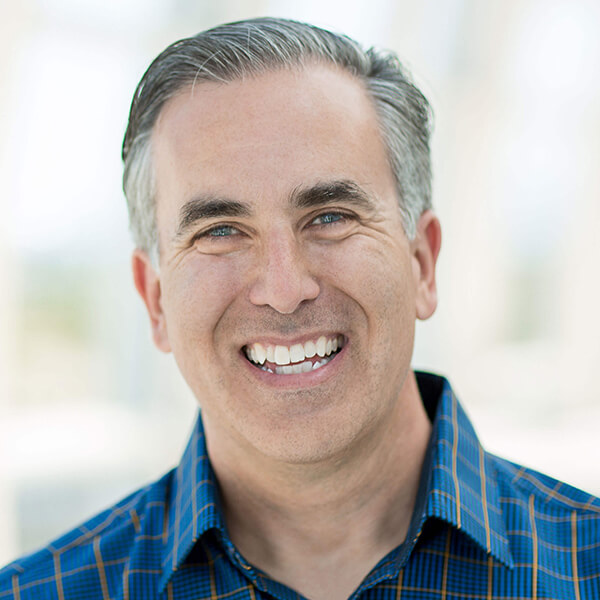 Curious about Web3, but don't know where to start or who to trust?

Introducing Web3 for Beginners, a course taught by Michael Stelzner, the founder of Social Media Examiner.

Learn the basics of Web3 and apply it to your business with this FREE comprehensive course.
CLICK HERE TO GET FREE ACCESS
At some point, many professionals will choose to follow numerous company pages on LinkedIn just as they do Facebook business pages, and the stream will become noisier.
Keep in mind that with these pages, LinkedIn provides you with the opportunity to integrate rich media content such as images, hyperlinked banners, links to your website and blog and videos from YouTube into your company profile. Take advantage of these benefits to make your page more attractive, engaging and interesting to your target markets!
To either create or enhance your existing LinkedIn company page, focus on the following tips: 
Populate your company overview page using informative descriptions about whom you serve (your ideal customer) and how you serve them. Include the key specialties of your company in the designated "specialties" area and use keywords here that will resonate with your target markets. Also be sure to pull in your blog posts by inserting your blog feed URL!
Build out your products and services pages on your profile. On these pages you can include an image, description, list of key features, landing page URL to your site, a link to a special promotion and you can even embed a YouTube video both on the products and services overview page as well as on each individual product/service page! Take advantage of the opportunity to integrate rich media. It will liven up your company page significantly.

An example of a company products/services page from HubSpot.

Once you have completed setting up your LinkedIn company page, you will want to enable the page for status updates. You must officially designate who can update the company page within your settings. Once you've completed this, designated people within your company will be able to post status updates to your page.

Set a "designated user" for your company page.
#2: Build followers for your LinkedIn company page
Before you can really start to see any benefit from your LinkedIn company page, you're going to have to work to get company followers just as you work to build a community of followers with your Facebook business page and Twitter profile! Otherwise, your updates won't be visible unless someone visits your page directly and decides to share or comment on a status update.
Increasing your company followers will increase your company visibility. Your updates will be seen throughout LinkedIn and can easily be shared by your followers with their professional networks.
Building followers for your company isn't just a one-time process. You should constantly be working to build followers for your company page on LinkedIn in order to expand your reach. It doesn't matter if your business is big or small. Perhaps you don't need the masses to follow your company page. You simply need to focus on gathering relevant followers as a small business or professional services company.
Below are some suggestions to quickly build your unique business community for your company page: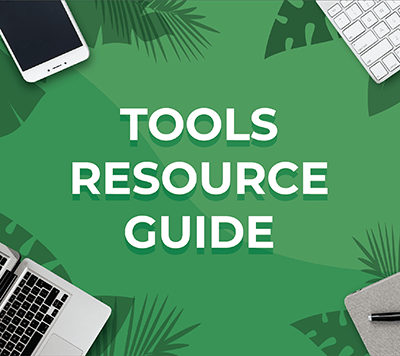 Looking for something to make your life easier?
Discover the tools we recommend to drive engagement, save you time, and boost sales across your entire marketing funnel or business.
Whether you need help planning content, organizing social posts, or developing your strategy, you'll find something for every situation.
FIND YOUR NEXT FAVORITE TOOL
Encourage existing employees to link up with your page (existing employees can help extend your company's reach by sharing your status updates with their connections on LinkedIn).
Follow the company pages of industry peers, vendors, current customers and prospective customers (many of them will reciprocate the action). Also consider following companies outside of your industry that are in your same geographic location!
Send an announcement to the appropriate LinkedIn personal connections. (Best practice: Always provide 2 to 3 concrete benefits for why someone should follow your page. What will they get out of it? How can it help them to be better at what they do?)
Consider sending that same "call to action" message to your existing database of customers and prospects, especially if many of them are on LinkedIn.
Post a "call to action" to follow your page within relevant LinkedIn groups.
Remember, the more relevant followers you have for your LinkedIn company page, the more opportunities you have to be visible and build influence with your target markets!
#3: Provide interesting and value-added company page updates
Although LinkedIn suggests that you post status updates to your company page about jobs and breaking news, these types of posts are all about you and your company. If you want to engage followers, make it all about them and provide interesting and value-added updates that can help them to succeed in business!
This is your opportunity to establish your company as the industry expert. Also, don't forget to include rich media such as an image in your company updates in order to make them stand out and capture attention!
A great example of this is HubSpot.  They update their company page with valuable resources and insights that can help marketers and businesses to be more successful in their online marketing efforts. Notice how they end their status update with a question. This is a great strategy to engage your company followers.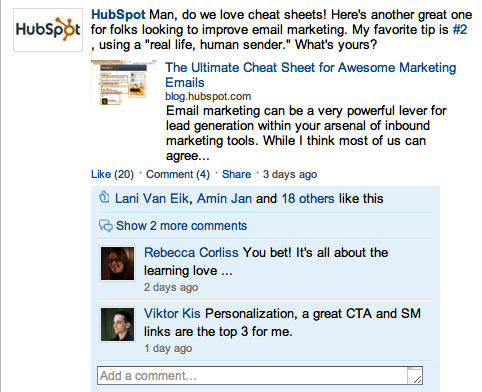 #4: Engage and network with people from companies you follow
Want to get on the radar screen of a business you'd like to work with? Watch for their company updates and engage with them! Just as you can engage with individual status updates that you see on LinkedIn, you can do the same with company page updates.
Perhaps a company that you follow is looking for a qualified candidate to fill a position. Point them to several professionals in your network who might be a good fit!
Maybe a company posts something that is helpful to you in your business. Thank them for the resource publicly and share it with your connections!
By helping the companies that you care about grow their visibility, you'll also expand your influence with the company. It's a very simple concept that most people don't think about. Promote and refer the companies that are important to your business by liking, sharing and commenting on their updates. These companies may also return the favor and help to promote your business on LinkedIn as well.
In order to find the right companies to follow on LinkedIn, I would suggest utilizing LinkedIn's advanced search features to find and follow industry partners, companies in your geographic location, companies that you currently do business with, companies that you'd like to do business with and companies within your same industry (competitors and non-competitors).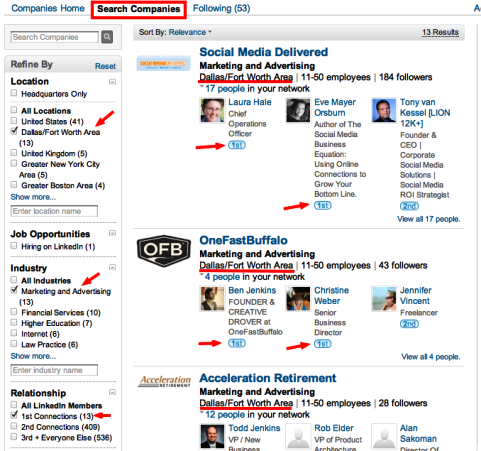 Also, check out this article for more tips on using LinkedIn Company Search to expand your network.
Engaging and networking with relevant LinkedIn company pages will also help you develop and grow your personal LinkedIn network with other professionals who are engaging with these companies. You may discover other professionals who share the same business interests.
#5: Monitor and focus your efforts
LinkedIn does provide a nice "Analytics" feature to help you monitor and track visitors to your company page, but these metrics do not yet highlight how effectively you are engaging your target markets. However, on the main landing page for your company profile you will be able to see who has engaged with or commented on any of your company updates. Read more about the LinkedIn Company Page Analytics feature on the LinkedIn Blog.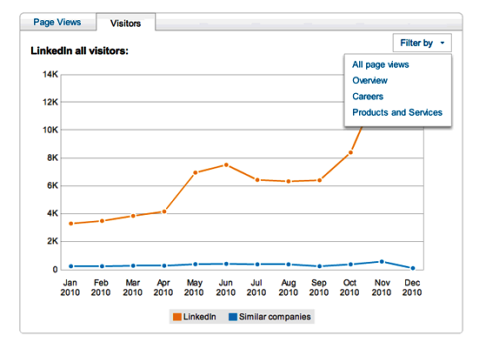 Carve out time specifically for "company" networking on LinkedIn. Update your company status frequently, check for comments and engagements on those updates to determine what's working, and continue building followers for your page through the strategies mentioned in section #2 of this article!
Also remember to keep your LinkedIn company page fresh and interesting. Add new videos or images from time to time, run special promotions, etc.
I have found that if you focus your time with your social networking efforts, you can accomplish greater success rather than just skimming the surface.
There are several places within LinkedIn to focus on company networking. On your LinkedIn home page under "Companies," you can view the updates from the companies that you follow.
Or you can visit "LinkedIn Companies" home page (see image below) to see the same update. I find this to be a better place for focusing, as you won't be distracted by all of the other items on your primary LinkedIn home page. Finally, you can also visit a company page directly and engage with any of the status updates right there on the page itself.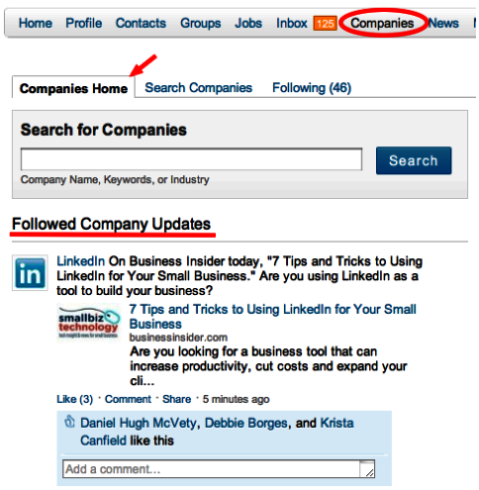 Regardless of the size of your business, it's important to invest in your LinkedIn company presence. I believe that going forward, this will be one of the very best ways to set your company apart and provide ongoing value to your customers and prospects.
Don't forget that your LinkedIn company page will also be indexed by search engines, which can provide another positive gateway online to your business.
What do you think? Have you thought about how you might build and engage your following on LinkedIn through a company page? Leave your questions and comments in the box below.
Get Your FREE Course: Web3 for Beginners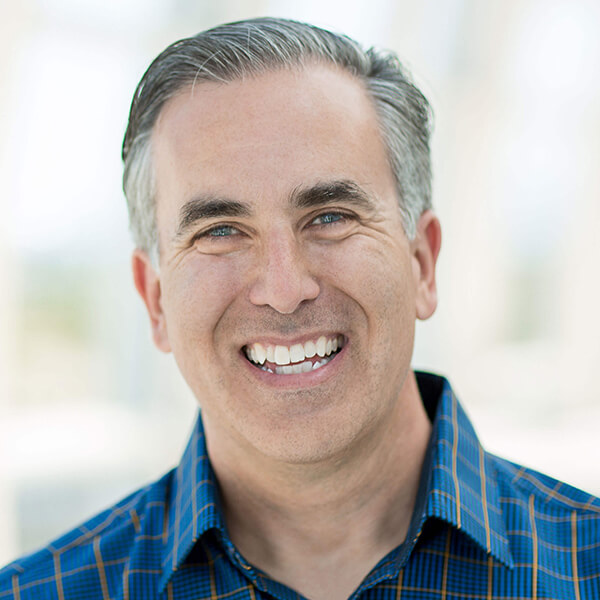 Curious about Web3, but don't know where to start or who to trust?

Introducing Web3 for Beginners, a course taught by Michael Stelzner, the founder of Social Media Examiner.

Learn the basics of Web3 and apply it to your business with this FREE comprehensive course.
CLICK HERE TO GET FREE ACCESS