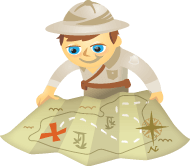 Are you up to date with the latest Instagram changes?
Want to know what the changes mean for marketers?
In addition to a brand-new logo, Instagram has rolled out updates to its ad products, video features, and news feed algorithm.
In this article, you'll discover how the most recent Instagram changes can affect your marketing.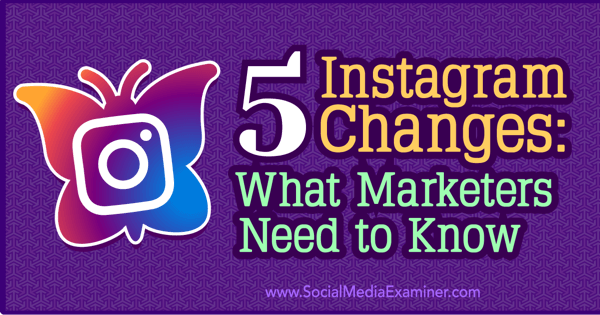 Listen to this article:
Where to subscribe: Apple Podcast | Google Podcasts | Spotify | RSS
Scroll to the end of the article for links to important resources mentioned in this episode.
#1: Video Length Increased
Ready to share longer videos on Instagram? In case you haven't heard, Instagram rolled out an increased time limit for videos from 15 to 60 seconds in April. Most users should have this capability with the latest version of the app.
You can shoot video directly from the Instagram app or use your photo library. Features allow you to add filters, turn off the sound, and choose the cover photo.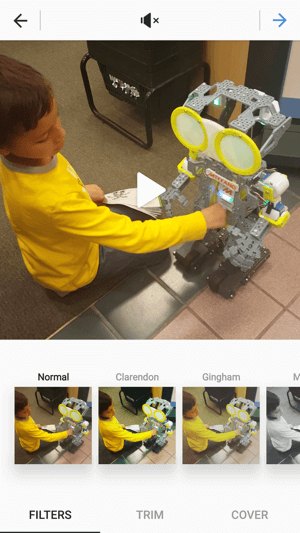 With these changes, you can share more video content, especially if you like to repurpose content from other networks, such as downloading your Snapchat story video to Instagram.
#2: Videos Show Views and Viewers
Now you can find out how many people are viewing your videos on Instagram. Simply look at the view count below each of your videos.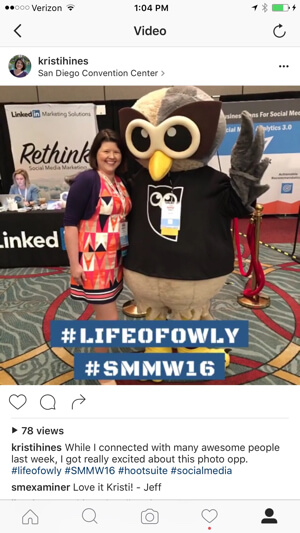 When you click on your number of views, you'll get to see the number of likes, along with the option to follow those who liked your video.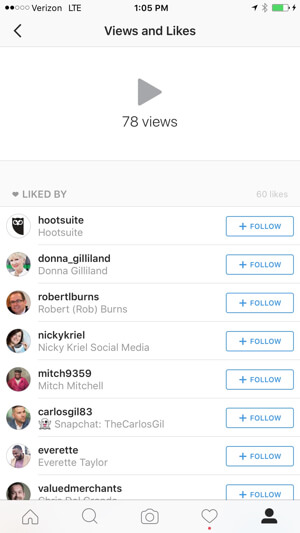 This may give you an idea of the amount of reach you're getting versus engagement. So if you see that hundreds of people viewed a video, but only a handful liked it, you can assume that it didn't resonate well with your audience. If you have hundreds of views and hundreds of likes, however, you have a winning video.
#3: A Tap on Photo Ads Reveals the Call to Action
When someone taps once on your ad photo, it brings up your call to action. You can let users click through to your website or app, depending on what you configured when setting up your Instagram ad.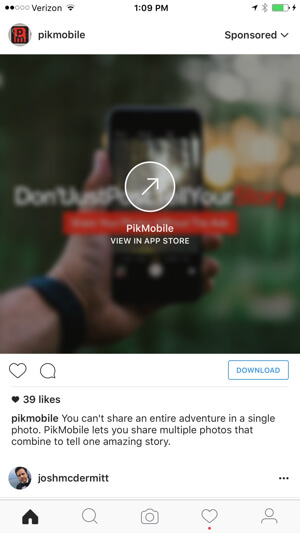 Note that this isn't the case with ad videos on Instagram. If you do a single tap on an ad video, it will turn on the sound. A second single tap will turn off the sound. Do a double tap to like the video, just as doing a double tap on an ad image will like the image.
This is something worth noting when choosing between image and video.
#4: Profile Click-throughs From Ads Include the Call to Action
If you link your Instagram profile to your Instagram ad, when someone taps on your Instagram profile, it will place your ad's call to action at the top of your profile.
Social Media Marketing Workshops (Online Training)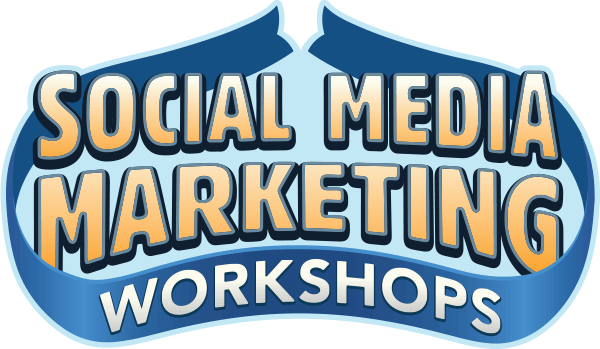 Want to improve your paid and organic marketing on Instagram, Facebook, YouTube, or LinkedIn—and secure your future? Get ready to be coached by 14 of the world's best social marketing pros in the most comprehensive social marketing training we've ever offered. You'll receive step-by-step live instruction so you can increase your reach, create amazing engagement, and sell more with social media. Become the marketing hero for your company and clients as you implement strategies that get proven results. This is a live online training event from your friends at Social Media Examiner.
LEARN MORE - SALE ENDS JANUARY 19TH!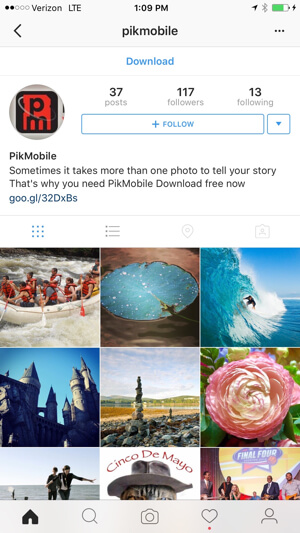 Note that this only happens if users go to your profile by tapping on it above your ad. If they were to access it anywhere else, the call to action would no longer be there.
Linking is something to keep in mind when choosing your call-to-action button text. When someone taps through to your Instagram profile from your ad, you'll want to display a call to action and profile bio text that align with your campaign.
Would you want Apply Now, Book Now, Contact Us, Donate Now, Download, Learn More, Shop Now, Sign Up, or Watch More at the top of your profile? And what bio text and link would you want below that?
Keep this in mind for every Instagram ad campaign.
#5: News Feed Visibility Shifts With Algorithm
While most people are focused on the logo change, the biggest change is the rollout of the enhanced Instagram algorithm. If you take a close look at your own Instagram news feed, you may notice that it's no longer in chronological order of newest posts first. Instead, you'll see posts in the order that Instagram deems the most important to you.
It's not overall engagement or recency that wins the news feed, but rather how much Instagram thinks you care about that particular Instagram user. For example, a photo with 9 likes and no comments from three hours ago from someone you occasionally engage with is several posts ahead of a photo with 180k likes and 640 comments from an hour ago from a celebrity with a verified profile whom you rarely engage with.
As an individual, if you want to ensure that you see specific people's posts more often, you have two options. First, seek their posts out and engage with them (like and comment), like this one from @MikeOlbinski.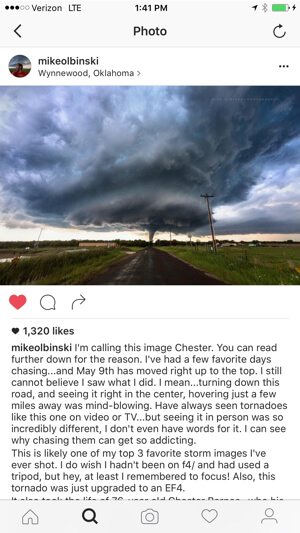 Or, alternatively, click on the triple dots at the top right of their photo or their profile and select Turn On Post Notifications.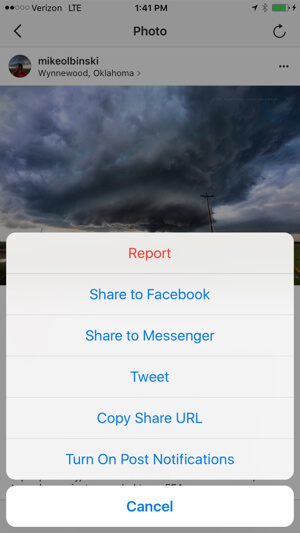 This ensures that you don't miss out on the posts from people you want to see.
On the flipside, as a business on Instagram, you'll want to educate your Instagram fans about the new algorithm and how they can ensure that they don't miss your latest posts. Tell them in a blog post or an email newsletter that they need to start engaging with your posts and Turn On Post Notifications to keep up with your latest Instagram content.
Also, Instagram will eventually become like Facebook. If you want to reach your target audience, you may ultimately want to turn to Instagram ads, which you can easily create through the standard Facebook Ads Manager.
While Instagram still doesn't have an ad option to get targeted followers or an option to advertise only to your Instagram followers, they do have Instagram ad options to help you get more traffic to your website and more downloads of your app.
In Conclusion
It's time to forget about the new Instagram logo. If you've linked to your Instagram profile using the Instagram logo on your website, update it with the official version and start focusing on the things that really matter to your Instagram marketing strategy.
What do you think? What else have you noticed about Instagram since the latest app update? Please share in the comments below!