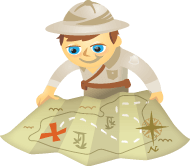 Twitter is just over 5 years old and its users are sending more than 200 million tweets per day. This means your own tweets are just droplets in an ocean of content.
The good news is all of that content can become actionable insight.
Here are four ways to use Twitter data to optimize your social media activities for maximum exposure and effectiveness.
#1: Analyze your best topics and tweets with Crowdbooster
All tweets are not equally as effective. Crowdbooster aims to help you optimize the things you tweet by tracking what resonates and what flops among your followers.
Rapper Lil Wayne's digital manager, Mazyar Karooni, monitors the performance of Wayne's tweets each day. Karooni uses Crowdbooster, a free tool that lets you track the reach of your tweets.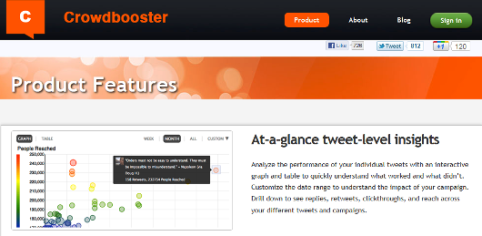 Crowdbooster CEO Ricky Yean says, "We have found that paying attention to data can help our users become more powerful."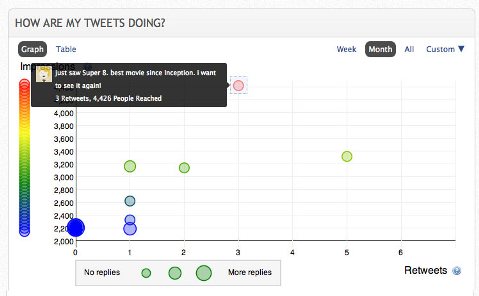 #2: Track communities and sentiment with SocialMention
Editor's Note: SocialMention is no longer an active online tool.
There's likely a lot being said out there about you or your brand on Twitter, perhaps too much to read all by yourself. Twitter data-sifting tools like SocialMention can help you filter out the messages with negative sentiment, so you can take action with dissatisfied or antagonistic Tweeters and make things right.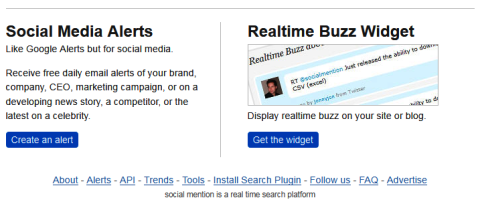 You can also use sentiment analysis to discover pockets of Twitter users who are particularly big fans. Reaching out to those who tweet great things about you is an excellent way to reinforce your brand and foster even stronger advocates.
SocialMention scours blogs, microblogs, social bookmarking sites, comments and social networks for your keywords, almost like Google Alerts, but in real time and not limited to regular web content. It then performs an analysis to determine whether the chatter in each case is positive or negative, and lets you browse what people are saying based on filters you choose.
Poring over SocialMention analyses can help you figure out whom you need to be reaching out to on Twitter and what you need to say to them.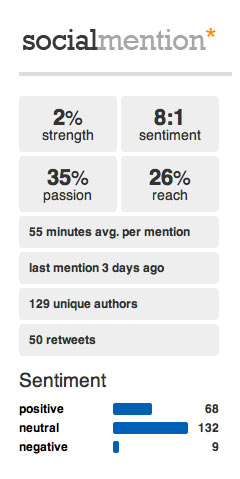 #3: Publish dynamically with SocialFlow.
Timing is everything in social media. The real-time scientists at SocialFlow agree, and they've built a platform that "dynamically publishes your content when it will resonate most with your customers and audiences on Twitter."
Ditch the Travel and Experience World-Class Training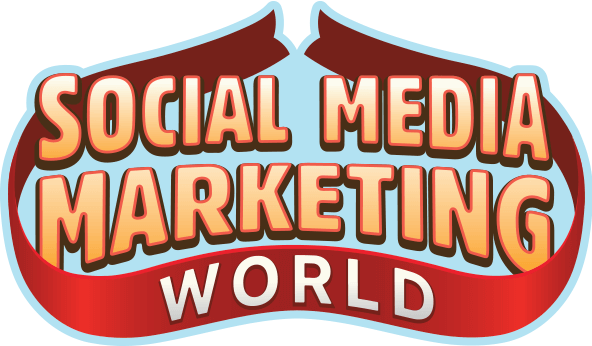 Want to take advantage of incredible social marketing training, but just can't travel right now?
Attend Social Media Marketing World virtually with our new On-Demand Ticket. You'll walk away with real business-building ideas, without ever leaving your home or office. Watch all the sessions, keynotes, and workshops when and where you want!
CLICK TO LEARN MORE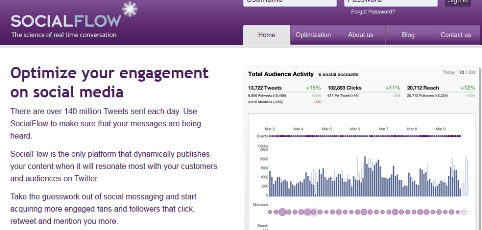 SocialFlow helps you create a "content queue" of potential tweets, and then "actively reorders" them in real time, based on what your audience is tweeting about at that very moment. It then can automatically publish tweets when the likelihood of engagement is highest.
"Companies import their messages into SocialFlow's content queue where they're dynamically prioritized," explains SocialFlow's president, Peter Hershberg.
Get Expert Social Media Marketing Training from the Pros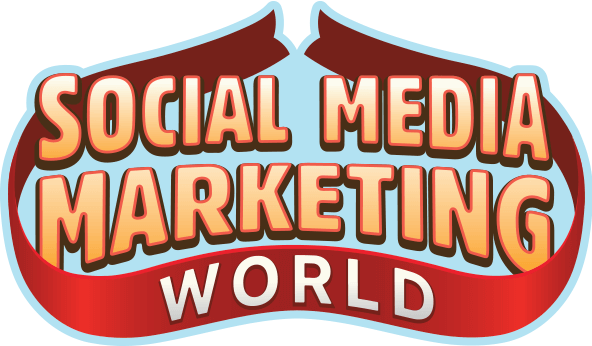 Want to get ahead of the competition or learn how to diversify your strategy?
Learn from dozens of the industry's most trusted experts, rub elbows with other smart marketers, and take your marketing to the next level during this 3-day event in sunny San Diego, CA.
CLICK TO LEARN MORE
"We then analyze the language they're using," he continues, "and combine that information with click data we get from Bit.ly, that currently sees about 8 billion clicks/month, to understand the types of content a company's followers are engaging with. The best tweet in the queue is sent out when it's likely to yield the greatest number of clicks, retweets, mentions, and followers."
Since every audience and every brand—and every user—is different, it doesn't make sense to time your tweets based on aggregate data. Middle-aged female runners may have very different social media behavior than teenaged male gamers. And trending topics throw all rules out the window.
For example, a tweet about your product would have been wasted the night Osama Bin Laden's death was raging across Twitter. For this reason, companies like SocialFlow are monitoring active data streams to make smarter recommendations.
A fairly complex algorithm sits beneath SocialFlow's interface, powered by the firehose of data from Twitter and Bit.ly, something that very few companies have access to, according to Hershberg. So if you're in the business of "real-time intelligence," crunching the numbers behind the optimal time to publish is no longer something you have to do yourself.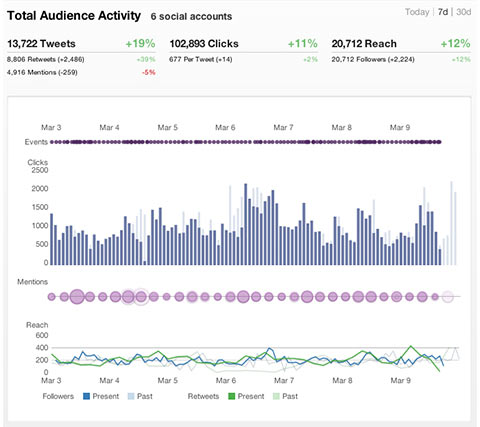 #4: Hone your influence with Klout
Social intelligence engine Klout measures your influence on Twitter (and other social media accounts), both in relative and absolute terms. With it, you can see how influential you are among your followers, down to specific users.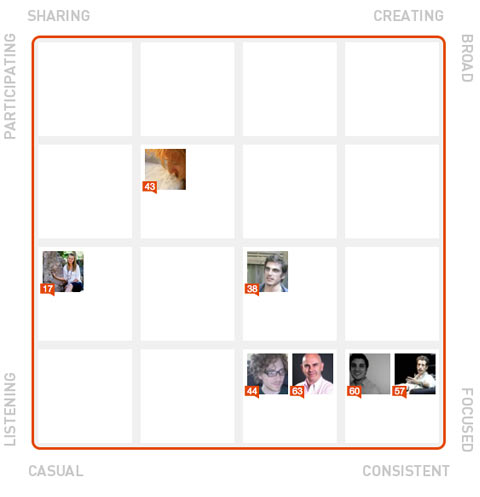 This data can be a blow (or a boon) to the ego, but more importantly it can help you determine to which influencers you should be targeting your tweets and how you can step up your game.
Klout also digests your tweeting activity and tells you what kind of user you are: broad or focused, consistent or casual, creating or sharing, participating or listening.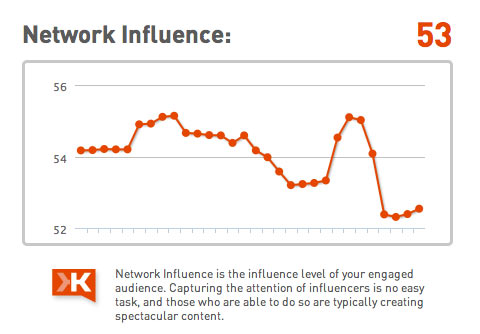 You may think you're one thing or the other, but data doesn't lie. When you see your behavior tracked and measured, you can alter that behavior to match your vision. All of this insight, distilled, can help you tweet more effectively.
You don't need to be a data scientist to use the wealth of Twitter data to sharpen your campaigns. The Twitter content ocean isn't getting any smaller, but the right mix of inexpensive (or even free) tools can help you make every drop count.
What do you think? What's your Twitter optimization strategy? Leave your comments in the box below.
Experience The World's Largest Social Media Conference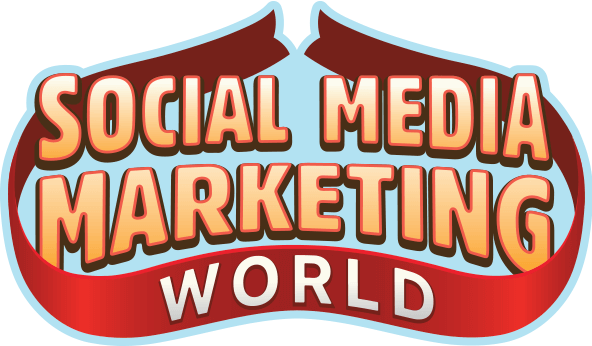 Quality marketing training, actionable takeaways, and beneficial connections—that's just a fraction of what you can expect at Social Media Marketing World! Join thousands of smart marketers in sunny San Diego this spring and level up your marketing.
🔥 Sale ends Tuesday! 🔥
GET TICKETS NOW