Are you ready to level up your Instagram ad performance? Are you looking for new ways to bring in more leads or sales?
In this article, you'll discover four ways to scale your Instagram campaigns. Plus, you'll get tips on how to reduce audience ad fatigue.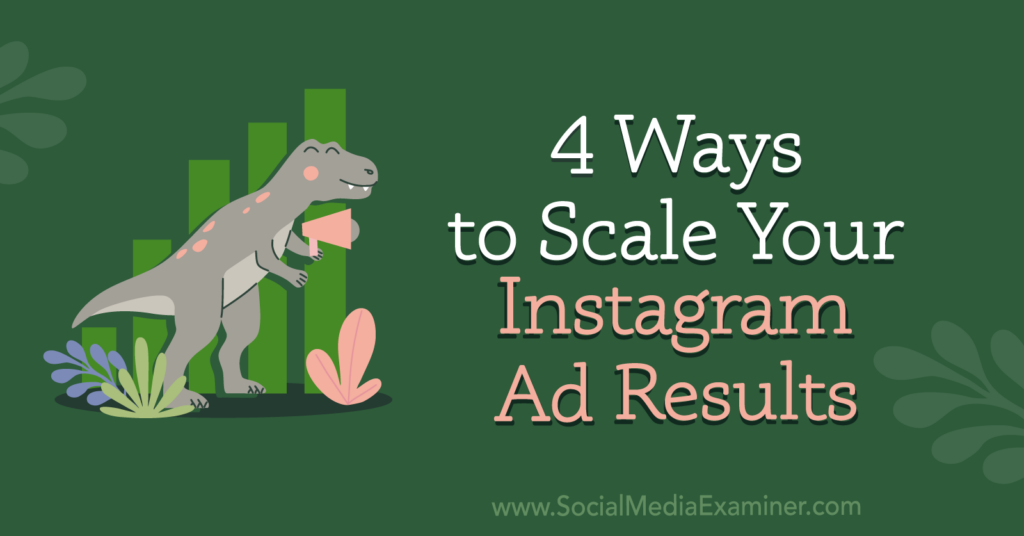 #1: Increase Your Instagram Ad Spend
When you want to get more results from your Instagram ad campaigns, spending more money can be a smart choice. Also known as vertical scaling, increasing your budget can help you reach more of your target audience quicker. Use these best practices to scale Instagram ads vertically.
Scale Ad Spend Strategically
When you start to see great results, you might be tempted to double or triple the budget so you can take advantage of the ad set's success. Although you can certainly increase the budget over time, it's usually best to avoid making drastic changes all at once.
Keep in mind that the Instagram advertising algorithm plays a big part in the performance of every ad set. After all, Instagram uses the budget you selected to optimize ad delivery for your audience. Making substantial changes can throw off the optimization, which can compromise performance.
Before scaling, wait until your ad set leaves the learning phase. Then once it's optimized, scale your budget slowly. For example, increasing your budget by 25% every few days or once a week is a good place to start. You can edit the budget by clicking the pencil icon in the Budget column of your Facebook Ads Manager report.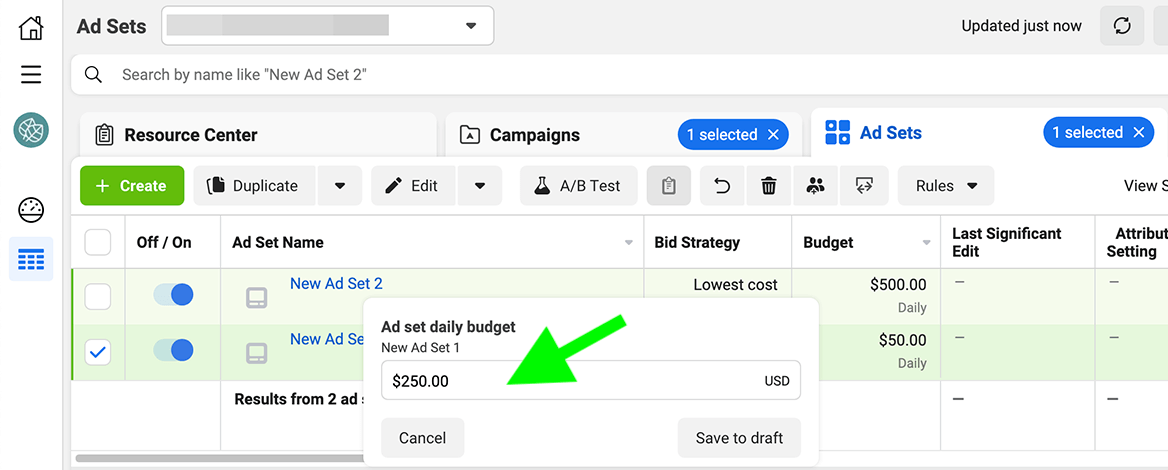 Plan to monitor your campaign closely as you make changes. Ideally, you want to keep the campaign running normally and avoid pushing it back into the learning phase—which can happen if you scale too quickly or make changes too frequently.
Use Campaign Budget Optimization
If you've already identified a top-performing Facebook ad set to focus on, then increasing that ad set's budget can be a great way to scale vertically. But what if you're running a few ad sets and you aren't sure where to focus?
In that case, using Campaign Budget Optimization is a better choice. When you turn on Campaign Budget Optimization, Instagram optimizes spend across the entire campaign. With more options to optimize, the algorithm can avoid inefficient ad spend and apply your budget where it matters most. Essentially, this feature can help you vertically scale automatically.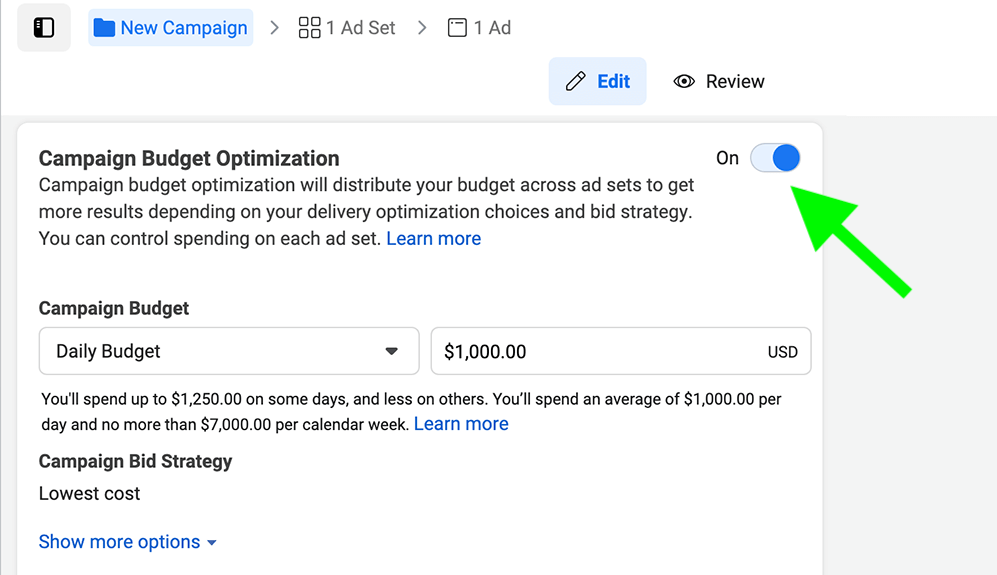 You can turn on Campaign Budget Optimization at the campaign level before or after publication. Note that changing this setting while the campaign is running is likely to restart the learning phase for all ad sets, though. If that's the case, it's important to monitor them closely for dramatic performance changes.
#2: Expand Your Instagram Ads' Reach
Do you want to do more with your existing Facebook ad budget rather than spend more? Scaling vertically isn't your only option. If you don't want to increase the budget for a campaign, you can scale horizontally instead. Use these tips to get better results by increasing your audience.
Add New Ad Sets
When you want to reach more people or see how new audiences respond to your Instagram ad, always create new ad sets rather than editing existing ones. You can easily copy over all of the settings from an existing ad set by selecting it in Ads Manager and clicking the Duplicate button. Choose how many new ad sets to create and add them to the original campaign.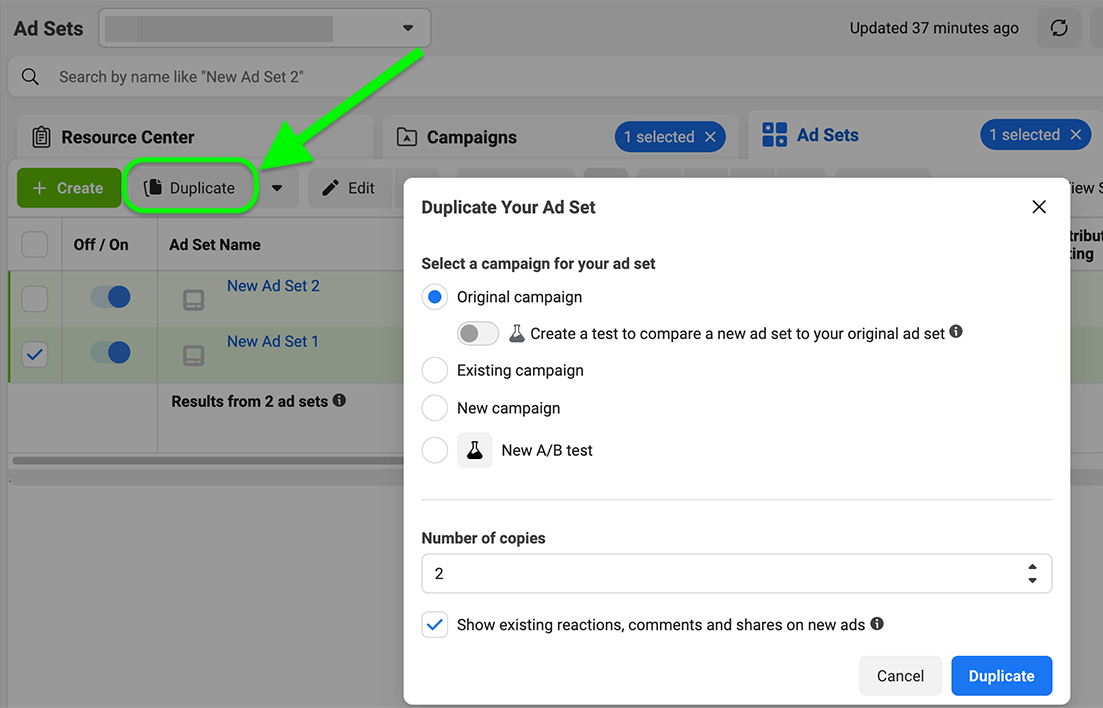 Alternatively, you can build a new ad set from scratch. In Ads Manager, choose the campaign you want to modify. Go to the ad set level and click the green Create button to add a new one.
Expand Your Audience
Maybe your current ad set uses a custom audience based on your customer list. Or perhaps you're advertising to an interest-based saved audience. Either way, you can expand your targeting by adding new audience segments.
3 Days of World-Class Training—Zero Travel!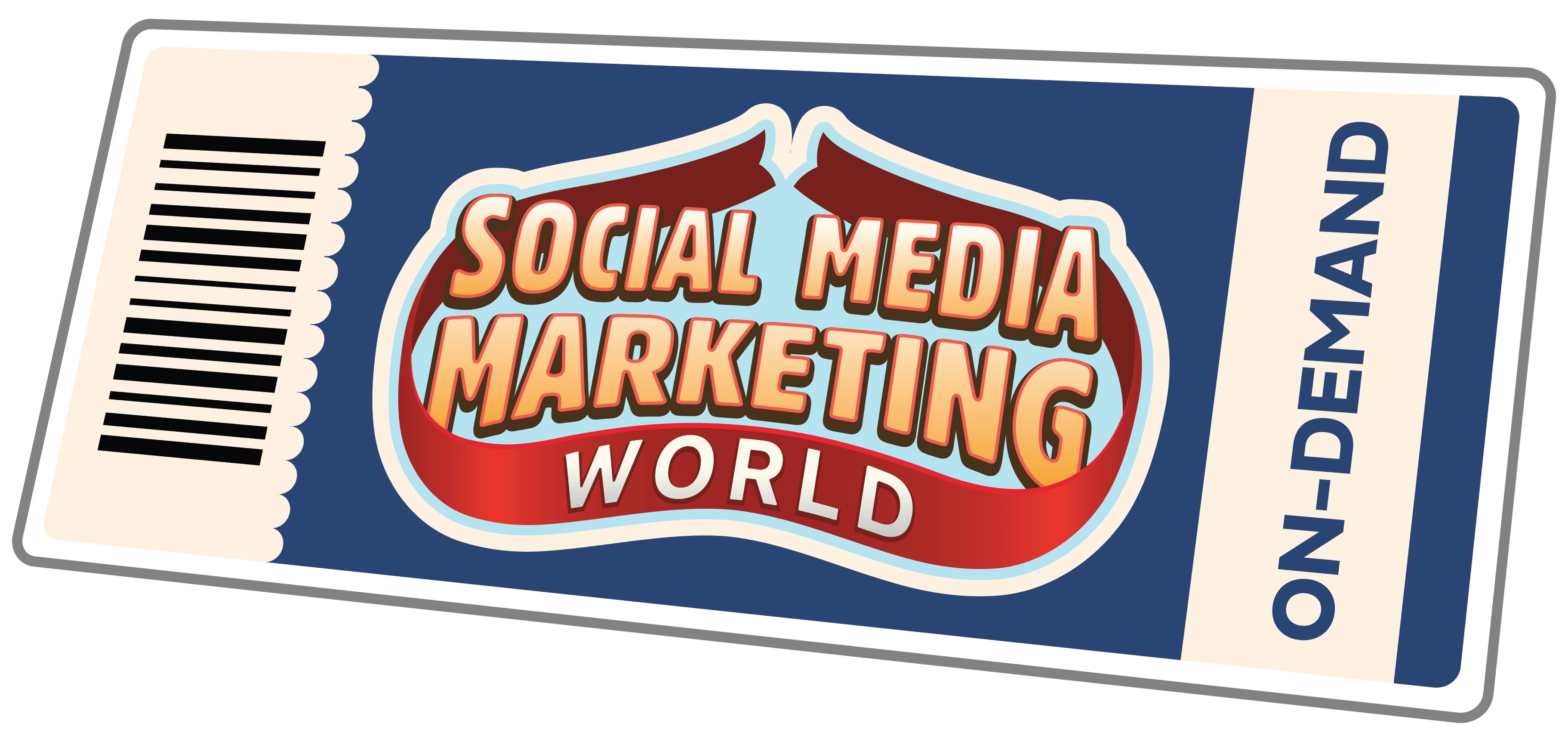 Travel to Social Media Marketing World off the table? Get all of the great content at a fraction of the price with an On-Demand ticket.

That's full access to recordings of every keynote, workshop, and session—the ones people travel thousands of miles to see. Don't wait. Get your On-Demand ticket and enjoy actionable content that you can watch anytime, anywhere.
GET YOUR ON-DEMAND TICKET NOW
To build new segments, identify interests or demographics that align with your target audience. Your buyer persona is a great resource for untapped interests.
If you need more ideas, go to your Facebook Business Suite Audience Insights. Click the Potential Audience tab and add the demographics and interests that shape your target audience.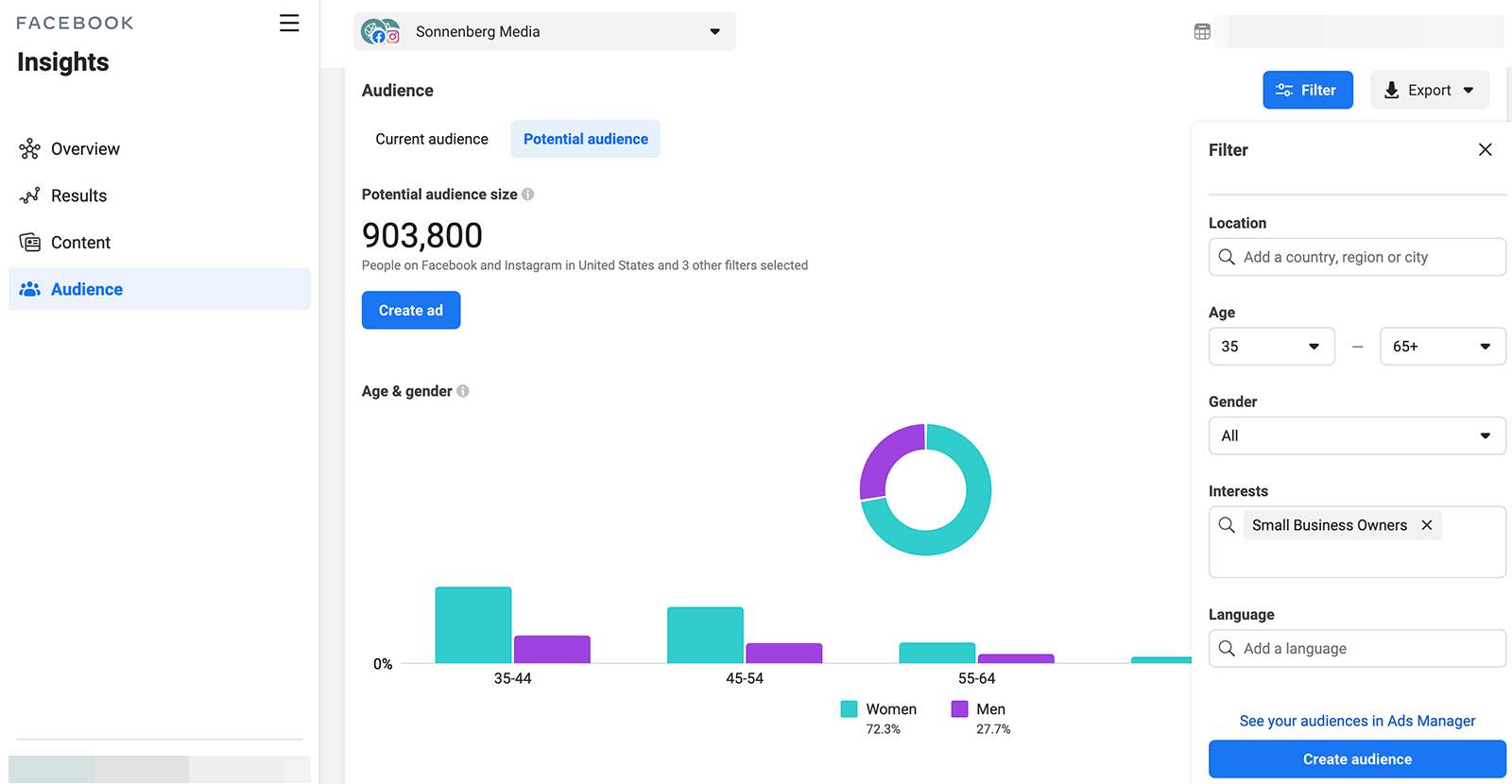 Then scroll to the bottom of the page to see the top pages that people in your target audience follow.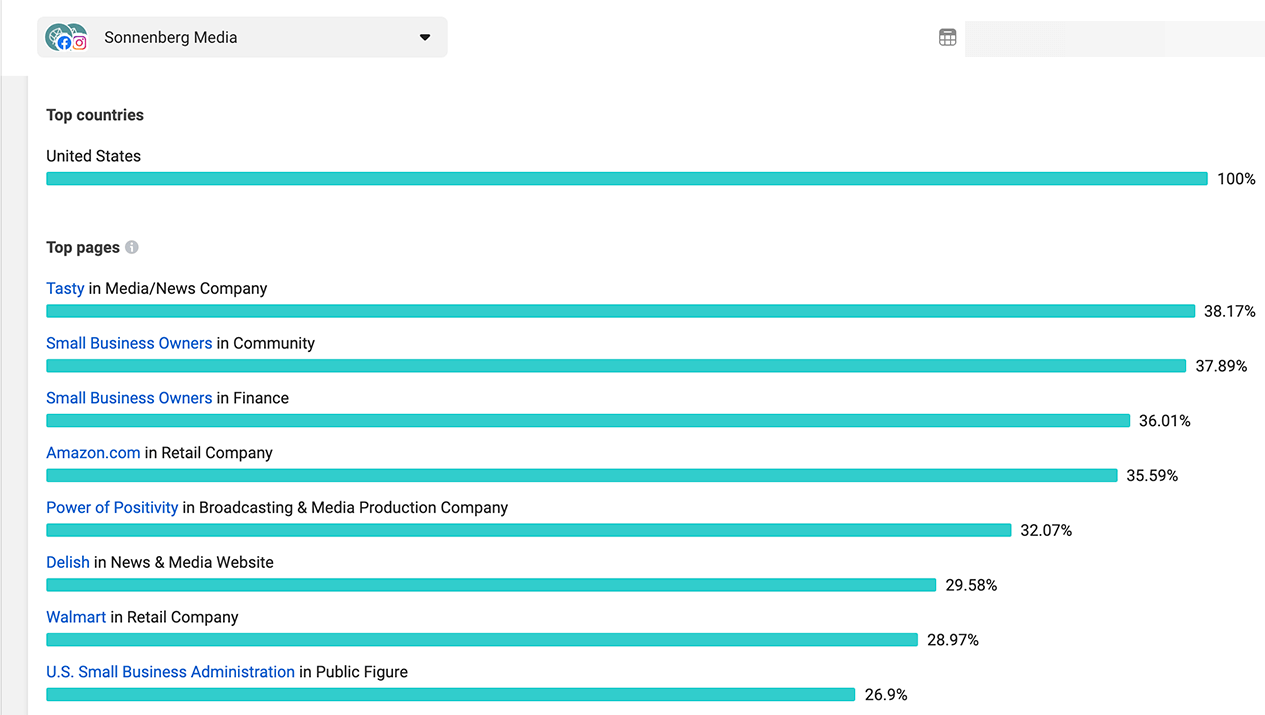 Think of these pages as interests that you can use to define new audience segments. You can add them to your potential audience and click the Create Audience button to save it to Ads Manager. Then you can add it to your new ad set.
As you create new segments to test, you may end up with a bunch of overlapping audiences. On one hand, some overlap is unavoidable, especially if you're targeting a niche audience. On the other hand, though, too much overlap between audiences in competing ad sets can cause performance to decline.
You can check for overlap with the Facebook Audience Overlap tool. Open Ads Manager and go to the Audiences tab. Check the audiences you want to compare and click the three dots. Then select Show Audience Overlap and review the percentage.
If the overlap between two audiences is relatively high—such as in the example below—you can still target the two audiences in separate, competing ad sets. Just be sure to exclude the overlapping audience when you set up targeting parameters.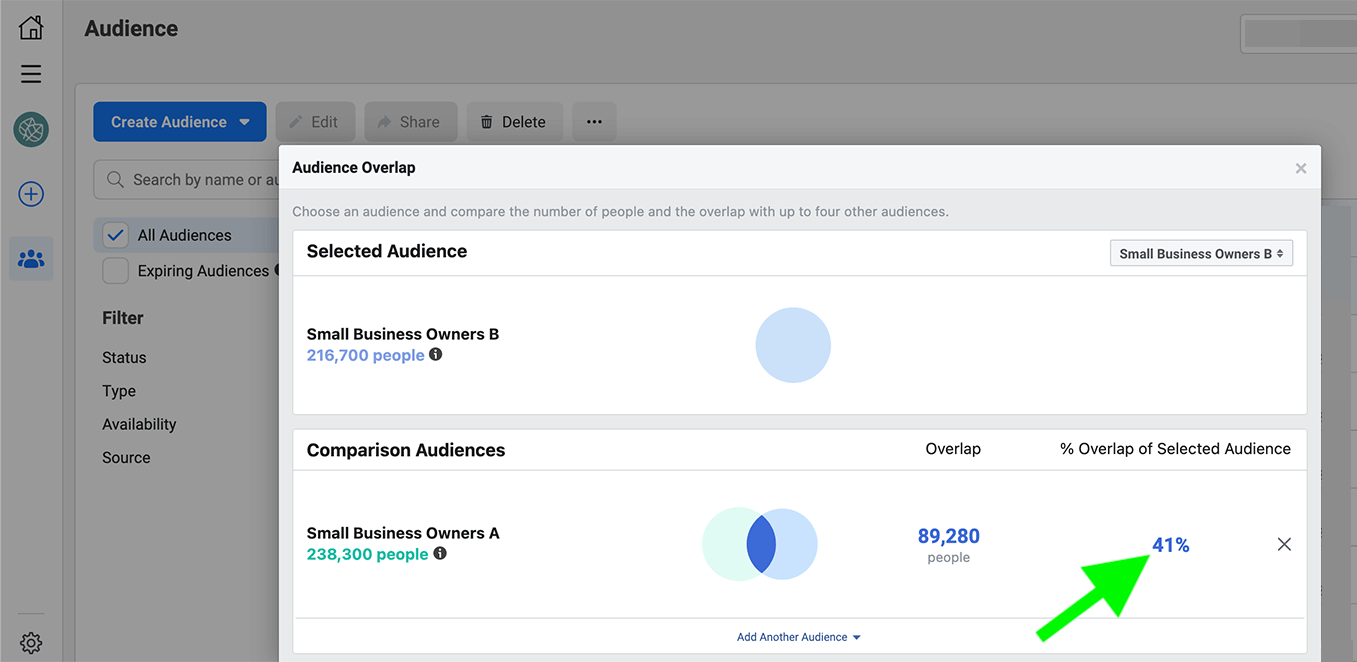 Create Lookalike Audiences
If you have some great ideas for new customer segments to try, then creating new audiences manually is a smart idea. But what if you want to scale your campaign by reaching more people who are just like your current customers?
Build lookalike audiences instead of—or in addition to—creating new saved audiences. To create a new lookalike audience, go to the new ad set you just added to your campaign. Then choose your data source carefully.
For best results, use a source audience that's already highly engaged with your brand. For example, you might create a lookalike that's similar to people who have visited your website or added items from your eCommerce store to their cart.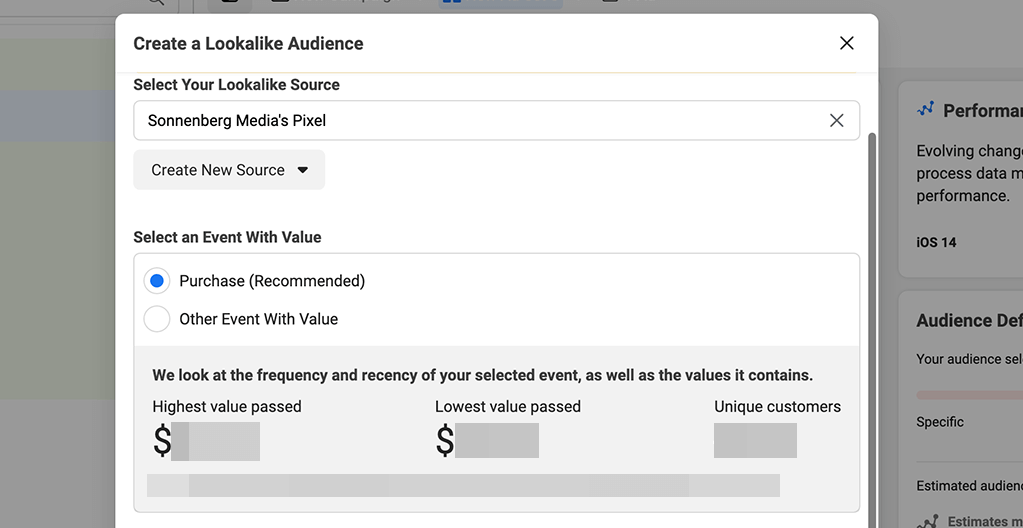 If you have value-based data sources, use them to build high-value lookalikes. For example, you can use a product catalog or your Facebook pixel to create a lookalike audience based on purchase events.
If you don't track value-based events, build lookalike audiences based on lower-funnel data sources instead. For example, your source audience might be people who have engaged with your ads or messaged your account on Instagram.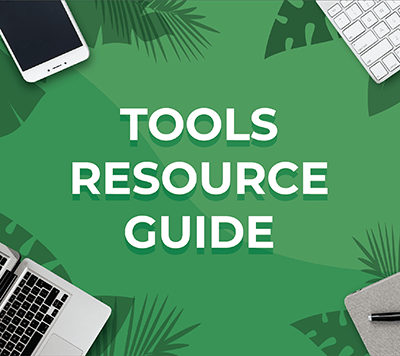 Looking for something to make your life easier?
Discover the tools we recommend to drive engagement, save you time, and boost sales across your entire marketing funnel or business.
Whether you need help planning content, organizing social posts, or developing your strategy, you'll find something for every situation.
FIND YOUR NEXT FAVORITE TOOL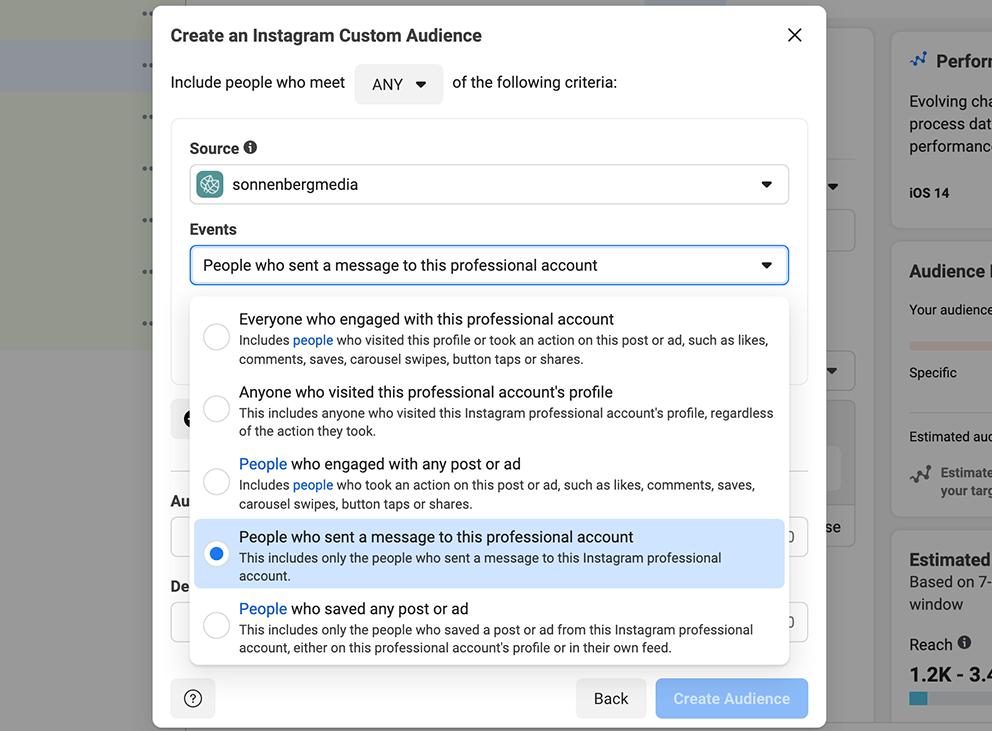 Once you choose a source, decide how many lookalike audiences to create from it, up to six. When you create the first lookalike audience from a data source, set a 1% size, which includes people who are most similar to the original. As you continue to scale, you can use the same source to create increasingly large and less-similar lookalikes.
Keep in mind that Instagram now delivers ads to people outside of your lookalike audience if it's likely to drive better results, which can help you scale even more. If you want more control over who sees your ads, you can even layer demographic- and interest-based targeting on your lookalike audience at the ad set level.
Run A/B Tests
Do you want to experiment with a few similar audiences and focus on scaling the best one? You can run A/B tests to find the best-performing audiences without having to track results manually. In Ads Manager, click the A/B Test button and choose the ad sets you want to compare. Select the metric you want to measure, such as cost per click (CPC), cost per purchase, or any standard events you've configured.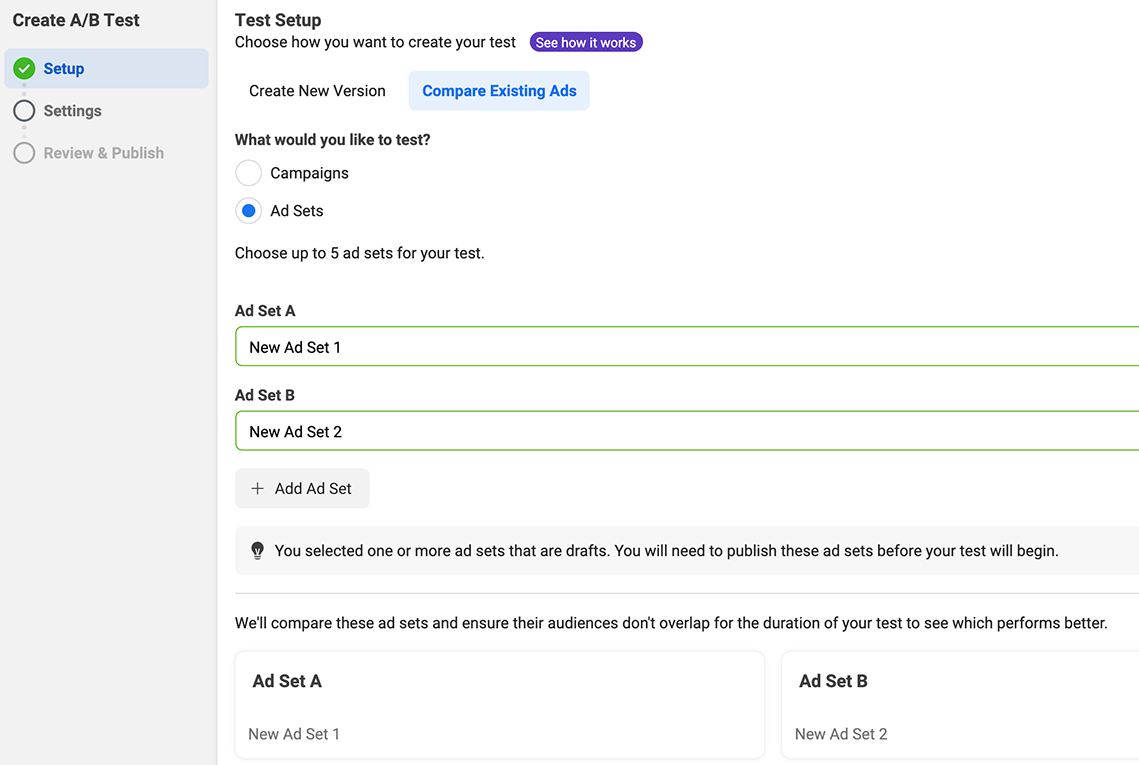 Then publish the test and watch for results in Experiments. Ads Manager will automatically determine a winner, helping you identify the best audience for your campaign and your budget. You can use the results to guide future horizontal scaling efforts, too.
#3: Use Multiple Instagram Ads Placements
What if you've already built a solid target audience that you don't necessarily want to expand? After a while, your audience may experience ad fatigue or your costs may start to increase. Fortunately, you can scale horizontally by adding more Instagram placements.
When you first advertise on Instagram, you may focus solely on placing ads in the news feed and the Explore tab. But when you add newer placements like Reels and Stories, you may be able to reach a bigger portion of your target audience while optimizing ad delivery and costs.
To update where your ad appears, duplicate the ad set and scroll down to placements. Check all of the Instagram options, including Feed, Explore, Stories, and Reels.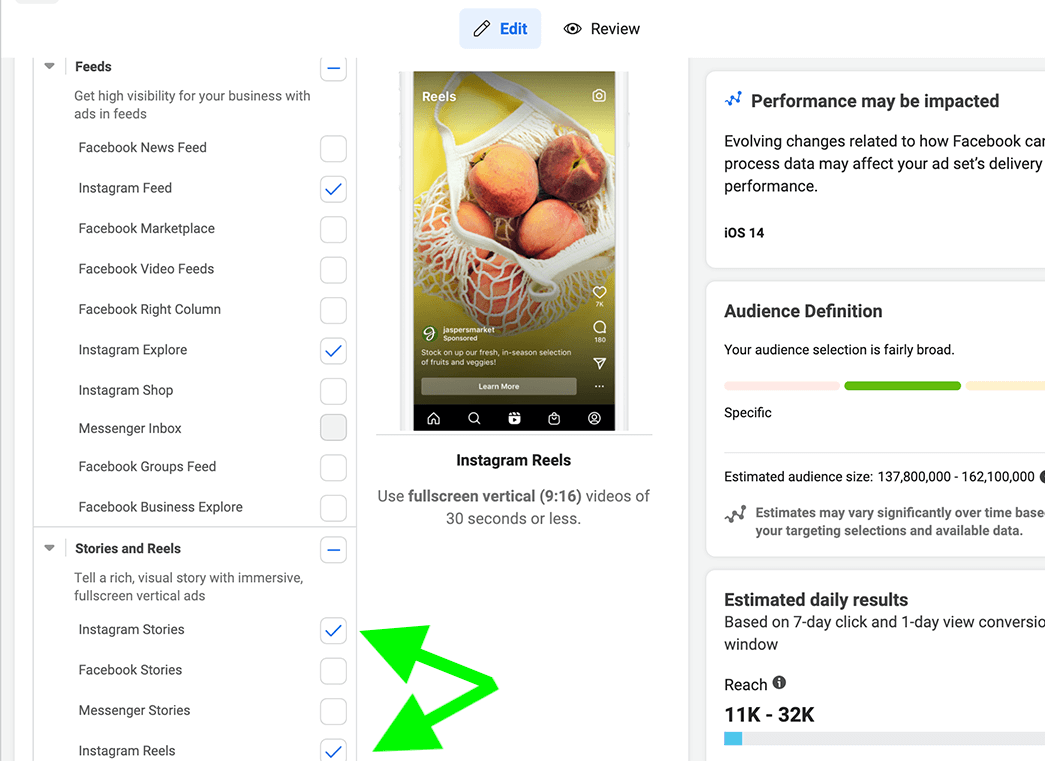 At the ad level, customize your ad for each placement. Avoid making major changes to the messaging or creative and focus on perfecting image ratios and using available features. For example, you can add text overlays to Reels and interactive options like polls to Stories.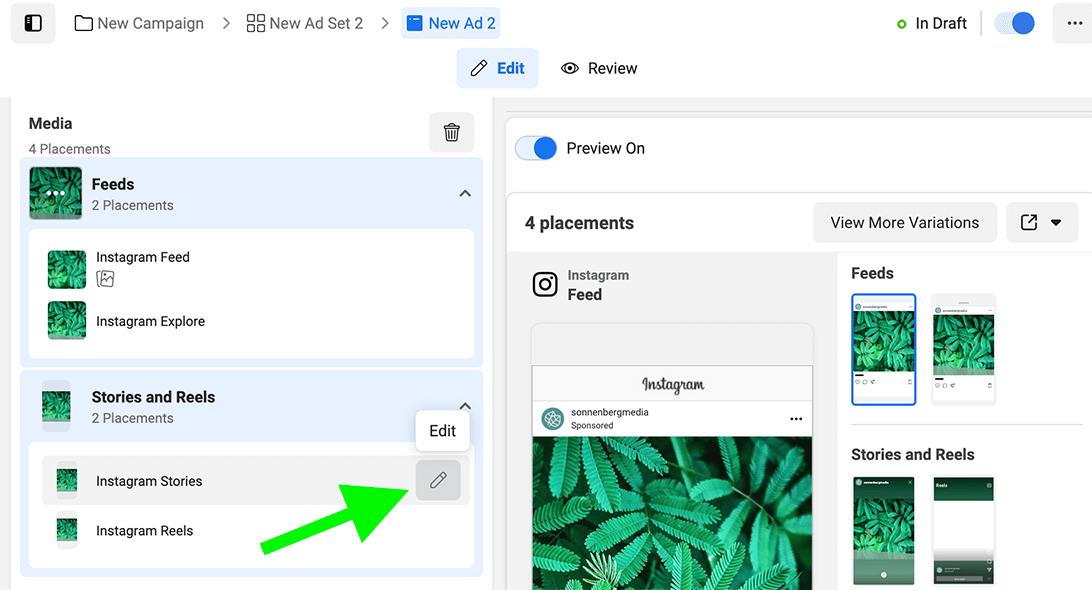 As you run the ad, keep an eye on the placement breakdown. Watch to see which placements work best for your audience and consider switching off placements that don't drive results. Again, you can use the results to guide future scaling efforts.
#4: Iterate on Top-Performing Instagram Ads
If you're already using all available placements, you can still scale horizontally using your top ads. But it's important to note that identifying the best ad can become much more difficult when you use the many optimization options in Ads Manager. For example, you might be tempted to use options like Dynamic Creative or Optimize Text Per Person to improve performance for your ads.
But Ads Manager typically aggregates results—so you can't always see which combination of creative elements or text field placements performed best. So if you're thinking about horizontally scaling a campaign, aim to use static rather than dynamic or optimized creative elements.
Identify Your Best Ads
Before you can scale your ads, you need to know which ones generate the best results. After all, you want to scale your top performers, not ads with average results. To find your best ads, go to your Ads Manager report and select an ad set. Then sort ads based on CPC or cost per result.

Start with the best-performing ad. Duplicate it into the same ad set and then choose one of the options below to iterate on the ad copy, call to action (CTA), or creative. Change one element at a time so you can accurately track what's working and what isn't.
Change the Call to Action
The easiest change to make is changing the CTA that displays on your ad. Click the Call to Action drop-down menu and choose another CTA that works with your offer. For example, you might try "Sign Up" instead of "Subscribe" or "Order Now" instead of "Shop Now."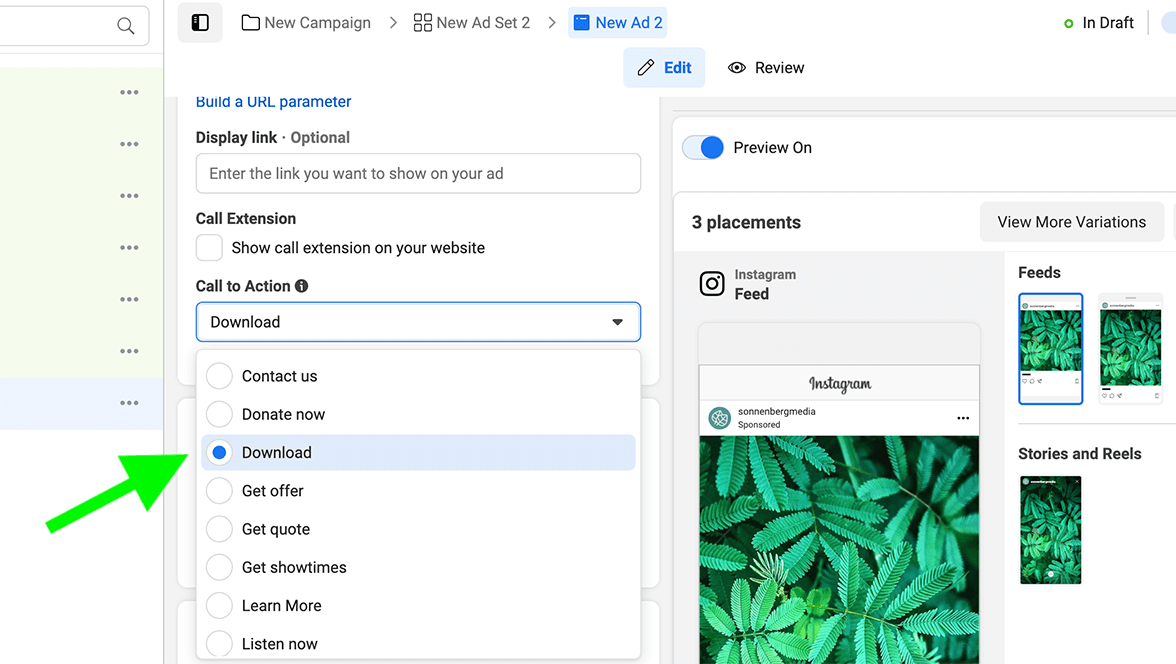 Modify Ad Copy
Another option is slightly modifying the ad copy. Aim to keep the overall message the same, but make minor edits. For example, you might place the in-text CTA at the beginning of the copy rather than at the end, or you might add or remove benefits.
Use a New Creative
You can also make small modifications to the creative but avoid making major changes. For example, you might add a text overlay that reiterates the ad copy or crop the photo differently.
Pro Tip: 3 Ways to Reduce Instagram Ad Fatigue
As you scale your campaigns, remember that the longer they run, the more likely they are to cause ad fatigue. Monitor your results closely and look for changes in performance, especially as they become trends. For example, if you notice that costs are increasing, results are decreasing, or impressions are plummeting, you may need to take additional steps to scale more effectively.
Set a Lower Frequency
If you start to notice negative feedback on your ads, your audience may be seeing them too frequently. If you're using the Reach objective, you can set a lower frequency cap at the ad set level to ensure your audience won't see your ads as often. Try different frequencies to find the right balance for your audience.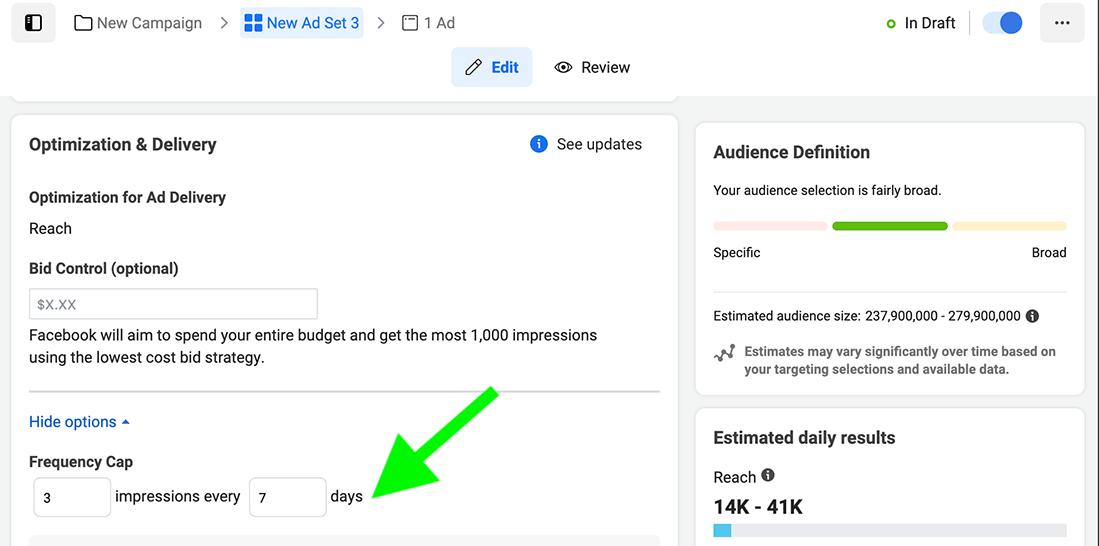 Use Reach and Frequency
Alternatively, create a reach and frequency campaign rather than a standard auction campaign. You can choose this buying type at the campaign level and then set the frequency at the ad set level. By default, reach and frequency campaigns deliver up to 2 times every 7 days. However, you can set the frequency that you know works best for your business instead.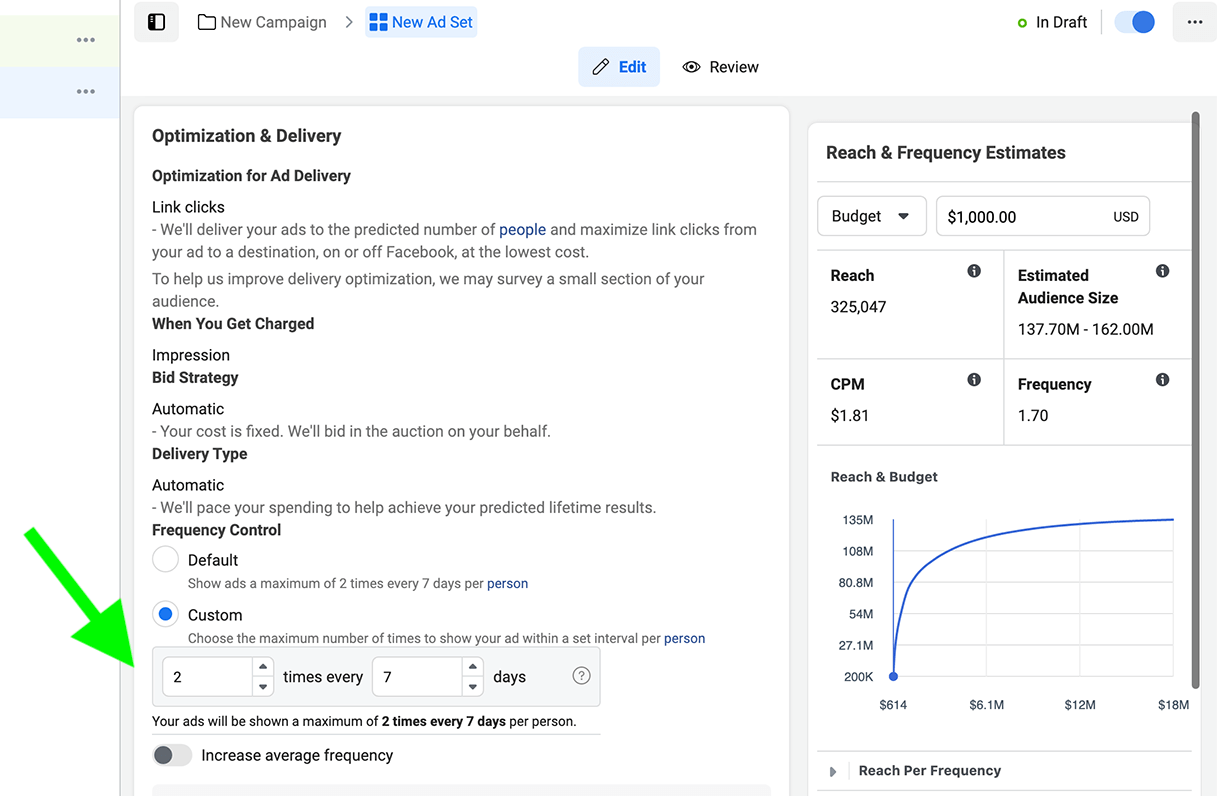 Remember that reach and frequency campaigns are a bit less flexible than auction campaigns. Because you can't edit audience targeting or placements for published reach and frequency campaigns, it's best to avoid using them for testing purposes.
Promote a New Offer
If you've tested different creatives but you're still struggling to scale, consider updating your offer. That may mean providing a discount on your products or services, creating a new lead magnet, or offering a free consultation.
Start by using a campaign structure, a target audience, and ad placements that you already know will work. Then use the same steps outlined above to scale your new offer horizontally or vertically.
Conclusion
It's easy to assume that increasing your campaign budget is the right—or only—way to scale Instagram ads. But if you expand your audience, test new ad placements, and iterate on your best-performing ads, you can scale your Instagram ads horizontally and drive impressive results.
Get More Advice on Instagram Ads
Get Your FREE Course: Web3 for Beginners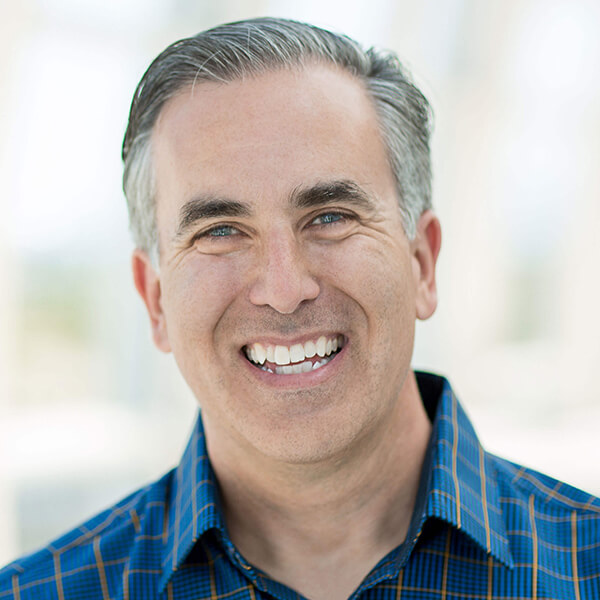 Curious about Web3, but don't know where to start or who to trust?

Introducing Web3 for Beginners, a course taught by Michael Stelzner, the founder of Social Media Examiner.

Learn the basics of Web3 and apply it to your business with this FREE comprehensive course.
CLICK HERE TO GET FREE ACCESS