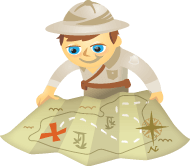 Do you want to get more out of Facebook ads?
Looking for ways to make your campaigns more cost-effective?
Some simple tactics can help you maximize the performance of your Facebook campaigns, especially if you're on a tight budget.
In this article, you'll discover four ways to optimize your Facebook ad campaigns for better results.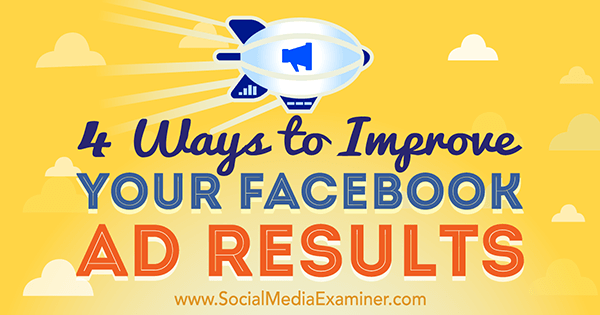 #1: Combine Multiple Objectives in a Single Ad
If your business is relatively new or has a small customer base, consider optimizing your campaign for multiple benefits simultaneously. Although this practice is not recommended for larger businesses that want to put all of their efforts into one objective, optimizing for several objectives can be effective for small budgets.
In the ad below, a Facebook page with a relatively small audience is trying to promote their page and encourage likes. Notice they've included a link to their site and are using the ad to promote their blog.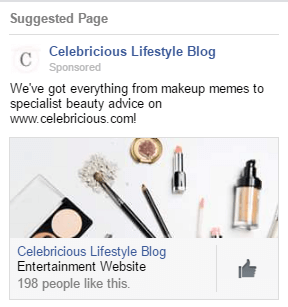 This tactic works well in this instance because the ad shows people that despite being small, this business has a website for customers to find more information. If people visit their website, it can help encourage trust in the brand, making users more inclined to like the Facebook page.
Including a link in an ad designed to promote a page also lets people find out more about the content the business shares. If users click on the website and find content they enjoy, they might become long-term followers of both the page and website.
Keep in mind that this tactic can be harmful to your campaign if your Facebook ads are optimized for two or more objectives or have multiple objectives that don't work in harmony (for example, app installs and event responses).
#2: Take Advantage of Targeting Features to Refine Your Audience
To create a low-cost, high-performing Facebook ad, you need to narrow down your target audience. This will help ensure your ads reach the right people, giving you the best chance of success. You'll also avoid spending money serving ads to people who won't be interested in your business.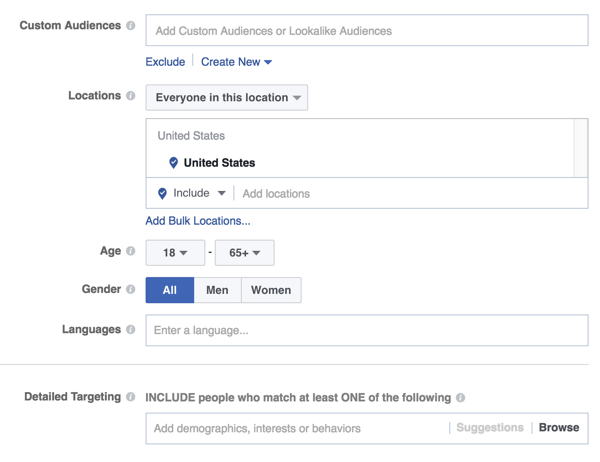 Here are the parameters to define within your ad set to optimize ad targeting.
Locations
Specifying a location in your ad set lets you target people in a certain geographic area who have something in common with what you're promoting.
For example, suppose that you have an organic beauty business with multiple locations and you want to create an ad to promote your Facebook page. If the ad is specifically for your Los Angeles store, use location targeting to serve your ad to people in the Los Angeles area who may already be familiar with your brand or are more likely to visit your store.
Get Your FREE Course: Web3 for Beginners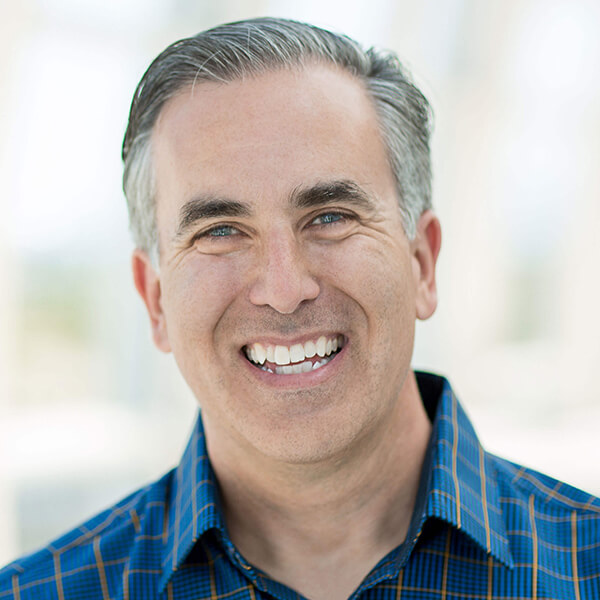 Curious about Web3, but don't know where to start or who to trust?

Introducing Web3 for Beginners, a course taught by Michael Stelzner, the founder of Social Media Examiner.

Learn the basics of Web3 and apply it to your business with this FREE comprehensive course.
CLICK HERE TO GET FREE ACCESS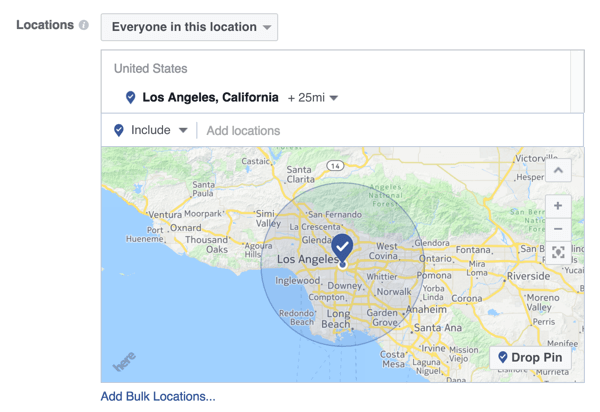 Now repeat this targeting for all of your store locations. Tailor your ad's text and imagery for each audience to improve the success rate of your campaign.
An added benefit to location targeting is it gives you a way to split test a campaign. If you separate your ad sets by city, you can see which locations are responding well to your ads and invest more of your ad budget into those.
Tip: Adding text like "Visit our LA store" to your ad copy can help you target local customers and increase the chances of people engaging with the ad.
Age and Gender
Next, think about your buyer persona, which will include the age and gender of your perfect buyer.
Use this information in your campaign targeting by specifying that age and gender. You want to serve your ads to people who might be interested, as opposed to people with no connection to the products or services you're promoting.

If your in-house data shows that your highest-value customers are females ages 18-30, use this information to enhance your targeting efforts and show the ads only to people who share these traits.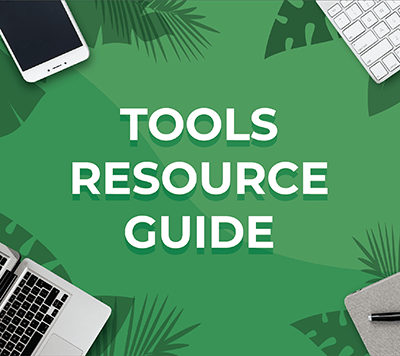 Looking for something to make your life easier?
Discover the tools we recommend to drive engagement, save you time, and boost sales across your entire marketing funnel or business.
Whether you need help planning content, organizing social posts, or developing your strategy, you'll find something for every situation.
FIND YOUR NEXT FAVORITE TOOL
Detailed Targeting
The Detailed Targeting section is where you specify the behaviors, interests, and demographics of your ideal customer. You want your ad to be shown to people who have already expressed an interest in certain areas. These are the people who are more likely to engage with and respond to your ads.
For your organic beauty brand, you want to target people who have already expressed an interest in organic products. Here's a selection of interests and behaviors you may want to target.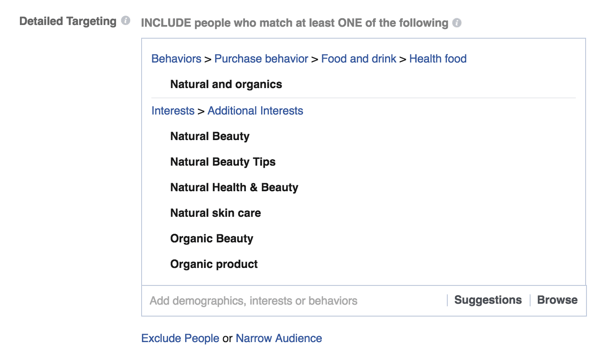 Connections
Depending on your ad objective, you can also use connections targeting, which lets you show your ad to people you have a connection with on Facebook, such as people who've liked your page.
For your organic beauty brand ad, your objective is to get new fans for your Facebook page, so exclude people who have already liked your page in your targeting.

Facebook also lets you target people who like your page, and friends of people who like your page. Either option is ideal if your campaign objective is to increase visits to your website or encourage post engagement.
#3: Split Test to Shift Resources to Top-performing Ads
If you have a small ad budget, it's important to split test your campaigns. This allows you to identify well-performing ads and adjust your spend based on the results.
Suppose you've created four ad sets that each target a different city. Your Los Angeles ad is performing well and getting a cost per result (CPR) of $0.25, but your Chicago campaign is running with a CPR of $1.32. Taking this data into consideration, it makes sense to turn off the Chicago ad, or assign more budget to the Los Angeles campaign, because that's where you're getting the best return on your investment.
In the example below, the ad set with a CPR of £0.03p has double the budget of the one with a CPR of around £0.25p. This business can now invest more resources into the successful ads and get a higher (and more valuable) return for their investment.

If you're running a Facebook campaign and have a small budget to work with, you should analyze your ads as they run to help you minimize the chances you'll waste money on ads that aren't performing as well as others.
#4: Add Special Offers to Prompt Conversions
Did you know that around 93% of shoppers have used a discount code or coupon in the past year? Using special offers and discount codes is a classic marketing technique to entice new and existing customers to buy your products or services. Not only do offers help you boost sales, but they also give the audience an incentive to buy from you.
The main objective of this Amazon Prime campaign is for people to install the app through iTunes. To persuade them to make the download decision, Amazon is offering a £5 off discount code for a first-time purchase if they act quickly.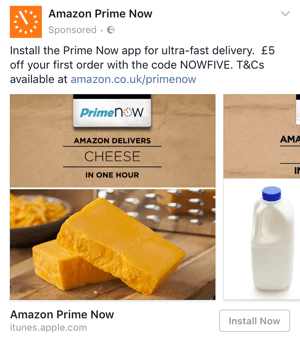 When you include an offer that can be used only when people are exposed to your Facebook ad campaign, you'll be able to see how successful your ads were within your customer database. If the offer with the code FB$10DISCOUNT gains 200 more sales than one with $10OFF, you'll know that the best way to promote sales vouchers is through Facebook ads.
This tactic helps you identify the best marketing tactics for your business and maximize your return on a small investment.
Conclusion
As you can see, with a few tweaks to your Facebook ads, you can get a better return on your investment.
What do you think? Do you use some of these tactics to get a better return on your Facebook ad campaigns? What tips can you offer? Please share your thoughts in the comments below.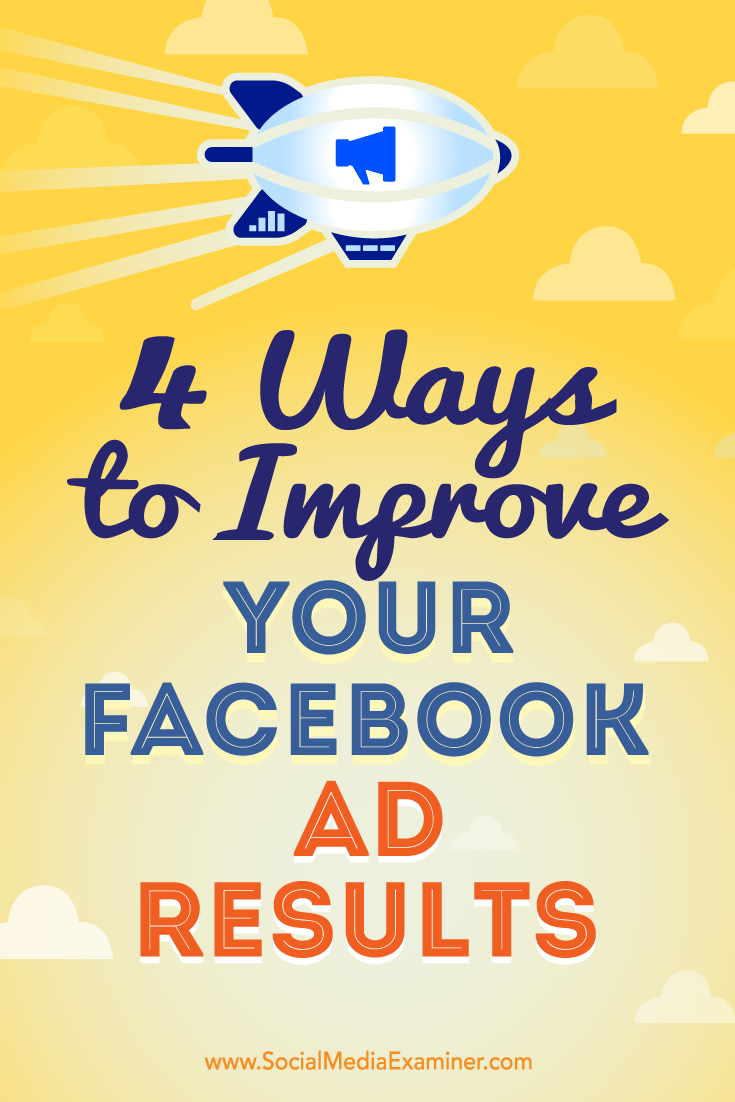 Get Your FREE Course: Web3 for Beginners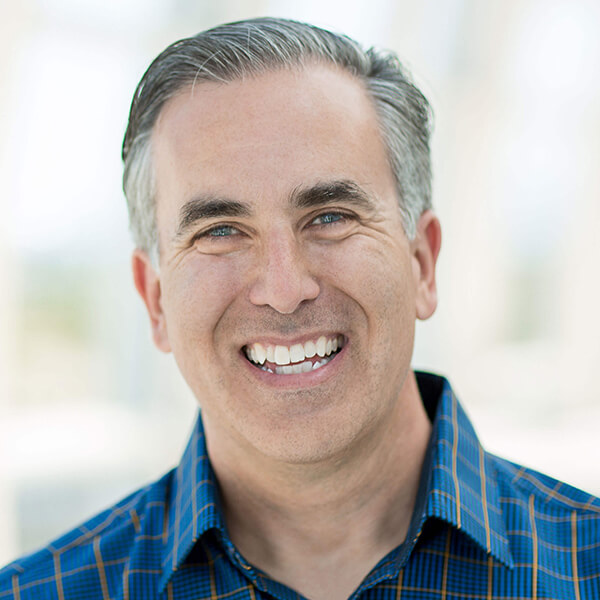 Curious about Web3, but don't know where to start or who to trust?

Introducing Web3 for Beginners, a course taught by Michael Stelzner, the founder of Social Media Examiner.

Learn the basics of Web3 and apply it to your business with this FREE comprehensive course.
CLICK HERE TO GET FREE ACCESS