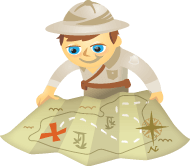 Do you want to improve awareness for your business?
Have you considered collaborating with influencers?
Working with influencers to promote your product or service to their audience is an effective way to meet your marketing objectives.
In this article, you'll find four influencer marketing examples and ways to connect with influencers.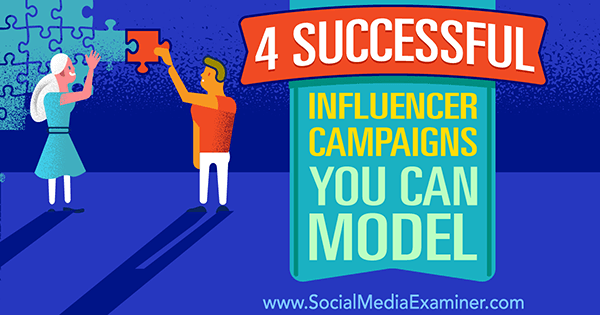 Listen to this article:
Where to subscribe
:
iTunes/Apple Podcast
|
Android
|
Google Podcasts
| 
Google Play
|
Stitcher
|
TuneIn
|
Spotify
|
RSS
#1: Boost Sales
To encourage people to purchase your product, work with an influencer to promote a discount code to their audience.
Swedish watchmaker Daniel Wellington collaborated with thousands of influencers on Instagram to post images along with a caption that included a discount code for 15% off Daniel Wellington watches.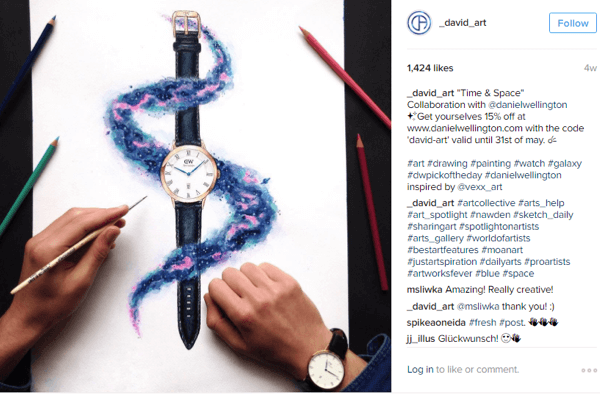 The watches are positioned in a setting that's natural for the influencer, as you can see in the image above from artist David Ambarzumjan, and below in the image posted by blogger Adriana Gastélum.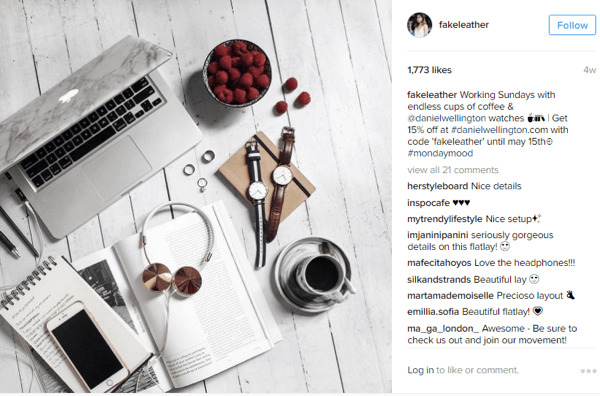 This campaign helped Daniel Wellington evolve from a $150,000 startup into a brand that's worth $220 million in less than five years, and increase profits by 214% between 2014 and 2015.
#2: Build Brand and Product Awareness
If you want to build awareness for your brand or a new product, consider reaching out to engaged and dedicated audiences through influencers. To make the most of that outreach, ask your influencers to use a branded hashtag when they post.
Top fashion brand Chanel made full use of branded hashtags to build anticipation and awareness for their new perfume Chanel No. 5 L'Eau. They invited influential Instagrammers like Jessica Mercedes Kirschner to their production facilities and flower fields located in Grasse, France, for an inside look at how Chanel makes their iconic perfumes.
As each influencer shared interesting images from the tour with their audience, they included two branded hashtags: #newchanel5 and #chanelgrasse.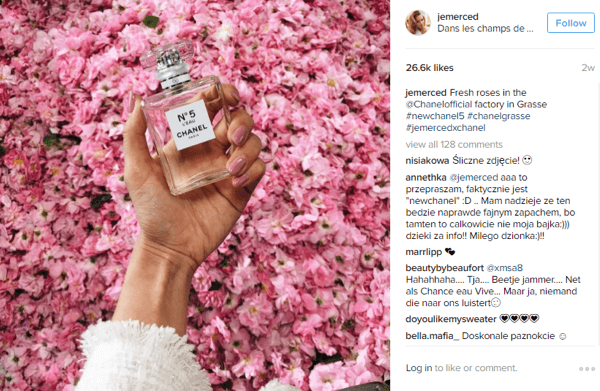 Chanel even worked with top bloggers like Julie Sariñana from Sincerely Jules, whose original post generated more than 40,000 likes on Instagram.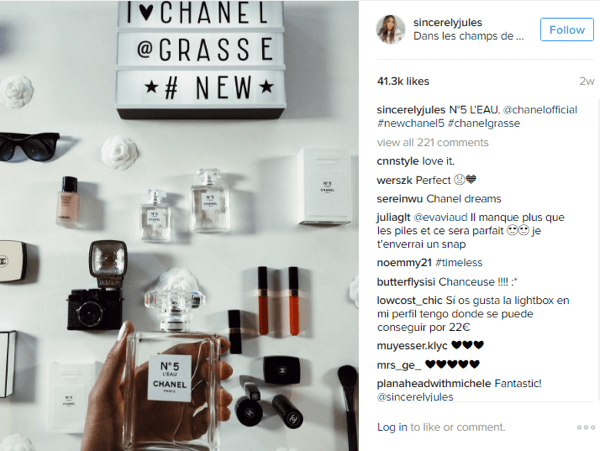 Within one month, the campaign generated more than 1,600 unique contents with the hashtag #newchanel5, garnering almost 1 million likes, and exposing the upcoming product to more than 9 million social media users.
#3: Increase Foot Traffic
People can easily see through fabricated content. That's why authenticity is key when you want to make a compelling case for people to experience what you have to offer.
When you work with influencers to promote a destination, genuine reactions are more likely to encourage people to take action, rather than a post that's too heavy on scripted endorsement.
The Hawaiian Tourism Authority focused on authenticity when they chose to work with top travel Instagrammers to showcase Hawaiian experiences that made people feel they could have the same experience.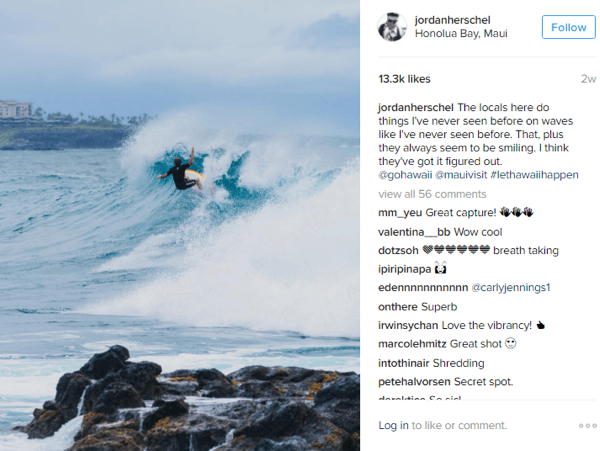 They collaborated with several top Instagrammers including Jordan Hershel, who's known for visiting some of the most scenic locations across the globe. He posted beautiful images that communicated an alluring picture of Hawaii, reinforcing the islands' reputation of being a traveler's paradise. Each image was accompanied by the hashtag #LetHawaiiHappen.
The campaign generated almost 100,000 posts using the hashtag, and the Hawaiian Tourism Department managed to reach 54% of travelers across the U.S. using social media marketing and paid advertising. What's more, 65% of users who saw the campaign intend to visit Hawaii within the next two years.
#4: Improve ROI
Marketing can be expensive. Especially if you're a startup or small businesses, it's important to look for cost-effective methods to market your business and products. To launch an effective influencer marketing campaign without exceeding your marketing budget, you can partner with mid-level influencers.
Try The World wanted to raise awareness for their range of food subscription boxes. Instead of hiring a top-tier celebrity, they decided to collaborate with YouTuber Missy Lanning. Missy, who has more than 400,000 subscribers, posted a Taste Test Challenge video featuring a subscription box from Try The World.
The video managed to get more than 500,000 views and raised a high level of brand awareness with a better dollar-for-dollar value than working with a top-level influencer.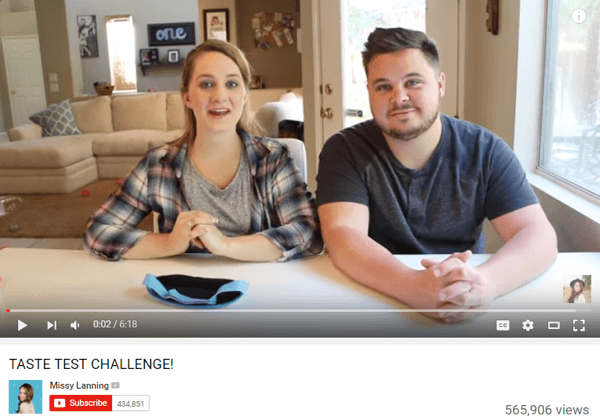 Reaching Out to Influencers
Reaching out to influencers via email is one of the most challenging steps in influencer marketing, but a few tips can improve your chances of getting a positive response.
First, make your subject line straightforward and interesting. Think of it as a landing page headline or a marketing email subject line, where you're marketing your partnership to influencers.
Next, because it's likely that the influencers don't know you, start off by introducing yourself and your company/brand. Then tell them why you're reaching out and what your goals are. Follow this with an explanation of why you consider them a good match for your campaign. Give them a reason to work with you by telling them about the incentives and the benefits involved.
Finally, don't assume they'll work with you. Be sure to frame your sentences in such a way that you're offering a proposal, which they have the freedom to reject.
For example, if you want to reach out to a blogger with a special offer for his or her subscribers, consider this approach:
Hi [influencer],
I'm [your name] from [company]. We're a start-up that's involved in developing useful tools for digital marketers. I've been an avid subscriber of your blog since 2014. Your recent post about [relevant topic] was especially intriguing and I intend to follow your advice in my next campaign.
The reason I'm reaching out to you is because we have developed a new product that your audience could greatly benefit from. It's a [product], which offers your readers [features + benefits].
I understand that you're selective about doing promotions. So I'm bringing this product to your notice only because I feel that your readers would truly appreciate it.
We're interested in partnering with a small selection of top bloggers like you by providing subscribers with a special offer. X% of the profits will be yours.
If you're interested in this proposal, please let me know and we can schedule a call for next week to discuss the details.
Regards,
[Your name]
If you want to ask an influencer to review a product, you can try this:
Hi [influencer],
My name is [your name] from [company]. I've been a follower for quite some time and I admire how you engage and inspire your audience. That's why I'm reaching out to you regarding a product that I feel you and your audience would love.
It's a [product name], which [features + benefits]. In fact, it has received praise from [relevant sites with links]. Since you enjoy trying such innovative products, I was wondering if you'd be interested in testing and reviewing it.
I can send you a few samples for the review and some extras to use as giveaways for your audience.
If you're interested, let's schedule a call to discuss the details.
Thanks for your time,
[Your Name]
You can customize these templates according to your product or service and your offer. Your final version will depend on whether you're looking for paid brand ambassadors or influencers who can contribute to an upcoming project.
Conclusion
As you can see, influencer marketing campaigns can effectively market your brand and products while increasing your visibility with a wider audience. Implement the campaign ideas above in your social media marketing and watch your marketing dollars go to good use.
What do you think? Have you experimented with influencer marketing? What tips can you offer? Share your thoughts in the comments below.