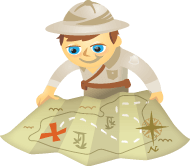 Want to improve your Facebook advertising results? Looking for successful examples you can model?
In this article, you'll discover four ways to generate clicks, leads, and conversions using Facebook ads.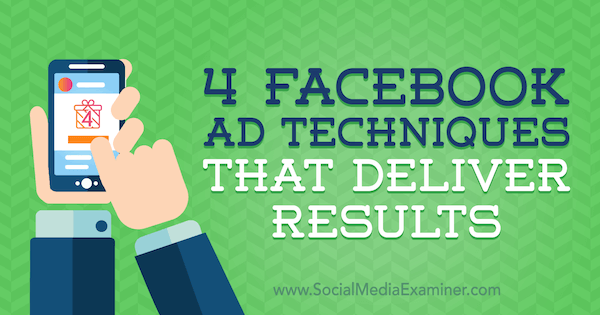 #1: Offer Free Content at Each Stage of the Sales Funnel
People who aren't familiar with your brand are unlikely to convert on your core offer, especially if you sell high-cost products or services. Customers who are still in the early stages of the buyer's journey need more information before they pull the trigger. This is when you can use Facebook ads to promote content that your ideal customers are unlikely to refuse.
In general, free content is hard to resist, especially when it's valuable information that helps people accomplish a certain goal or task.
In this ad, AB Tasty uses a downloadable eBook to convert people looking for more information. The ad is aimed at people who are interested in improving website performance but may not be familiar with conversion rate optimization. Additionally, it's designed to create awareness and build interest in the core offer.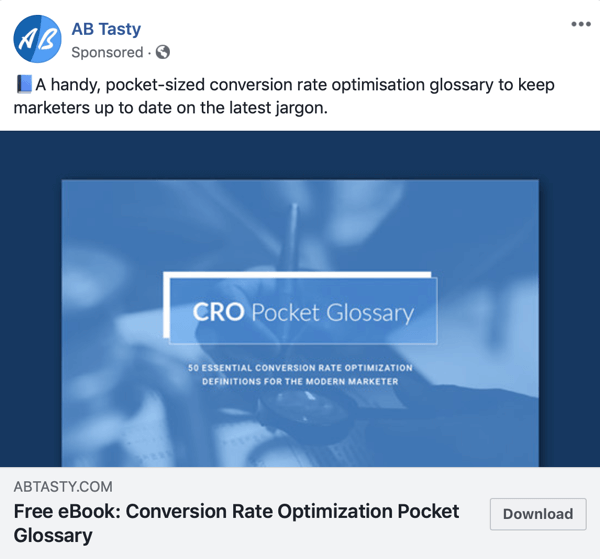 Go back to the Facebook ads you're currently running. Do your offers match your audience's intent level for each stage of the buyer's journey? If they don't, it's time to go back to the drawing board and plan some new offers.
Choose Several Offers for Each Stage of the Sales Funnel
When brainstorming offers, don't limit yourself. Consider a variety of offers that could be used for each stage of the sales funnel.
When planning offers for the sales funnel, remember to match each offer with your audience. Getting results on Facebook is about combining the right offer with the right audience. The goal is to get the audience in each stage to move down the funnel to eventually purchase your product or service.
Each campaign that you build on Facebook will have that goal clearly selected.
For brand awareness campaigns or campaigns targeted to people who've never heard of you, focus on low-pressure offers. Think of offers along the lines of toolkits, an introduction to your blog, or an infographic. You just want to get people familiar with your brand.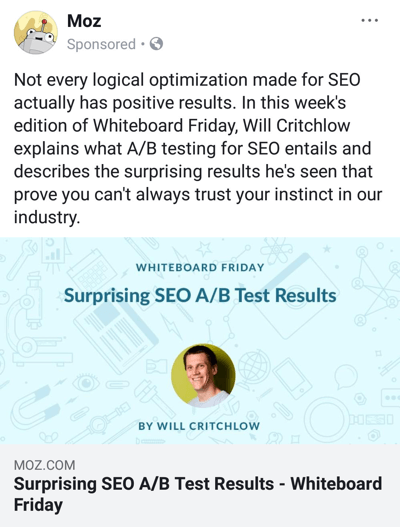 For your higher-intent campaigns that focus on people who know about you but aren't quite sold, you can increase the pressure. You might offer quizzes, video courses, eBooks, or case studies.
🌟 Ready to Supercharge Your Social Marketing Strategy? 🌟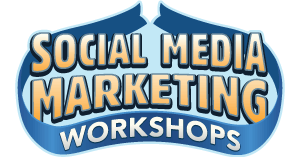 Struggling with your social marketing? You're not alone. The solution? The Social Media Marketing Workshops!

During these live 2 hour deep-dive workshops, you'll discover what's working now on Instagram, Facebook, TikTok, YouTube, and LinkedIn. Skyrocket your engagement, broaden your reach, and amplify your sales.

Become the marketing hero your company and clients need—without leaving your home!
🔥 Save $650 on an All-Access Ticket! Sale Ends Friday! 🔥
GET YOUR TICKETS NOW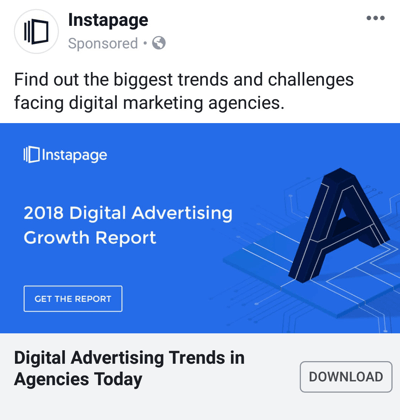 For an audience that's very familiar with your brand, you can be more aggressive. These are people who regularly read your blog, spend more time on your site, and have visited key web pages. Offer them consultations, quotes, or trials. You can even cut to the chase and suggest a purchase at this stage.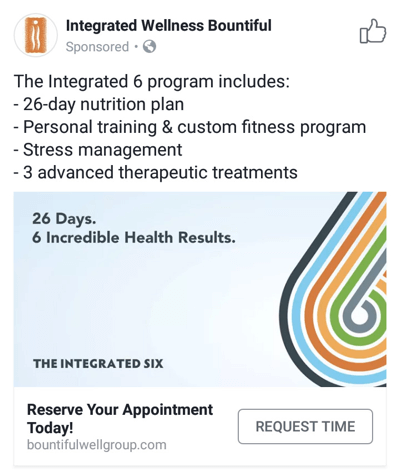 Create Offers That Provide Solutions for Specific Customer Pain Points
Chances are your product or service solves a well-known problem for your customers. Addressing those problems in your Facebook ads is a great way to draw in your target audience. But your customers might not be ready to make a purchase because although they're aware of their problem, they don't know the best way to solve it. They still need to research possible solutions.
Creating an offer that provides helpful solutions to the problems your customers face is an excellent way to attract high-quality prospects.
This ad by WordStream starts with a question that directly targets people who are struggling to improve their click-through rates. Then it offers a quick solution in the form of a free guide that provides tips and tricks that will improve their conversion rates.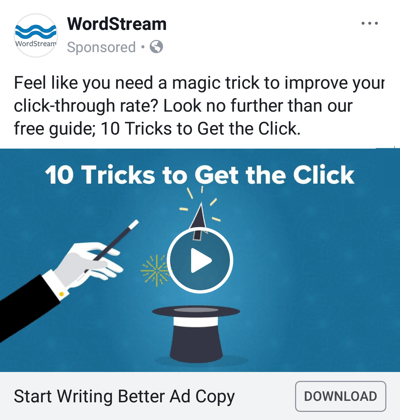 If you want to create an offer that addresses your customers' pain points, you need to have a solid understanding of your ideal customer and the problems they face. The best way to find out what problems your customers are facing is to ask them.
You can easily create a survey using a tool like Survey Monkey or make your own with Google Forms. Start by sending the survey to your existing customer base. There's a good chance your existing customers shared the same pain points as your future prospects.
Here are a few survey questions that will help you better understand why your existing customers purchased from you:
How has [product or service] benefited you the most?
What are the top three benefits you get from [product or service]?
What problem were you trying to solve when you found [product or service]?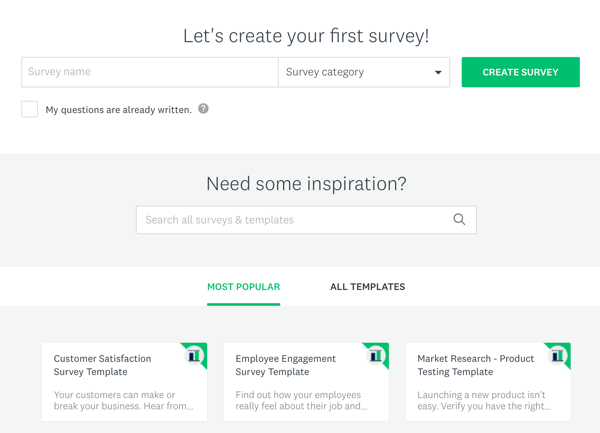 Your customers are busy, so many of them won't take the time to complete the survey without some encouragement. To get as many of your customers as possible to take the survey, include a promo code, coupon, or entry into a giveaway to incentivize survey-takers.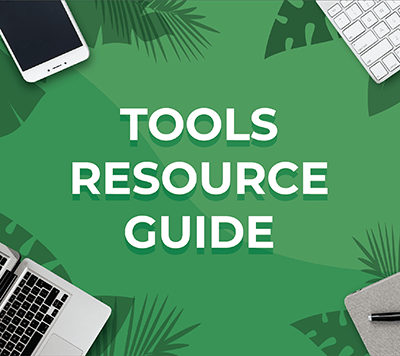 Looking for something to make your life easier?
Discover the tools we recommend to drive engagement, save you time, and boost sales across your entire marketing funnel or business.
Whether you need help planning content, organizing social posts, or developing your strategy, you'll find something for every situation.
FIND YOUR NEXT FAVORITE TOOL
#2: Give Prospects a Free Trial Period
If you're like most business owners, you believe in your product or service offerings. So why not let people try them out for free before they commit to paying for them? If you've done a good job of attracting the right customers up to this point, this might be all you need to close the deal.
Free trials reduce buyers' perceived risk and make them feel more comfortable doing business with you.
This ad from Hootsuite is hard to resist. They know that if you're seeing this ad, you're already familiar with their product and how it works. At this point, they've positioned their software as the obvious solution to your problem, and instead of being annoyed by the offer, you feel like they're genuinely interested in helping you. After all, they're giving you 60 days to try their software for free.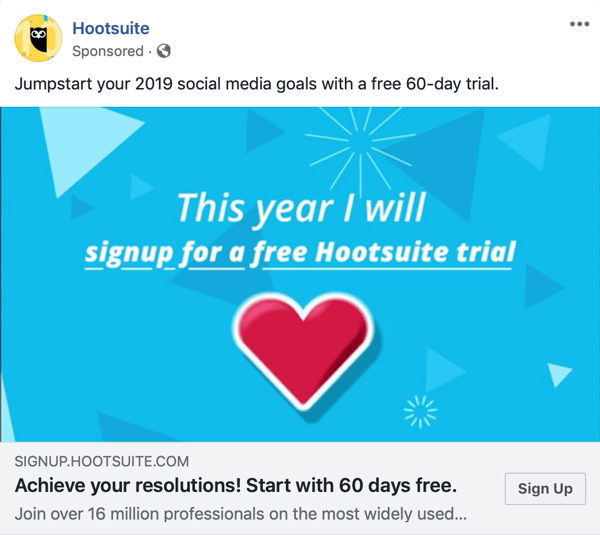 You can use the free trial offer to encourage skeptical buyers to sign up. Then make sure you turn those free trial users into paying customers with a solid Facebook retargeting strategy. You might use Facebook retargeting ads to offer a discount to trial users who upgrade to the paid version before their trial is up.
You can even use this opportunity to upsell trial users by offering special prices on more expensive products and features. This is a great way to improve your ROI, and more importantly, your cash flow. Trial users will be your hottest audience so remarketing to them should be a no-brainer if you want to cash in on the benefits of offering a free trial.
#3: Announce Substantial Savings
Maybe you can't offer a trial period due to the nature of your product or service. Instead, you can urge customers to purchase by showing them how much they can save.
Check out the ad below from AppSumo. Who doesn't want to save $909? Offering a significant amount of savings is a surefire way to get your customers' attention.
However, the reason this ad works isn't that the product is cheap. Rather this type of offer works because it illustrates value. You can accomplish the same effect by following a few simple principles when creating your offer.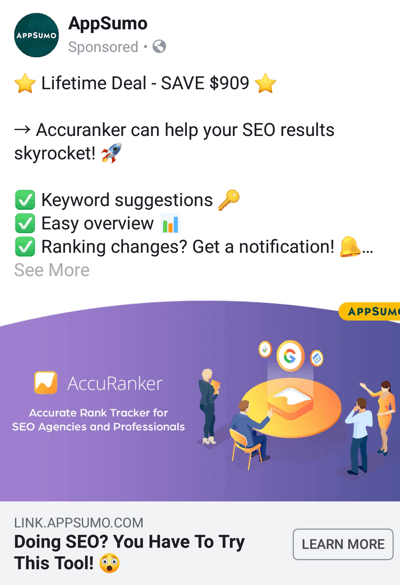 Let's say you want to sell your product or service for $50 on sale and it usually costs $75. Avoid saying this product is on sale for $50 or save $25 off of this product. Instead, you can instantly add more perceived value by marking the price up before you mark it down. Retailers have successfully used this technique for decades.
The best part is you don't have to actually use the word price or change your normal pricing. Instead, talk about how much your product or service is worth in comparison to how much you're selling it for. For example, you could say, "Sign up now and get a $150 value for only $75."
The key takeaway here is people are generally more interested in perceived value than price. If you just mark down your price, you might diminish the perceived value. However, if you leave your price the same but compare it to how much your product is worth, you leave your value intact and create a more enticing offer.
#4: Highlight Benefits and Expected Results
Customers want results and you should show them exactly what kind of results they can expect if they choose to do business with you. This is a great way to seal the deal with prospects whom you've been nurturing for a while.
Take this ad from KlientBoost. It doesn't talk about the services they offer at all. Instead, it focuses on the results and benefits clients can expect when choosing to work with them.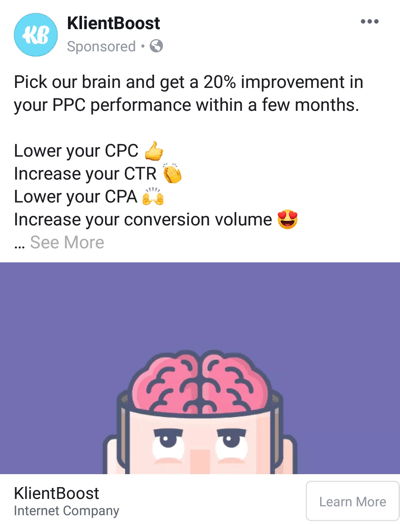 Of course, this tactic works only if you have a strong value proposition. Creating your own unique value proposition will require some brainpower, but the time you invest in it will pay dividends.
Although there are many different types of value propositions, hard value propositions are easy to create and extremely effective. They usually include numbers or percentages and give customers measurable expectations.
You can use any measurable improvements that your product or service provides to create your own hard value proposition. If you sell toothpaste, your value proposition might be whiter teeth in 30 days.
And you don't have to stick with one value proposition. You can use Facebook ads to split test different value propositions to find which one works best.
To split test your value propositions, create a new Facebook ads campaign and turn on the split test option. Next, choose Creative as the variable you want to test. Then you can create different ad sets and ads to test your value propositions.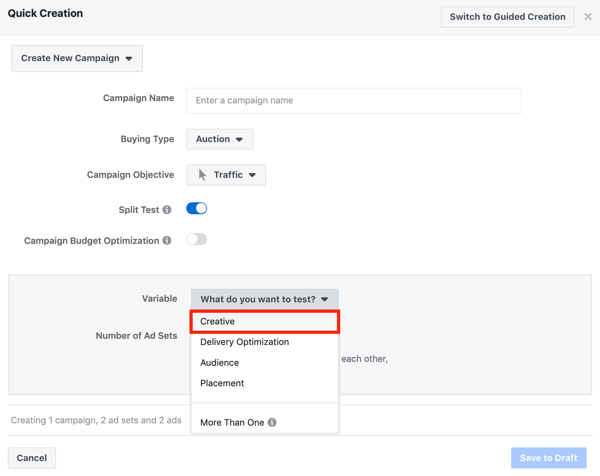 Regardless of what you sell, unique value propositions help customers visualize how much better their life or business could be with your product or service.
Conclusion
Successful Facebook ads aren't completely dependent on the offers you use or the ads you create. If you want to maximize your performance, you need to create Facebook custom audiences that represent each stage of the buyer's journey. Then pair your offers according to the needs of each audience segment.
You can test different offers with each segment and even shorten your funnel by testing more aggressive offers earlier in your funnel.
What do you think? Which of these tactics do you use with your Facebook ads? Please share your thoughts in the comments below.
More articles on Facebook ads:
Get Your FREE Course: Web3 for Beginners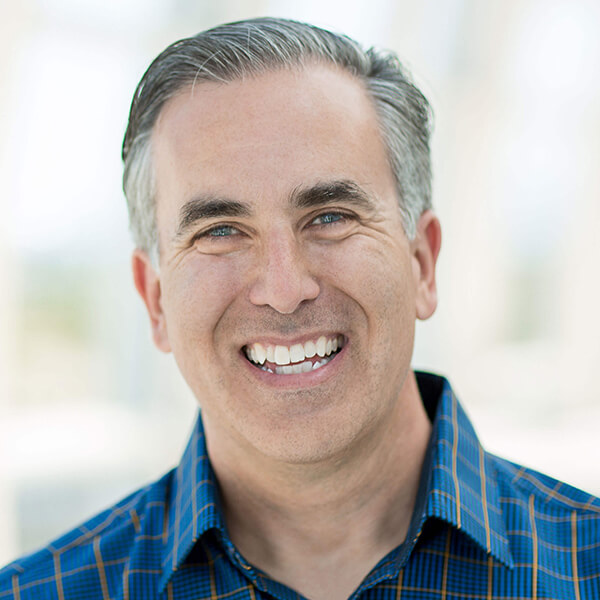 Curious about Web3, but don't know where to start or who to trust?

Introducing Web3 for Beginners, a course taught by Michael Stelzner, the founder of Social Media Examiner.

Learn the basics of Web3 and apply it to your business with this FREE comprehensive course.
CLICK HERE TO GET FREE ACCESS