Asking yourself whether ads still work on Facebook and Instagram? Wondering what's working for other businesses?
In this article, you'll discover three ad strategies proven to convert on Facebook and Instagram.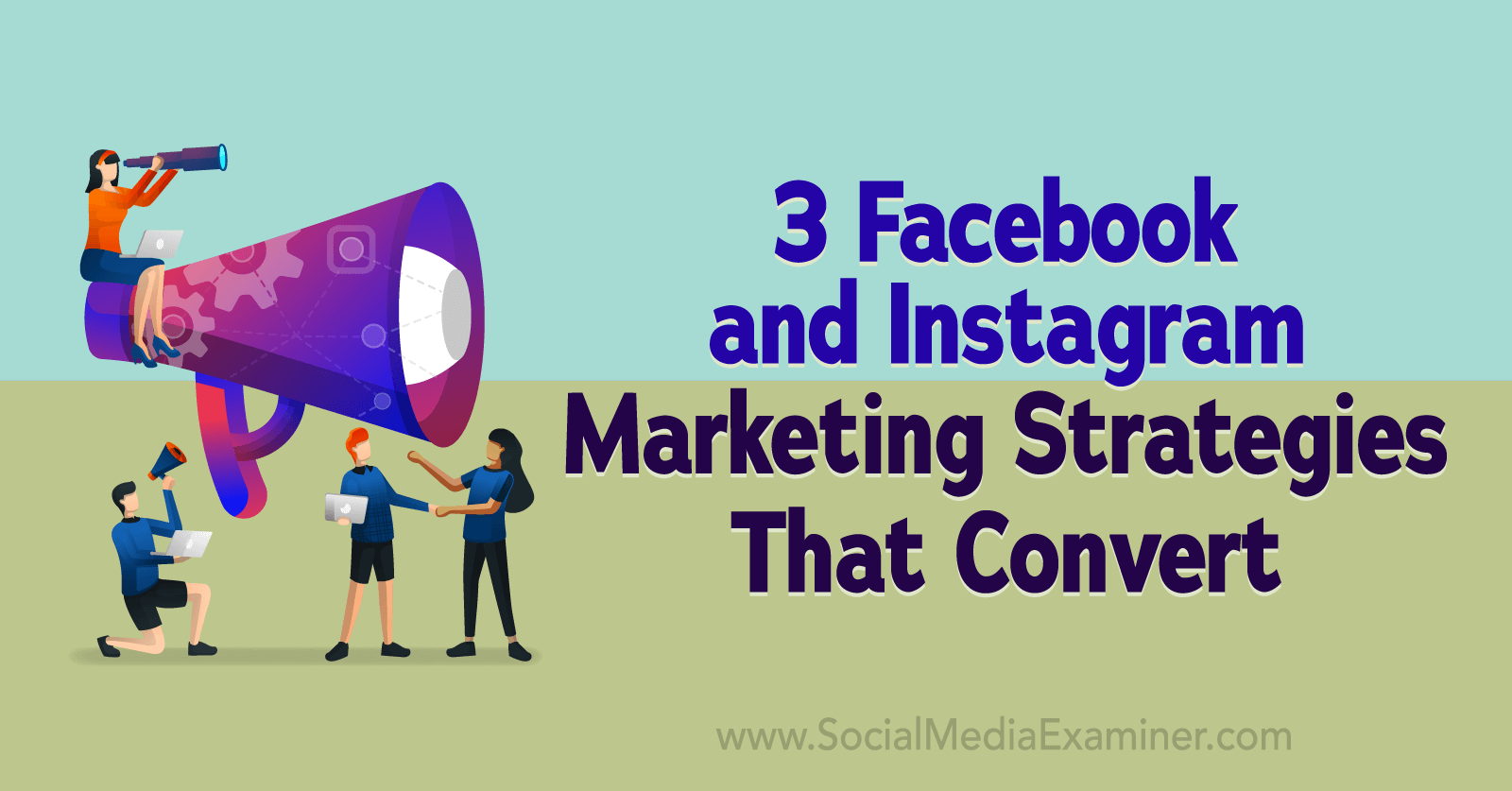 The Case for Facebook Ads
It's no secret that Facebook ads and Instagram ads have changed in recent years.
Costs have gone up, targeting has become more complex, and marketers have had to keep up with radical changes to the Facebook Ads Manager.
But Facebook ads and Instagram ads are still highly effective. They're still the biggest fish in the pond; Facebook alone has around 2 billion daily active users and plenty of ad inventory to sell.
A Facebook ads campaign still delivers what it's always promised: high return on ad spend and low cost of customer acquisition. But you need the right strategies to tap into this market.
3 Facebook Ads Strategies That Convert
We've collected three Facebook ads campaign strategies that will get you results on Facebook or Instagram.
They're designed to work with the specific ad types and content trends on both platforms but you could also adapt these tactics to use on other social networks.
Some of the strategies require more time, while others are fast but take technical skill. All can be used for any business, in any industry.
Just remember that your return on investment is only as good as your execution. Whichever strategy you choose, you'll need to put in the effort and expertise to win your audience over.
#1: The 5-Day Challenge Strategy for Facebook and Instagram
A 5-day challenge is a short series of tasks for your audience to complete.
The challenge should be in your area of expertise; for example, a personal trainer could run a 5-day fitness challenge.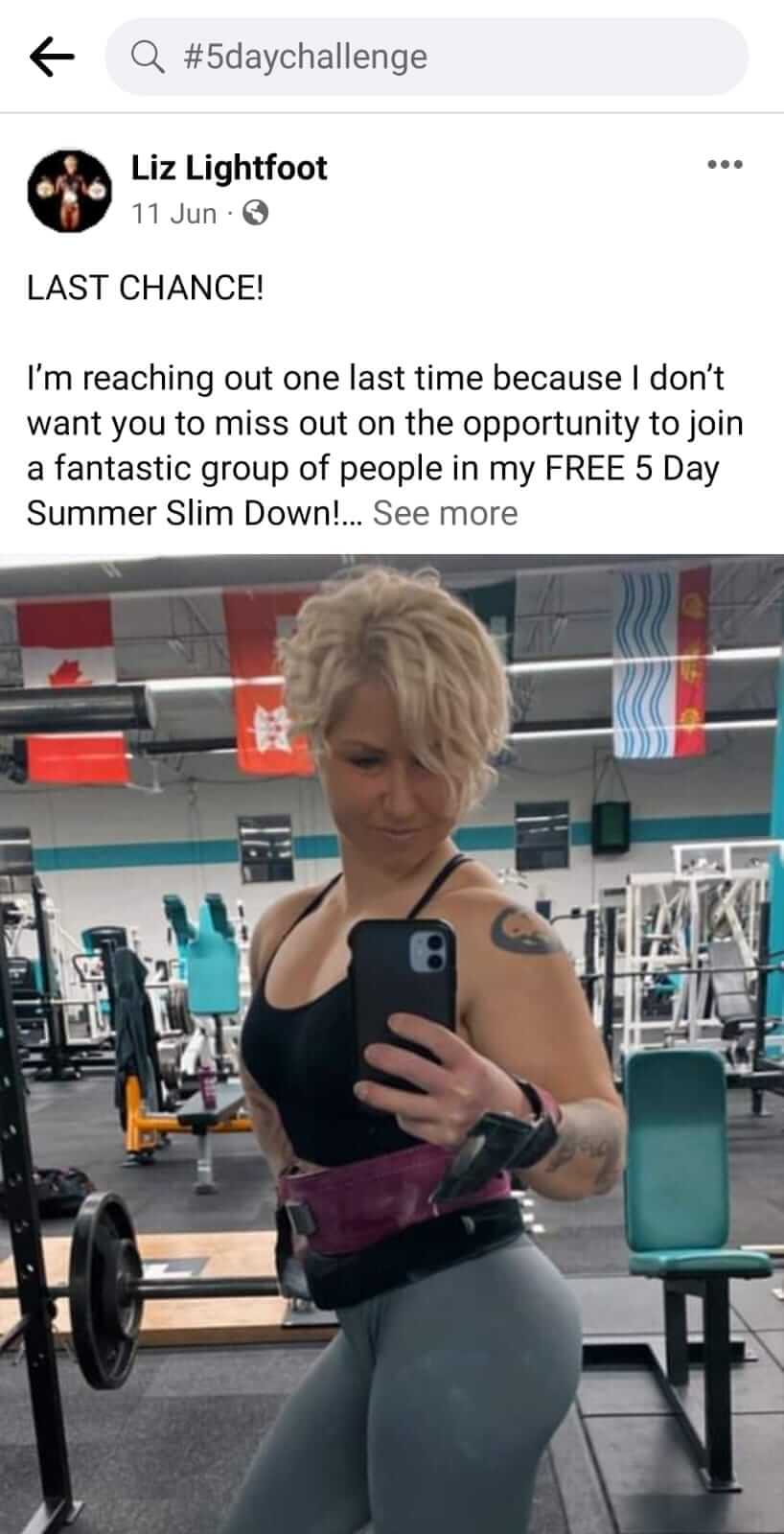 Five days is long enough for people to make a real commitment without demanding too much of their time or investment. Over the 5 days, your participants will learn about your business and by the end of the challenge, they're ready to become customers.
The most effective challenges are usually free to join. That's because they have a very high return on investment. If you feel like the content you're offering is worth more, then consider offering just a small sample as part of the free challenge.
Particularly Good for…
Challenges work well for any business that has an educational component. That could be anything from learning to cook, practicing mindfulness, or coaching small business owners.
Almost every business has an educational aspect. If you sell products or done-for-you services, you might be wondering what you can teach people. You just need to be creative!
Think about the benefits of your product or service. For example, if you sell vitamin supplements for health, run a 5-day challenge for healthy habits.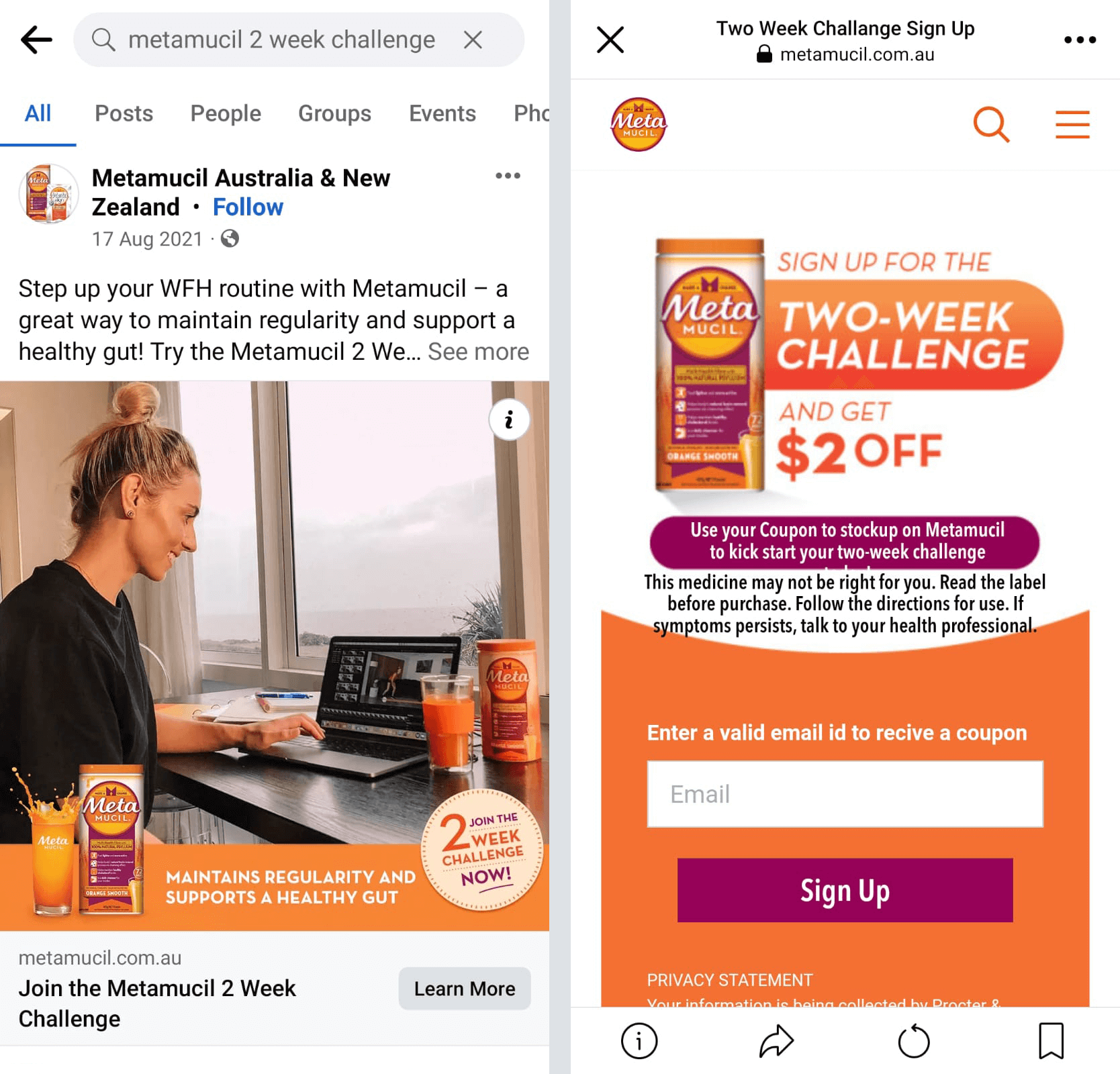 How to Run a 5-Day Challenge
The first step is to use the Facebook Ads Manager to create ads for your challenge.
You can run a 5-day challenge based on purely organic content, but the audience will be smaller. It will be much easier to reach more people with a targeted Facebook ads campaign.
Create lead ads that focus on conversion. Here's what to include:
Basic contact info, including name, email, and phone number. You'll use this to remind people about the challenge and follow up with more marketing content.
A private Facebook group. Tell people that most of the content, chatter, and encouragement will come from your private Facebook group. Using the group means that once people have responded to the original ad, you don't have to keep paying to talk to them.
Benefits. Challenges can be, well, challenging. So remind people of all of the benefits they'll get from signing up. This also helps lay the groundwork for selling later on.
As soon as someone signs up, you should start communicating. Send them reminders about when the challenge starts. Repeat the invitation to join the Facebook group. Most importantly, start upselling. Encourage them to sign up for an introductory call, more product information, or even a paid tier of the challenge.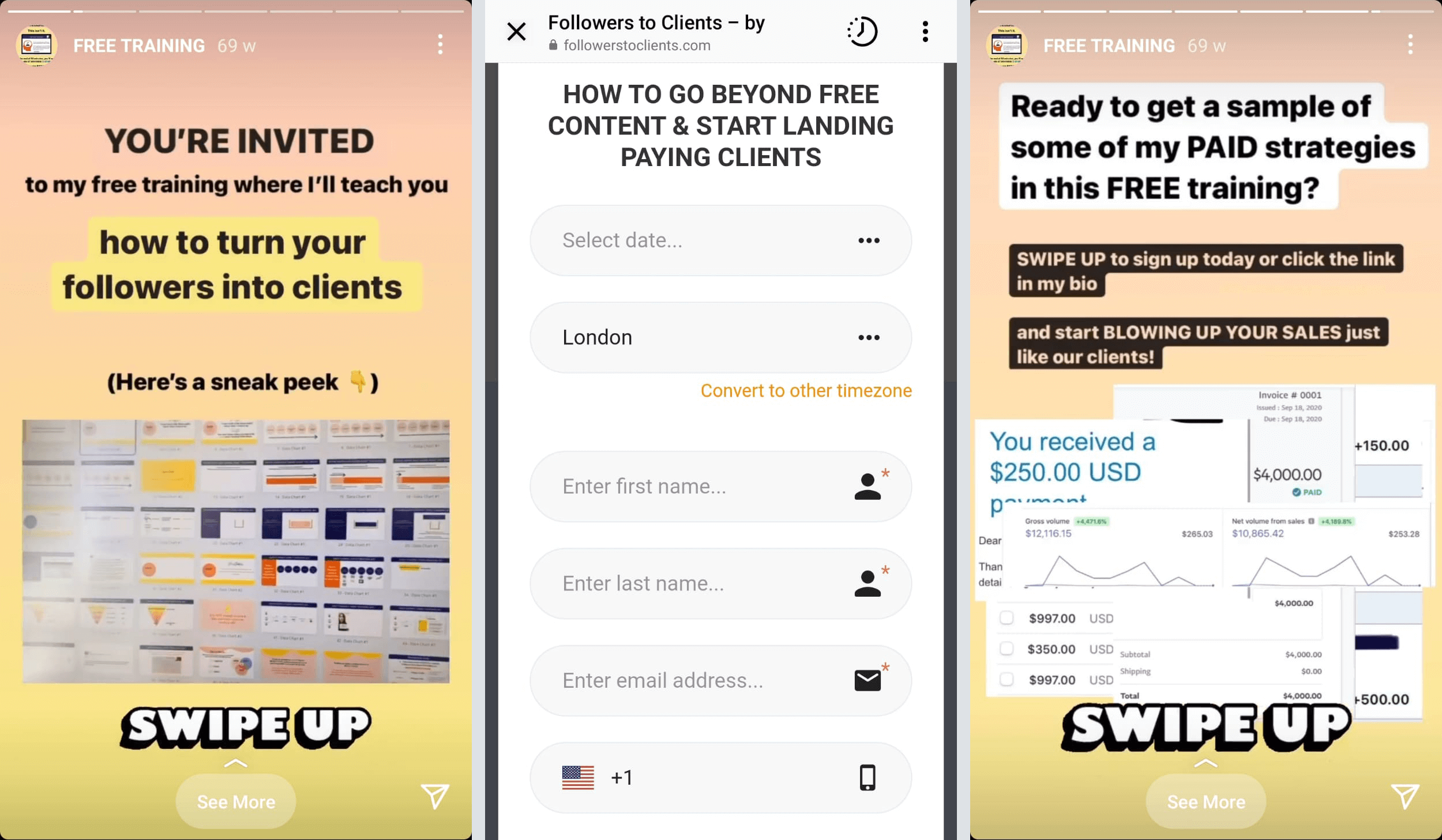 These communications do two things. First, they justify the data you collected by actually providing people with useful reminders and content. Second, they help you make money immediately. You can start gaining revenue or promoting your core offer right away.
During and after the challenge, you need to keep offering value. Share free content, run live events, and build relationships with potential customers by talking to them in the comments. Your goal is to turn every participant into a passionate advocate for your business.
Why It Works
Five-day challenges work because they're an effective lead-qualifying and lead-nurturing system. Everyone who chooses to sign up is already committed to your brand on some level. Every step of the challenge commits them even more.
Plus, challenges are endlessly reusable. Once you've created the Facebook ads and figured out a content schedule, you can repeat the challenge, bringing in new customers each time. Use a platform like HighLevel to sync all your landing pages, communications, and content in one place, and you can automate even further.
So Why Isn't Everyone Doing It?
Here's the hard part about 5-day challenges: you have to show up, too.
You have to be in the Facebook group, running livestreams, and replying to comments. You have to be available with advice, encouragement, and expertise.
You can automate the process as much as possible but there will always be a human element.
That's why most businesses don't run challenges back-to-back all the time. Instead, figure out a frequency that you can cope with. A single, well-executed challenge is worth much more than three half-hearted challenges.
#2: The Low-Ticket Tripwire Strategy for Facebook and Instagram
A low-ticket tripwire is a small, inexpensive purchase that introduces a new customer to your marketing funnel and starts the process of cross-selling or upselling to higher-value purchases.
This works something like loss leaders in brick-and-mortar retail. In a loss leader campaign, the store sends out ads for a very cheap version of a product. When people come in looking for that product, then the sales staff are ready to upsell them to a more expensive version.
With a low-ticket tripwire, the difference is that you start making money right away. With the right strategy, you make even more sales over time.
Particularly Good for…
The low-ticket tripwire is an excellent strategy for businesses that have a high ticket price. Whether your business offers products or services, you can use the tripwire to qualify your leads and ensure a minimum return on Facebook ads spend.
This tactic is also a good fit for businesses that have tiered pricing. For example, if you offer different service packages at different price points or different versions of the same product, you can use the tripwire to upsell customers over time.
How to Use a Low-Ticket Tripwire
Your tripwire can take any form. It could be a template, a small physical product, a masterclass… anything you like, up to the value of $100.
You'll need to choose a complementary high-ticket item as your upsell target. For example, you could aim to sell a masterclass for $50, with a goal of upselling a $1,000 course. It's important that the tripwire and the upsell are related so you're targeting the right customers.
Your ads for the tripwire campaign will focus entirely on the small product. Aim for immediate sales and conversions. It's OK if you have a relatively low conversion rate because you're not really trying to sell the tripwire product; you're trying to qualify leads. And you're not interested in leads who aren't prepared to spend some money.
Once someone has made that first purchase, you can keep presenting them with new offers and opportunities.
A course creator could offer more advanced classes or updated content.
A luxury goods business could offer customization options.
A business with a range of products could offer discounts on slightly more expensive items, gradually moving customers up to the highest-value products.
Every business can use "order bumps." That's when you surprise customers with additional offers as they head toward the checkout, tempting them into spending just a little bit more. Those order bumps can add up very fast!
Why It Works
The low-ticket tripwire is an especially popular strategy right now. Inflation is high and consumer confidence is low so it's harder to persuade people to make those big-ticket purchases. The tripwire helps you qualify and nurture leads without losing sight of your budget.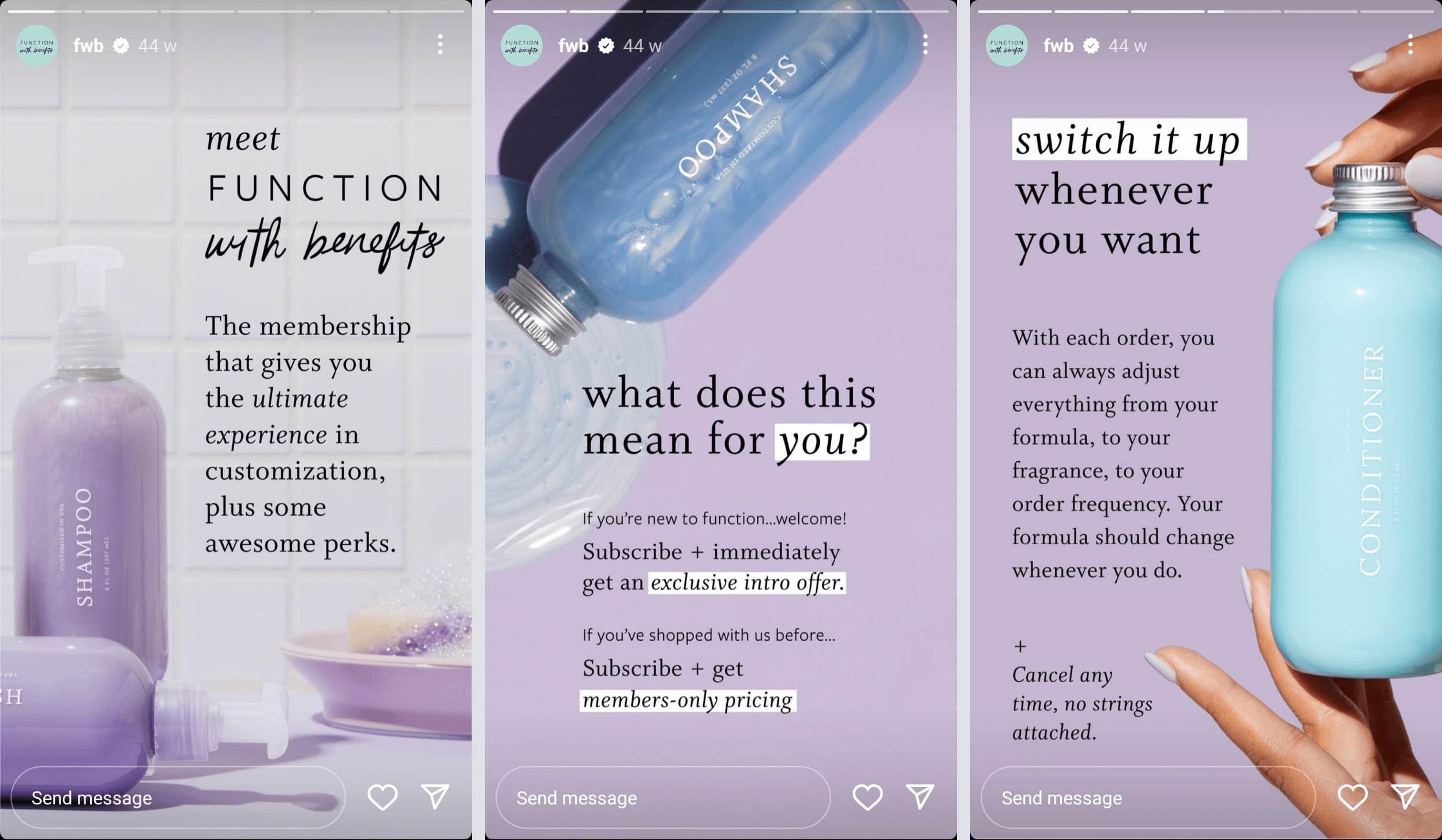 The tripwire is almost unique in lead generation strategies because you make money back on ad spend immediately. You don't have to wait for the final conversion to see some revenue.
Then you can put that cash back into your ad campaign, reaching even more qualified leads. The ideal is to break even on your tripwire sales before you even factor in the upsell sales!
So Why Isn't Everyone Doing It?
The tripwire strategy feels unfamiliar to a lot of lead generation specialists. They're not used to creating direct sales ads and they're hesitant to be so upfront.
However, it's worth getting out of your comfort zone. The tripwire is an unorthodox kind of lead generation but it brings in revenue right from the start and can lead to great results.
Finally, a tripwire strategy can pretty much run itself. Once you've tested different ads and found the right combinations of tripwire and upsell product, you can leave the campaign running automatically.
#3: Contest and Giveaway Strategy for Facebook and Instagram
A contest is when you invite people to complete some kind of challenge for the chance to win a prize. A giveaway is even easier to enter: people just have to sign up to be included in the prize draw.
This strategy is a mix of gated content tactics and a loss leader offer. Like gated content, it uses a tempting offer to collect contact info that you can then use in lead nurturing campaigns. And like a loss leader offer, you have to be prepared to spend a little bit of money to potentially make a lot.
Particularly Good for…
Contests and giveaways are great strategies because they work for literally any business—any size, any industry, any target customer. They're quick and easy to run and they're endlessly popular with consumers.
How to Run Contests and Giveaways
The details of your contest will make a big difference in how effective it is.
First of all, you need to pick the prizes. It might be tempting to offer something like gift cards, which have an almost universal appeal.
But you don't want to appeal to everybody! You want to appeal to qualified leads so choose a prize that's either one of your products or very closely related to it.
You'll need a consolation prize as well. This doesn't have to be big or expensive. For example, you could send out a limited-time discount or free downloadable PDF guide to everyone who entered a prize draw. Even though they didn't win the big prize, they'll still appreciate your brand and be more likely to stay in touch.
A lot of social media contests ask people to like, comment, or share posts. This isn't the strategy you want to use because Facebook penalizes brands that beg for engagement in their giveaways. Also, likes and shares aren't leads!
Instead, use lead ads to direct people toward a landing page. Ask them to fill out some basic contact info to join the prize draw. Then you can use that information to follow up with more offers, content, and upselling.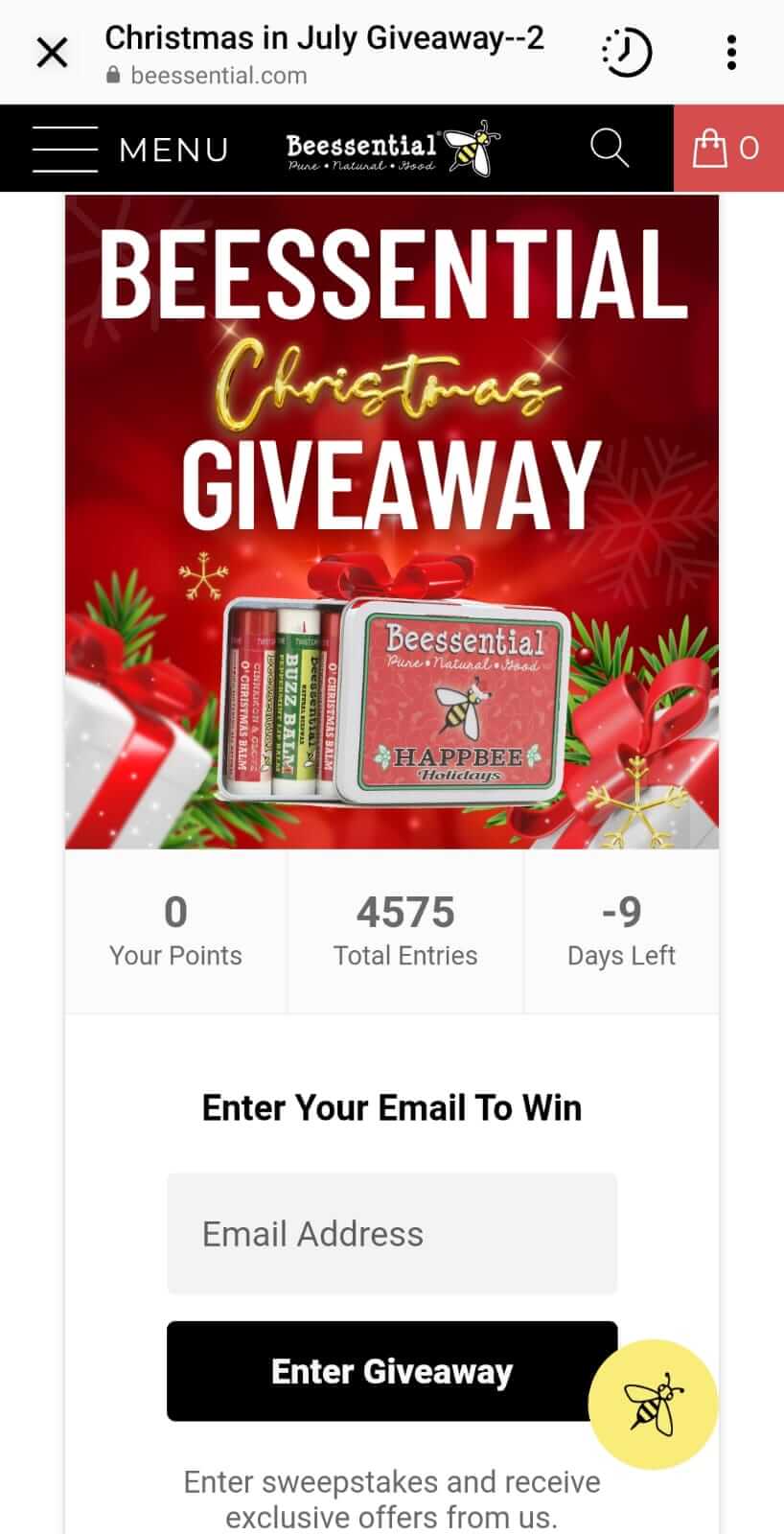 After choosing a prize, the most important part of your contest is announcing the winner. You'll get the best results if you do this live.
Why?
Because people are really excited to find out if they won. So you've got their full attention until the announcement is finally made.
Turn that livestream announcement into a mini-webinar about your business. Share your story, talk about your audience's pain points and benefits, and tell everyone about the consolation prize that they're about to receive. Leave announcing the winner until the last possible moment!
You can also build connections during the livestream by encouraging people to comment. Ask them why they chose to sign up for the contest or how much the prize would mean to them. At the same time, you should have someone replying to those comments. This maximizes the engagement with your prize draw and increases the chance of sales later on.
Why It Works
Targeted, well-organized contests and giveaways get a lot of targeted leads. They're a fast, powerful way to build a huge email list with an excellent return on investment.
What's more, you can repeat this overall strategy as often as your prize budget allows. Some brands offer regular monthly or even weekly giveaways.
So Why Isn't Everyone Doing It?
Some social marketers avoid giveaways because they're concerned about the legal or administrative aspects.
But there's an easy solution here. Many online software solutions can guide you through the rules, draw a winner at random, and even help you announce the results. Using a third-party app to choose a winner also cements your reputation with your audience as a generous and fair business.
Other Notes From This Episode
Where to subscribe: Apple Podcasts | Google Podcasts | Spotify | YouTube Music | YouTube | Amazon Music | RSS
✋🏽 If you enjoyed this episode of the Social Media Marketing podcast, please head over to Apple Podcasts, leave a rating, write a review, and subscribe.
---
Stay Up-to-Date: Get New Marketing Articles Delivered to You!
Don't miss out on upcoming social media marketing insights and strategies! Sign up to receive notifications when we publish new articles on Social Media Examiner. Our expertly crafted content will help you stay ahead of the curve and drive results for your business. Click the link below to sign up now and receive our annual report!