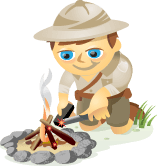 Do you want to improve the results of your social media marketing?
Measuring your social media performance is key to getting great results.
You need the right tools to measure those results.
In this article, we'll go through 3 analytic tools to help improve your results on social media.
#1: Mention – Monitor Your Brand Anywhere on the Web
Mention is an excellent social media and web monitoring tool. You set up alerts based on keywords, and content related to those keywords is displayed through the Mention application or sent to you via email or social media.
When you monitor and track keywords, you can find potential business, build relationships with new people and respond quickly to situations that could damage your brand.
There are many monitoring tools available, but many either are very expensive or have limitations.
For example, you may use Google Alerts to track keywords mentioned on the web. However, I've found these alerts are not nearly as comprehensive as Mention. Google Alerts also does not provide the functionality that's essential to manage and proactively respond to these alerts. Mention provides this functionality.
Mention is a very cost-effective and comprehensive solution that monitors your alerts across a variety of sites.
Mention provides a free version to get you started, as well as a very affordable Pro Plan, with a free trial for a month. If you decide not to go ahead after the trial, your account just reverts to the free plan, so there's no need to remember to cancel it.
Mention has a clean user interface that makes it extremely easy for you to manage your alerts and track all activity.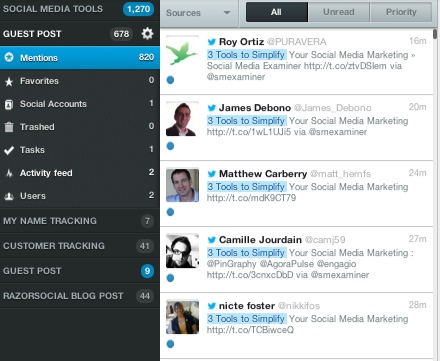 Features of Mention
Here are the key features:
Set up alerts for your brand, keywords and competitors and view these within the application, social media or via email or text-based alerts.
You can track mentions of your keywords on blogs, websites, social media sites and forums.
Displays the source of each mention within the user interface so you don't have to click off to other sites and open additional windows.
A nice feature is the ability to interact with alerts that are displayed directly within the application. For example, if an alert was related to a blog post, you can respond to the blog post within the application. Similarly, for tweets you can see not only the tweet, but also the bio of the person so you have context before you respond to the tweet.

Details of the alert are displayed to the right of the alert.
The application adjusts the results displayed based on your interaction. For example, if you consistently remove alerts from specific applications or websites, it will not display results from these sites.
There's a priority queue, which attempts to identify the important alerts. Priority is set because your name is mentioned or it's from a site with a lot of traffic. There is also a new feature not released yet which will prioritize based on someone's Klout score.

View mentions that are flagged as "priority" based on certain criteria, so that you can take action immediately.
Share your alerts with other team members and assign tasks to them. When you first share an alert with someone, an account is automatically created for them.

Assign tasks to other team members to spread the workload.
Perform actions on your alerts such as share positive mentions on your Facebook Page or Twitter, or just send an email to someone.
Mention takes information from a broad range of resources (not just social media) and shows you the breakdown of where your mentions come from. You can also filter the list to display only mentions from a particular source.

Mention gathers information from a wide variety of sources and shows you the breakdown of where the mentions come from, so you can filter the list to a specific source.
The application is available as a mobile app so you can monitor your alerts when you are out of the office.

Mention is also available as a mobile app.
Examine stats for a particular alert to see the trend of mentions over a period of time so you can identify peaks and dips in activity.
How to Set Up
For registration, provide your basic details or sign up via one of your social media accounts.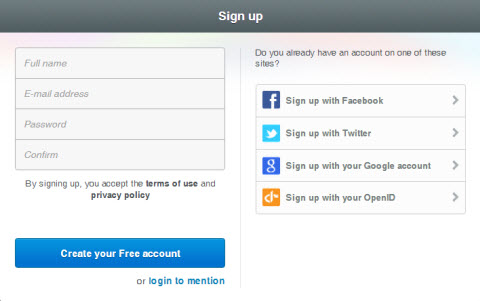 After registration, you need to create your first alert. Enter in a name to identify an alert and the keywords you want to monitor. For example, you could enter your company name.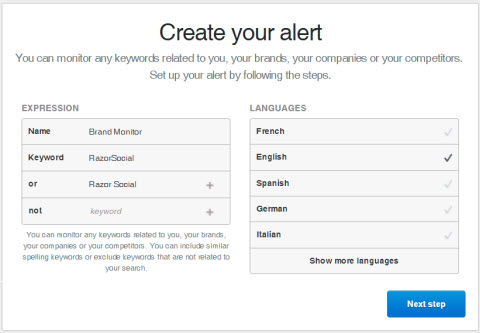 If you want to monitor multiple keywords, you can input additional ones and also specify keywords not to include as part of the alert. You can also specify the languages you are interested in.
In the next step, specify the sources you want to monitor. For example, you may only be interested in monitoring blogs or websites.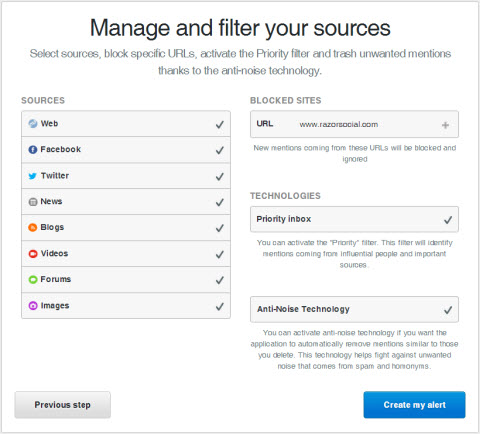 There are some optional configuration features:
Block sites – This is where you list any website you do not want Mention to monitor. For example, maybe you want to exclude your own blog as you might have someone else tracking this internally.
Technologies – Mention has a priority inbox. Based on the results found, it attempts to separate priority mentions in a separate priority queue. For example, if there's a mention of keywords in a tweet and your name is also mentioned, the alert can be placed in a priority queue. It's best to leave this switched on.
Anti-Noise Technology – Mention has some smart technology that tracks what you do with any results found. For example, if you repeatedly delete results from a particular site, then Mention will not show you results from that site. It's useful to have this feature switched on.
Once you select Create My Alert, you are then given the option to connect your Twitter or Facebook account to the alert so you get notified of activity through these accounts. You can also specify to share this alert with other people so they also are notified when there are any mentions of the keywords.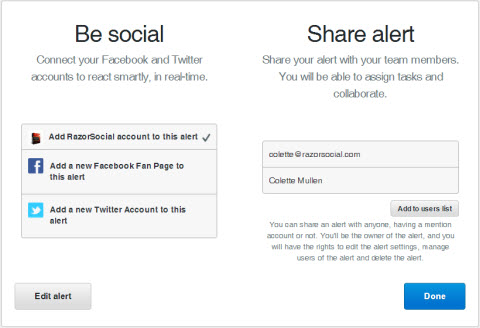 You are now ready to monitor and manage your alert: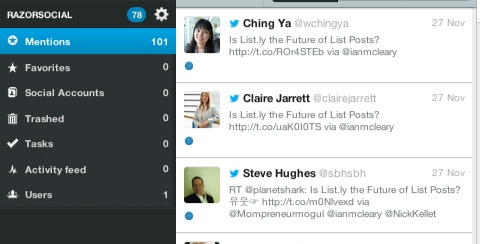 For the free version of Mention, you get up to 500 mentions a month and up to 3 alerts. That means if you have only set up one alert for your company name, then it has to be mentioned over 500 times on the Internet before you have to pay. The next level up is $19.99 per month and you get up to 50,000 mentions and unlimited alerts.
The price is very competitive, taking into account the level of functionality that Mention provides and what other competitors charge for this type of service.
Benefits of Mention
There are some great benefits to Mention:
You can monitor alerts close to real time and use the mobile app to monitor alerts while you are out and about.
You can create tasks based around alerts, email alerts to other team members and get alerts sent to your Twitter or Facebook account.
Mention can be your only monitoring tool, as it finds content from a variety of sources that include social media, websites and blogs.
There's a management component to it, which allows you to manage the alerts as they happen.
In Summary
Mention is a powerful monitoring application that provides comprehensive functionality at an affordable price. There's a good free option so it's certainly worthwhile to test it for your business.
#2: LikeAlyzer – Improve Performance of Your Facebook Page
LikeAlyzer is a very simple (and free) tool to assess your Facebook Page and provides suggestions to improve it.
The analytics for your Facebook Page provided by Facebook can be very useful, but also can be confusing.
LikeAlyzer is not complicated to use and provides some simple but valuable insights.
Features of LikeAlyzer
It analyzes your Page to assess how well it performed in relation to other Pages.
Your Page is graded from 0 to 100. The higher the score, the better.
Suggestions for improvements on your Page are provided based on the analysis. You can see at a glance what you do well, but it also draws your attention to the areas you need to focus on.

Report highlights what you do well, but more importantly, what you need to focus on.
Details of the top-performing Pages according to LikeAlyzer are provided. Learn from other Pages that get a high score.
How to Set Up
What's great about this tool is that there's no setup or registration required. Just put in your Page name and an online report is produced.
Be aware, however, that the report you run is not private. Other people can see reports run in LikeAlyzer.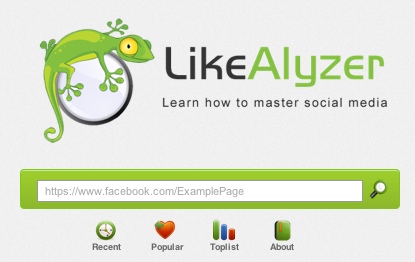 Underneath the option to analyze your Page, you should check out other options:
Recent– This displays a list of the most recent Pages that were analyzed.
Popular – This displays the most popular Pages analyzed. These are listed in the order of number of fans.
Toplist – This is a list in the order of the Pages that achieved the highest score. This can be very useful to analyze why some Pages performed better than others.

This shows the highest-ranked Pages that completed the LikeAlyzer assessment.
From the example above, VMS 4×4 is ranked at 98 out of 100. If you take a look at their Facebook Page, you will notice:
There are lots of posts from users, so there's a good community.
This Page keeps up with important updates to Facebook. On a recent post, it asked fans to add the Page to their Interests list. This means fans will be more likely to see posts.
They use questions and try to show personality on the Page. One of the posts asks what their fans are doing over the weekend.
There are lots of engaging posts and pictures of interest on the Page and they try to get feedback from their fans for the pictures.

A good question related to a interesting and relevant picture.
Benefits of LikeAlyzer
The key benefits of using LikeAlyzer are:
Get immediate practical tips on how to get better results from your Facebook Page.
Review your competitors' Pages to get some additional ideas.
Implement the tips and get more of your fans to see your updates.
In Summary
On average, only about 16% of your fans see updates from your business Page.
Facebook rewards Pages that get more interaction on their updates. If you want to be successful on Facebook, you need to analyze your results to improve performance.
LikeAlyzer provides a very simple and free way to do this.
#3: Social Crawlytics – Identify Your Competitors' Most Shared Content
Social Crawlytics is a free tool that analyzes how popular or unpopular content is on a website. It's very useful to assess the performance of your or your competitor's blog.
It analyzes the content and produces detailed information on where content is shared and how often it's shared.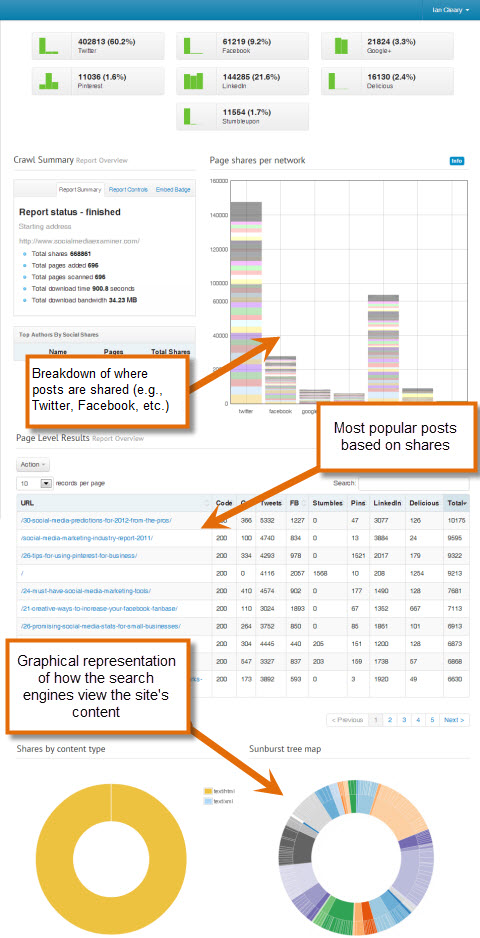 If you understand what content is popular and gets shared the most, this can be very helpful to determine the type of content you should produce.
Finding out what is not popular is also useful, so you can understand what type of content does not resonate with your audience or your competitors.
"Social Crawlytics is the first of its kind. A fast and flexible web-based crawler, geared for social. Now marketers can maintain ongoing reports of social share history across all pages of any website." Joe Griffin, CEO of iAcquire.
If your competitor has a small number of pages you can do this manually, but what happens if your competitors have hundreds or thousands of pages?
Social Crawlytics makes this process easy.
Features of Social Crawlytics
You can find out what content is shared most on social media on a competitor's website.
You can find out the authors on a blog who get the most shares. This will only work correctly if the website has implemented Google Author Tags.
You can set up a scheduled report, which automatically sends you an updated report on a website at a time you choose.
When Social Crawlytics goes through a website, it picks out all of the blog posts and displays these posts in order of popularity on social media channels.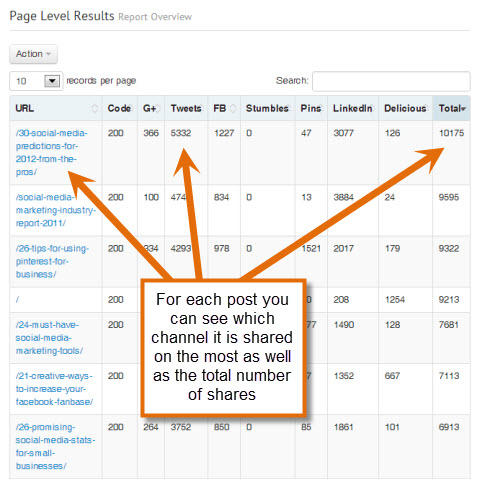 It displays Google+, Twitter and Facebook, StumbleUpon, Pinterest, LinkedIn and Delicious.
In the example above, the post related to 30 social media experts making predictions had 5332 shares on Twitter. Could you do a post that performs similar to or better than this?
Tip: While this is not currently a feature of Social Crawlytics, you should also try to discover the influencers who helped share this content. These are the people you may approach in relation to your post. You could use a tool called Topsy to identify the key influencers who share the most popular content.

This report shows where most information on this website is shared: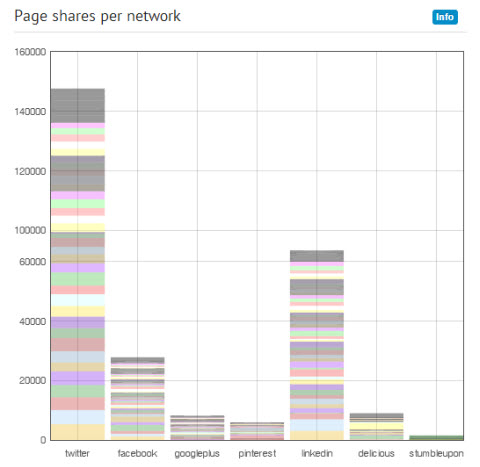 If you are a competitor of this business, do you consider Twitter as an area to focus on or is this where most shares happen? Or do you consider Google+ and Pinterest, as there's less competition there?
The following is referred to as the sunburst wheel. The center of the wheel is your website and the sections outside of it are the most popular areas and posts in your site in relation to shares. This is another great indicator of popular content.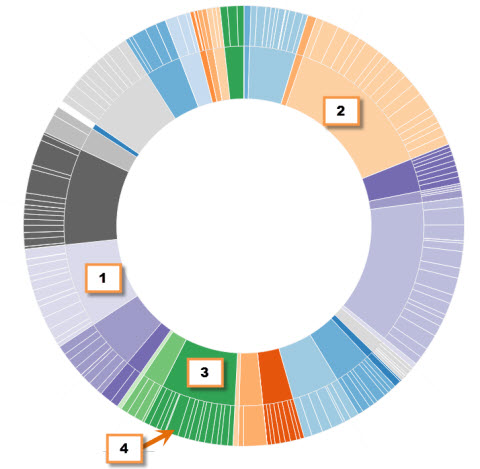 This is the Twitter tag on Social Media Examiner. This is a very popular area, as it takes up a large section of the circle, and is related to articles written that were tagged with "twitter."
This is the Getting Started area of Social Media Examiner. This contains a lot of posts for social media marketers who would like to know more of the basics. Still quite a popular area.
This is for the author Andrea Vahl who is obviously very popular. Andrea guest posts on Social Media Examiner. So maybe this is an opportunity for you to identify authors who could potentially guest post on your site?
This gives a breakdown of the most popular posts by Andrea. The one highlighted had over 10,000 shares and was related to Facebook changes that would impact businesses.
How to Set Up
Go to Social Crawlytics and register with your Twitter account.

You're then brought to your dashboard where you enter the website address of the company you want to analyze. This could be your website or your competitor's.
We have highlighted credits in the image below. Although the tool is free, there is a restriction on how much you can use it within any one week. When you run out of credits you have to wait until the next week when your credits are refreshed. Unless you complete a lot of analyses on large sites, this should not be an issue.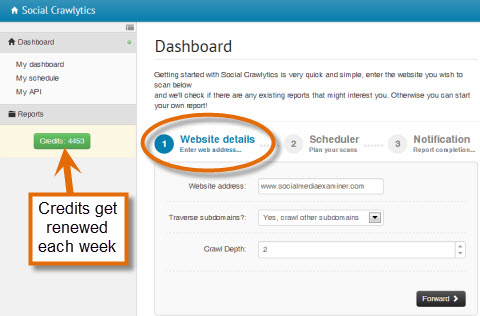 On the first screen you enter these details:
Website Address – This is the address of your website or your competitor's website.
Traverse Subdomains – A subdomain would be something like podcast.socialmediaexaminer.com. It's on the same domain, but separated under a different section.  By default Social Crawlytics will go through subdomains.
Crawl Depth – This indicates how much of the website is analyzed. If you have a web page that links to another subpage, this is a crawl depth of 1. If the subpage links to another page, this is a crawl depth of 2. By default this is set to 2, which is good.
Next you can set up a schedule so that the analysis of this website is done on a regular basis and a report is automatically sent to you. This is an optional step. If you want just one report immediately, then skip this step. Otherwise enter this information: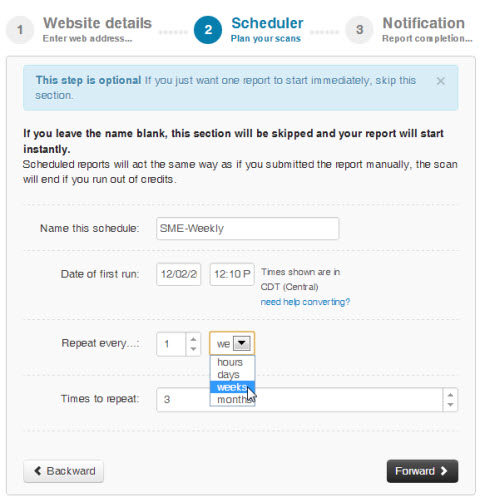 Name this schedule – assign a name so you can easily identify the report when you get it.
Date of first run – you may want the report to run immediately or at a later date/time.
Repeat every – indicate here if you want the report to be repeated at a later stage. For example, you may want a similar report once a week.
Times to repeat – indicate how often you want the report repeated. If you indicate that the report is to be produced weekly and you say that it repeats twice, then you will get two reports and the schedule will finish after this.
Finally, you must enter the email address where you want the report to be sent.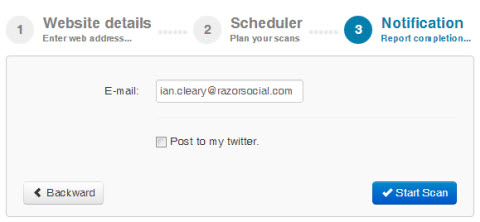 If you choose to run the report immediately, you'll see a semi-completed report screen while the data is collated.
The amount of time it takes to complete the report depends on the number of pages on the website and the depth you want to go. For example, the report on Social Media Examiner's website at a crawl depth of 2 took about 10 minutes.
Benefits of Social Crawlytics
Social Crawlytics could be beneficial to your business for these reasons:
Your competitors may have delivered great content that was very popular but you can deliver better content or content in a different form (e.g., an infographic) that could do even better.
You may identify content that is not popular, which you can then decide not to waste your time to write about.
You could analyze your own content to get an overview of what works or does not work.  This will help with your content strategy.
If you consider guest bloggers to write on your site, you could analyze your competitor's site to find out the most popular guest bloggers.
In Summary
Social Crawlytics is a great tool to analyze your content or your competitor's content and it's completely free.
Use it to help you improve the content you deliver to your target audience.
It's very easy to set up and you can have a report completed in less than a minute. Try it out now and let us know how it has benefited your business.
Final Thoughts
It's important to analyze your social media efforts and try to improve your results.
The 3 analytic tools in this article can help you do this.
What do you think? We would love to hear your feedback. What are your favorite analytics tools? Have you tried any of these? Please share your comments below.