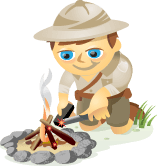 Wondering how to improve the visual and written content you share on social media?
Want a list of tools to help?
In this article, you'll find 26 helpful tools and apps from the Social Media Marketing Podcast's Discovery of the Week.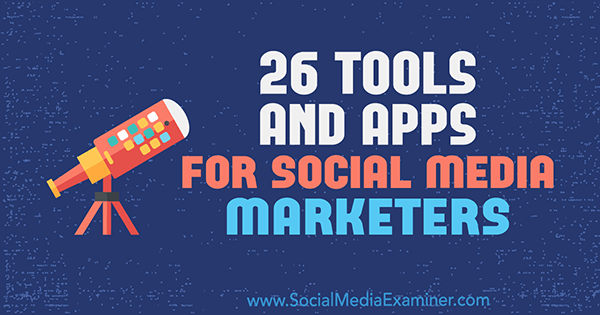 #1: intoLive
intoLive is a cool iOS app for creating interactive social media videos.
In the app, you can edit an iOS live photo or any video so it plays like a live photo when someone presses and holds the thumbnail image. Although the app takes advantage of the iOS Live Photo feature, when you post the resulting photo on social media, the effect works on any mobile device.
You can use the intoLive effect to reveal a cool little surprise when someone interacts with your social media post. For instance, The Modern Tog created a Facebook post with a thumbnail image that says, "Press and hold." When people press and hold the image, they see a short video that explains how to create the effect themselves. (The Modern Tog has an audience of photographers learning how to grow their businesses.)
Putting text on the thumbnail that says, "Press and hold" is a good idea because part of the surprise is that the interactivity works differently from what people expect on social platforms. The text ensures people know what to do. Add text to the image you want to use as a thumbnail and save it to Photos on your iOS device. Then in the intoLive app, add the thumbnail as the first video frame.
To understand how the intoLive app works, check out the YouTube videos that walk you through the creation process.
intoLive is a free app and you can unlock different themes, fonts, and so on for $1.99 and $2.99.
#2: PORTRA
With PORTRA, you can make selfies or other photos look hand-sketched or like an oil painting.
PORTRA is a mobile app with filters. Depending on the filter you choose, you can add flourishes of color or transform your image into different types of artwork. As the name PORTRA suggests, the app was designed for portraits, but you can use it with any photo.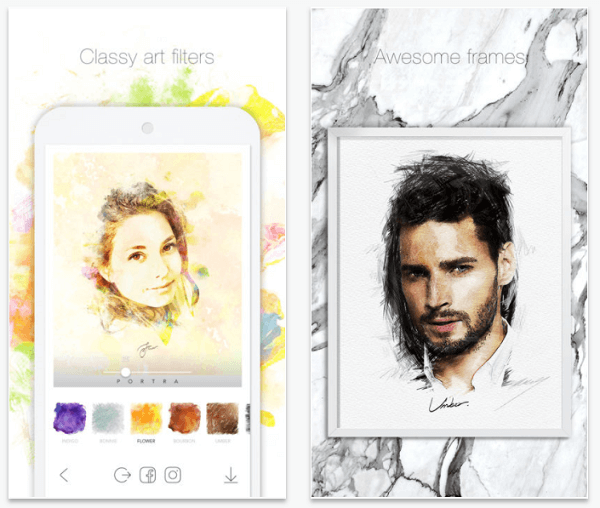 The Conference You've Been Waiting For
As a small business marketer, you can probably only pick one or two events to attend each year. Get an unbeatable conference experience and expert training at Social Media Marketing World in sunny San Diego, California—from your friends at Social Media Examiner.
🔥 As a valued reader, you can save $650 on an All-Access ticket if you act now! Sale Ends Friday! 🔥
CLICK HERE TO LEARN MORE
Prisma effects are based on popular art forms like cubism, whereas PORTRA effects create a sketched or painted look. You can adjust the intensity of an effect so that the resulting image looks more like a photo or hand-drawn.
Choose from different palettes, themes, and filters. Your selection is applied to your photo instantly. You can try the options to see which one works best on your image before you post it to Instagram and other sites.
PORTRA is a free app for iOS and Android, and offers in-app purchases.
#3: AR Placer Cam
AR Placer Cam is an augmented reality app for iOS that allows you place text or emojis in a video.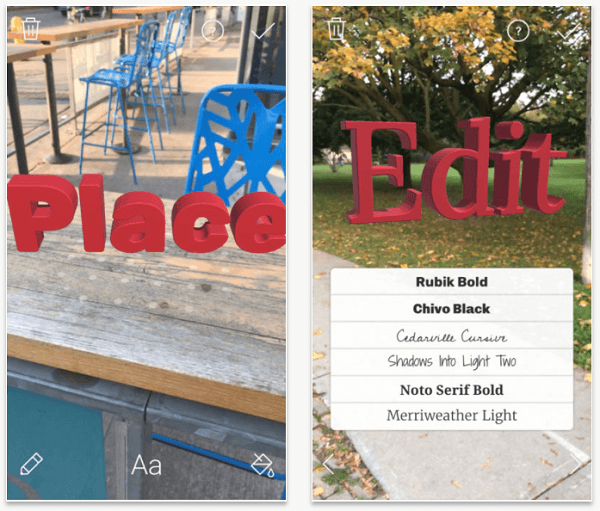 As you record, the text or emoji is like an object in your video so viewers see it from different angles as your camera position changes. Similarly, as you move closer to the object or farther away from it, the text or emoji appears bigger or smaller.
You might use this app to add the names of people in your video. Or you could use the app to label booths at a conference. Then the text associated with those people or booths will just appear in the video when they're visible on-screen.
Before you record, set up all of the text or emojis you want in the video. You can select flat or 3D text, and a few different fonts and colors. You can also rotate the text. Then as you record the video with the app, whatever you placed will appear in the final video.
AR Placer Cam costs $1.99. Search for it in the iOS app store.
#4: Grammarly Keyboard
With Grammarly Keyboard, you can add a native keyboard to your smartphone that helps you check spelling and grammar while you're on the go.
After you install the Grammarly Keyboard app, you can switch to its native keyboard on your mobile device in the same way you switch to other keyboards (like the one for emojis). The app scans your social posts and emails on mobile for spelling, grammar, punctuation, and so on. This keyboard is a great way to avoid the typos and errors that are easier to make when you're posting to social media from a mobile device.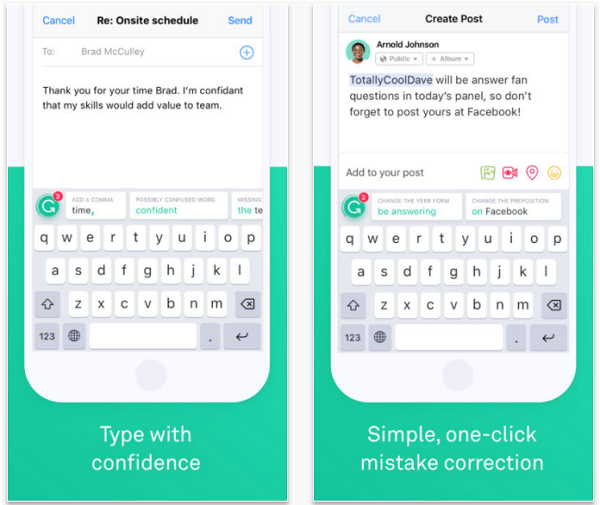 After you finish typing your post or comment, switch to Grammarly Keyboard to check everything. When the keyboard scans your text, it'll say things like, "Did you mean to not …"
Grammarly Keyboard is a free app for both iOS and Android.
#5: Selfissimo
Selfissimo is a cool mobile app from Google that snaps photos automatically like a photo booth.
Set up your mobile device, and tap a button in the app so it starts taking photos with the front-facing camera. The app can sense movement. Every time you stop moving and pose in front of the camera, it takes a picture. After you take a bunch of photos, Selfissimo assembles them into a grid.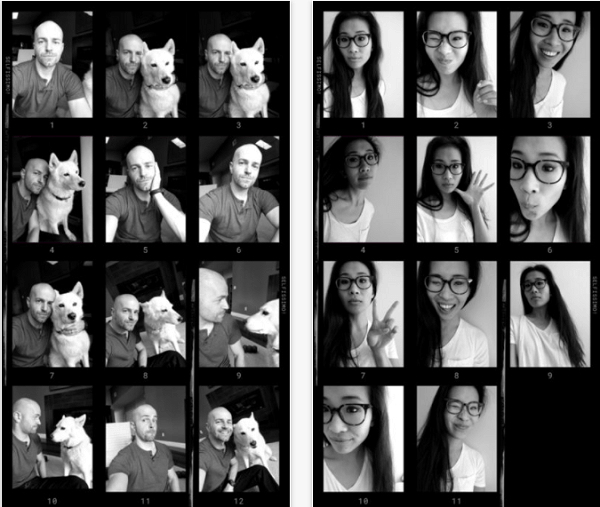 At a party or event, you could use this app so people can take photo-booth-style images or take group shots by setting up a tablet somewhere in the room. As soon as you and a bunch of your friends stop moving, the app snaps a photo. Then everybody moves again and strikes a different pose. Do it over and over to get multiple group shots.
Selfissimo is a free app for iOS and Android.
#6: Let's Enhance
Let's Enhance is a free online tool that scales images up to 4x without visibly degrading the image quality.
Typically, when you enlarge an image, it can become blurred and pixelated. However, Let's Enhance uses neural network technology to fill in the missing details and retain image clarity.
You could use Let's Enhance to blow up small thumbnails. Or say a designer created an image for you but is no longer available, and you can't find the original graphic. If a low-resolution version of that file is on your website, you can use Let's Enhance to recreate a higher-resolution file from the web-optimized one.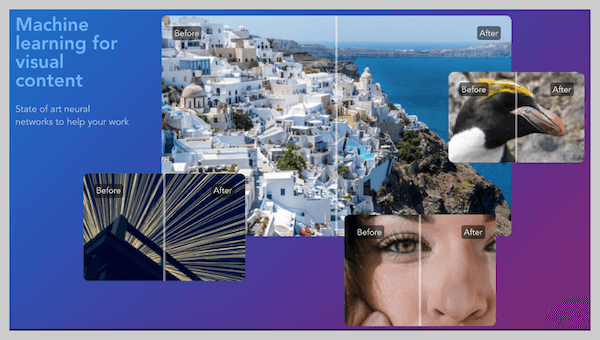 Let's Enhance is a web-based tool, so you simply go to the website and upload an image saved on your computer. The tool then analyzes your image and kicks it back for you to download. The results are amazing.
#7: Scrubbies
Scrubbies is a cool iOS app from Google that creates a looping effect similar to a boomerang video but gives you more control over the video's movement.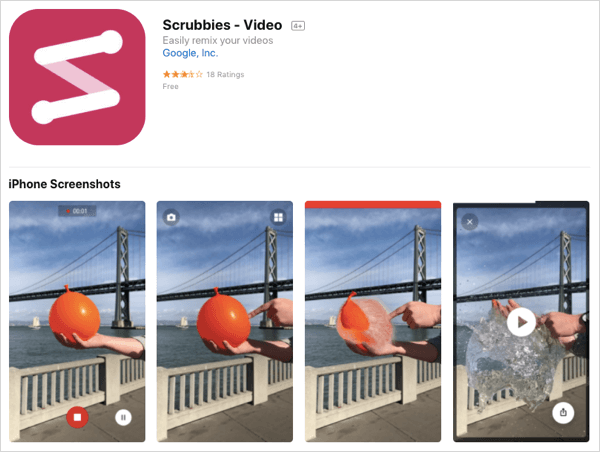 Using the app, record the video on your phone. (The app can work with vertical or landscape video.) Then use the app's scrub feature to fine-tune the video's movement.
To fine-tune your video, use one finger to scrub to a point where you want the video loop to start. Next, move two fingers forward and backward to indicate how you want the movement to progress (much like a DJ would scratch a record). For example, you can pause on a moment of your video for emphasis, and then make the back-and-forth move quickly.
This app is a powerful tool for highlighting motion. You could be in the hallway at Social Media Marketing World and record people leaving the keynote or going into the different sessions.
The Scrubbies app is free on the iOS App Store. Because Google developed the app, it's likely to become available to Android users, as well.
#8: SocialRank
With SocialRank, you can analyze Twitter and Instagram followers based on all sorts of criteria such as influence, engagement, and more.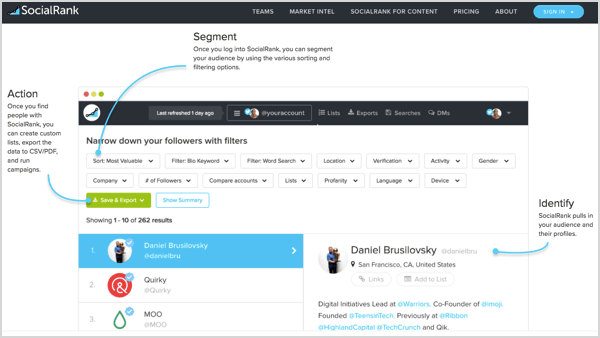 SocialRank is a web-based tool, so you start by connecting your accounts to the service. Next, the service analyzes all of your followers. (You can also toggle the tool so it analyzes accounts that you follow instead.) If you have lots of followers (like half a million), the process might take a while.
With the free version of SocialRank, you have access to filtering and sorting options. Filter by location, posting frequency, verified status, and more. Learn who among your followers is most influential or most engaged (retweets, mentions, replies, likes, and Instagram comments or tags). You can even narrow the criteria to followers who are a combination of most valuable and engaged. To learn more about a specific follower, simply view their full profile via the SocialRank interface.
With SocialRank paid services, you can do even more. Create reports and export them as either CSV or PDF files. For instance, you can export a CSV file of your most influential followers and use that file to help you connect with them. You can also save searches, upload handles, and follow accounts.
Although Twitter analytics offers functionality similar to SocialRank, because SocialRank covers both Twitter and Instagram, SocialRank offers a wider view of your followers.
#9: Wonderlens
Wonderlens is an amazing mobile app for creating augmented reality (AR) videos and still images.
If you create stories for your social media marketing, this tool allows you to create stunning creative effects quickly and easily. When you open the app, it detects people via your phone camera, extracts them from their surroundings, and places them in different backgrounds, such as outer space. You don't need to mask the background or trace around yourself. The app's ability to autodetect people is amazing.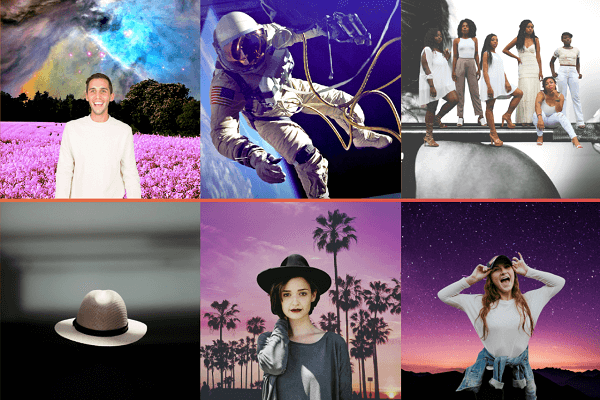 You can use the free animated or still backgrounds in the app, or upload your own. You'll currently find about 15 free backgrounds in the app. However, with the ability to upload your own video or images, you have the flexibility to try all sorts of creative ideas.
Also, after you compose your background and camera images, you can add text or stickers, arrows, and so on, just as you do in stories.
Wonderlens is available for free for iOS and Android.
#10: Calendly Chrome Extension
Calendly is a great scheduling tool that makes it easy to coordinate meetings, podcast interviews, live video events, and more.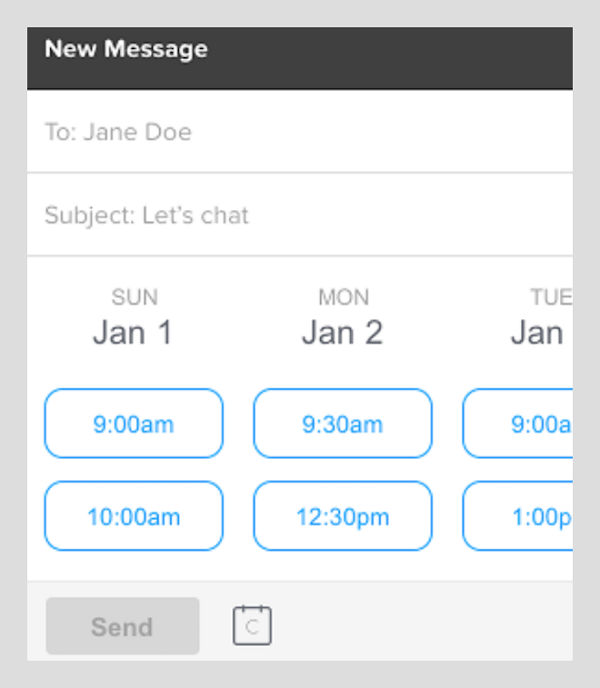 With Calendly, you can share your available times via a link. Then your recipient simply needs to click one of your available times to add the meeting to both of your calendars. The tool is great because it eliminates the back-and-forth emails often necessary to coordinate schedules.
Even better, with the Calendly Chrome extension, Gmail users can access Calendly info right in Gmail's inbox. To illustrate, while using Gmail on Chrome with this extension, you don't have to send somebody a link. Instead, you can see mutually available times right in your inbox and choose a meeting time while you're in the communication process.
Calendly has a great free plan, but you can upgrade to add team scheduling features and integration with services (like Zapier or Salesforce). Find Calendly via its website and get the extension in the Chrome extension store.
#11: SNOW
SNOW is a selfie app that has nothing to do with the weather. With unique augmented reality (AR) features and filters, SNOW is a great app for creating stories on Instagram, Facebook, and other platforms.
Although you can find numerous selfie apps, SNOW has several features that blow the others away. First of all, the facial recognition feature works whether it's just you or multiple people. This means the AR features (like different faces) can track multiple faces. You can also augment your face with smileys, swap faces, and add other weird or creative effects that help your visuals stand out.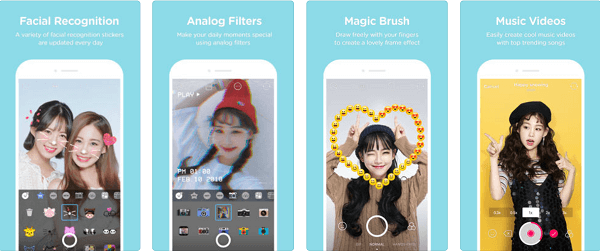 The app's unique filters replicate different types of analog video or cameras. For instance, the VHS filter shows a date and time, and makes the video a little bit blurry like video shot on a handheld VHS camera from back in the day.
As with many other apps, you can record Instagram Stories as vertical videos or square videos, capture stills, and throw on stickers.
SNOW is free and available for iOS and Android.
#12: Linktree
Linktree offers a great way to expand what your Instagram profile link can do.
Your Instagram bio is the only place for a clickable URL in all of Instagram. With Linktree, you can point your bio link to a bunch of different links that are clickable from that one place. The effect is almost like a mini landing page with four or five additional links.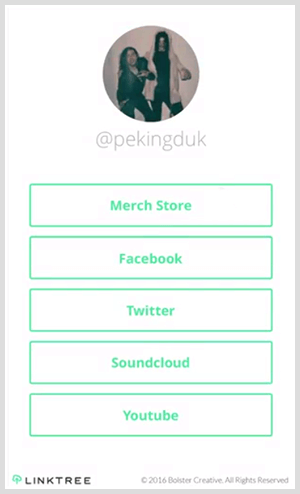 Linktree also makes it easier to optimize where you send people from your profile. You don't have to change your bio link all the time so it points to your new article or deal. Instead, you can point to a few evergreen options that help your fans and followers find your latest report, podcast, event, or whatever your standard offerings are.
Linktree is free with some Linktree branding, but you can upgrade for $6 per month to remove the branding, set custom UTM tags, add team member access, and more.
#13: Anders Pink
Anders Pink is a curation tool that helps you stay up to date on the topics you care about via the sources you choose. You can also use it to publicly share the stories you follow so people can see what you're reading.
Using Anders Pink, you set up briefings based on content streams or topics of interest, and then the briefings are automatically updated with fresh content periodically. Your briefings can be based on keywords, RSS feeds, Twitter influencers, or specific websites. Also, your briefings can be private or public.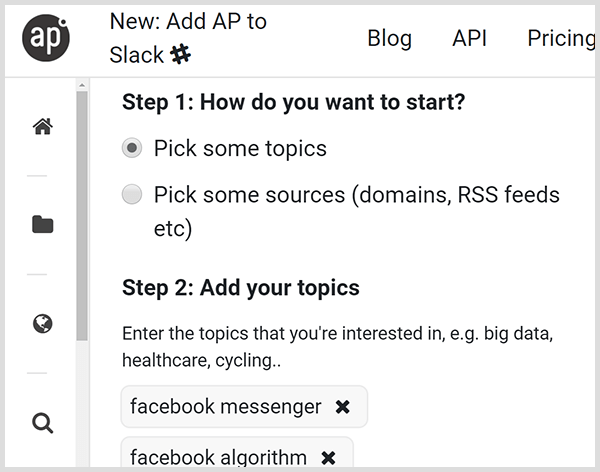 Say you want to create a briefing to help you stay up to date on Facebook Messenger bots. After you set up the sources and keywords, you receive a briefing when your sources share anything new related to your selected keywords.
You can choose how frequently you receive a briefing and whether to receive it via email or an iOS or Android app, which can send you notifications. The briefings are essentially like an RSS reader on steroids.
Anders Pink is free, but you can upgrade to add team members or accounts.
#14: InShot
InShot is a cool mobile video editor for iOS or Android. With this app, you can almost carry a movie studio in your pocket.
InShot allows you to add music, effects, voiceovers, emojis, and text. You can also adjust the video speed, and control where elements you add appear on the video timeline. This app will work perfectly for any videos you create for Instagram, Facebook Stories, Facebook news feed, and so on.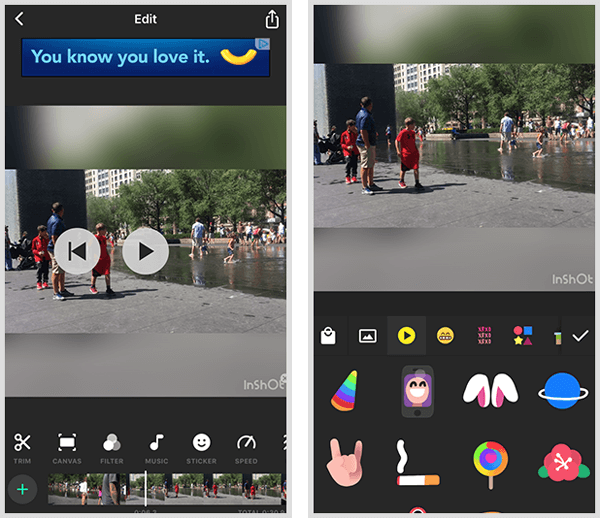 The app can work with vertical, landscape, and square video formats. It can even transform one format into another.
Unlike some mobile video apps, you don't have to record video within the InShot app. You can import video, and even merge separate videos from your camera roll and arrange them in a specific order.
Although InShot offers a lot of features for an app, it's still pretty easy to use. However, you might prefer to use it on a device with a bigger screen, like an iPad or tablet.
The InShot app is free, but with in-app purchases, you can add effects, filters, stickers, and stamps. On average, these items cost about $1 to $2.
Thanks to Ray Edwards for mentioning InShot on his show, which prompted us to take a look at the app.
#15: Toggl
With Toggl, you can easily track your time spent on different tasks.
Toggl is great for checking how much time you spend on tasks so you can be more efficient, or for tracking time so you can bill clients accurately. After you log in to Toggl, you can start and stop on regular tasks. You can also add a new task by typing it into the app. If you forget to stop the timer on a task, you can correct it later.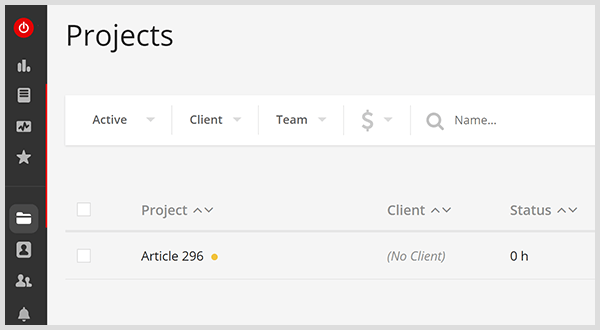 Attention Agency Owners, Brand Marketers, and Consultants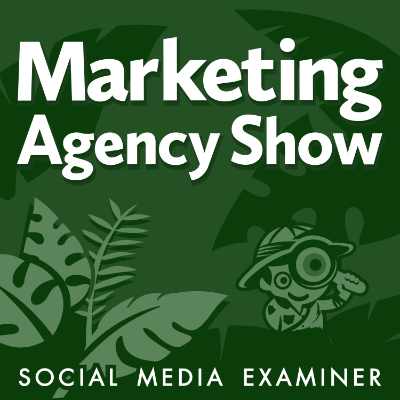 Introducing the Marketing Agency Show–our newest podcast designed to explore the struggles of agency marketers.

Join show host and agency owner, Brooke Sellas, as she interviews agency marketers and digs deep into their biggest challenges. Explore topics like navigating rough economic times, leveraging AI, service diversification, client acquisition, and much more.

Just pull up your favorite podcast app, search for Marketing Agency Show and start listening. Or click the button below for more information.
CLICK HERE FOR THE DETAILS
Toggl is available as a mobile app for all platforms, as well as a Chrome or Firefox extension for your desktop browser.
You can use the free version of Toggl to track your own time. For features like exporting reports or tracking teams, you can purchase an advanced version.
#16: Reshot
Reshot is a stock photo site that avoids cliché stock imagery.
The photos on Reshot reflect the photographer's unique perspective. In this way, the photos are higher quality than those on many other stock photo sites.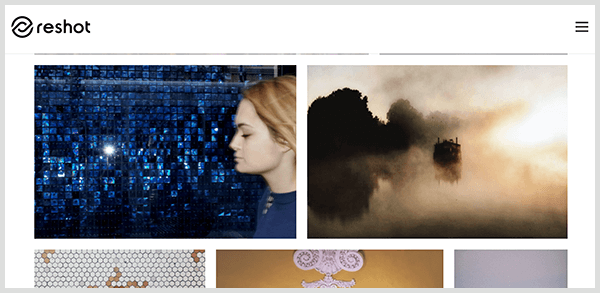 The site uses a simple license and terms that give you a lot of flexibility for using the photos.
Reshot photos are free, although you can also find photos for sale from Reshot partners. To browse the images or learn more, visit the website.
#17: Standuply
Standuply is a Slack plugin that allows you to quickly and easily send video messages within Slack.
On Slack, people mostly use text, images, and GIFs. You can also do an audio call. Slack users with a paid plan can also make video calls, like a conference video call. With Standuply, you can add video to this mix because sometimes video conveys your message better than text.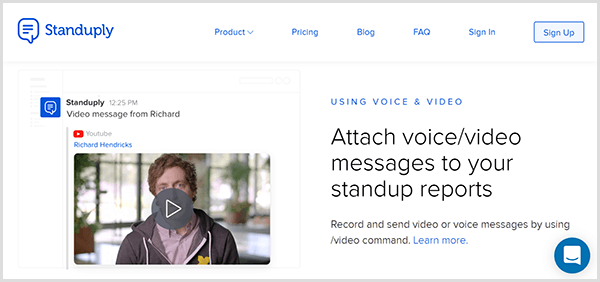 After you give the plugin access to your Slack channel or setup, you can just type "/video" and click the little button that appears, which opens your browser. Then you can stand in front of your webcam, and add a video explanation or something similar.
Note that you can add only a limited number of extensions to your Slack install.
You can try Standuply for free and continue using the free version with up to three respondents. To share video messages with more respondents, you'll need to pay for the next tier of service, which is $5 per month.
#18: Dribbble
Dribbble is an online community for designers that's also like a living, breathing online swipe file.
A swipe file is a collection of designs you use as inspiration for your own work. So, you might see a design element that you'd like to use for a future project. On Dribbble, web designers, graphic designers, illustrators, animators, and other design professionals share their portfolios. In addition to using the site to generate ideas, you can also look for designers whose work you like.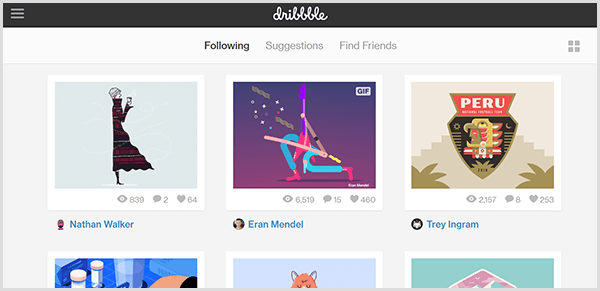 The site can be especially helpful if you're redesigning your website, creating a logo, or finding a new approach to some aspect of design.
Dribbble also has iOS and Android apps, which enable you to scroll through designs on your mobile device. After you sign up for the service, which is free, you can browse designs and choose to follow various designers.
#19: Fastory's Instagram Stories Widget
The Instagram Stories widget from Fastory allows you to showcase stories on your website.
After you set up the widget on your site, it appears in the lower right. When visitors click it, a phone-like screen shows your current Instagram stories and highlights. These show up as bubbles people can click to see curated Instagram stories that don't disappear after 24 hours. The screen also has a button people can click to follow your Instagram account.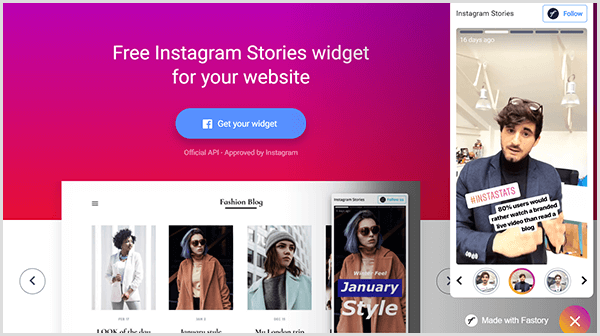 The widget works with Instagram's official API and is approved by Instagram. To get the widget and add it to your site, start by logging in through Facebook. Then you receive a code snippet that you copy and paste into your website code.
The widget is free but includes some Fastory branding. If you're all-in on Instagram, especially Instagram Stories, this widget might be something to consider.
#20: Snapseed
Snapseed is an amazing photo editing tool for mobile devices.
With Snapseed, you can not only make basic edits (like cropping, rotating, and adjusting white balance), but also enhance photos with sophisticated tools and effects. With the HDR (high dynamic range) tool, you can make your photo brighter or darker while keeping the full, wide range of colors. The face-enhancement feature adds focus to the eyes and smoothes the skin.
With the face posing tool, you can even correct the pose of a face in a portrait. To use this tool, open a photo from your phone in Snapseed, and the face-posing tool instructs you to touch, hold, and move the face. The face in the photo follows the movement of your finger, so you can change the direction where someone is looking. In the resulting photo, you can't tell the photo was edited.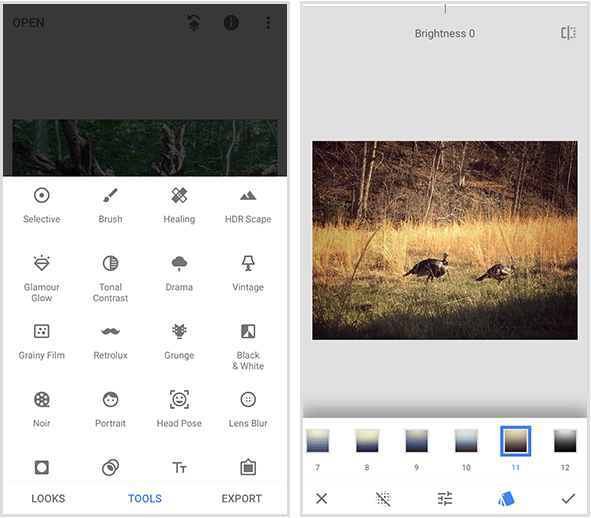 You'll also find lens blurs, a bokeh effect (which blurs the background and keeps the foreground in focus), and healing tools. It's like Photoshop in an easy-to-use app.
Snapseed is a free tool from Google, which offers online help articles about using the app. You can download it on an iOS or Android device.
#21: Lately Consistency Scanner
Lately offers a cool online scanner that helps you review the consistency of your branding across social media platforms.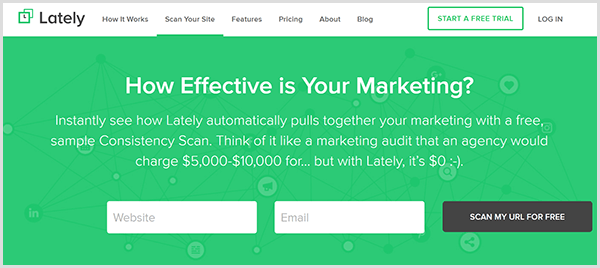 To use Lately's Consistency Scanner, enter your website and email into the online tool. It then displays your profile picture, bio, and naming scheme on Twitter, Pinterest, Facebook, Instagram, and so on, and gives you a grade on how consistent these elements are. With the report, you can easily see how to adjust your social profiles so they're more consistent.
The Consistency Scanner is a free tool. After you try it, you receive a link to your report that you can access anytime.
#22: Adobe Capture
With Adobe Capture, you can find out the exact colors in any color scheme, whether it's a printed piece or a nature scene.
Say you're out and about in the world and see a color scheme you want to use in your digital marketing. You simply open the app and aim it at the color scheme you want to capture. The app then identifies the key colors along with their hexadecimal color codes. You can export the color scheme so you can work with it in Adobe Creative Suite, too.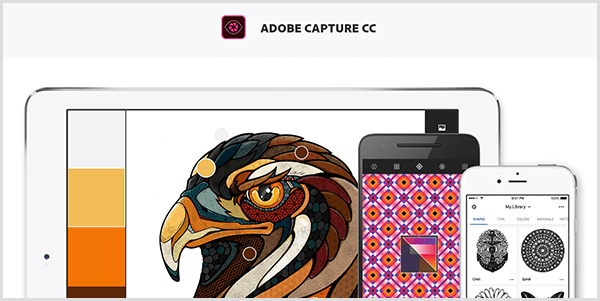 Adobe Capture is a free mobile app for iOS and Android.
#23: RealtimeBoard
RealtimeBoard (re-branded as Miro) is an online whiteboard that can help digital teams collaborate.
For instance, team members can share images, movies, slides, and text. Also, everybody can work in different places on the board all at once, as if a real whiteboard were in front of you in a conference room.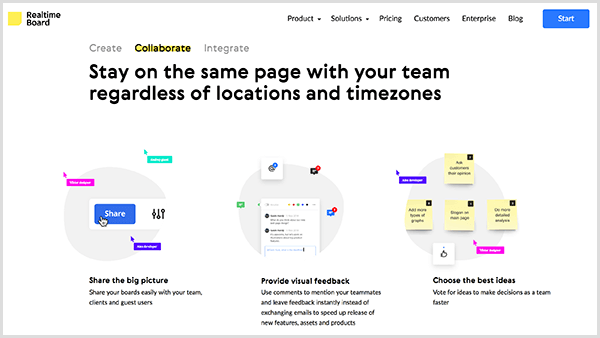 As an example, if you're trying to wireframe a website, your team can add prepared assets and draw lines in different places on the whiteboard.
You'll also find templates for different tasks, such as a story map with virtual sticky notes you can write on and move around. The Kanban template allows you to move different pieces in a business model or to-do list to show the progress you're making. You'll also find web page and flowchart design templates.
RealtimeBoard (re-branded as Miro) works best on desktop computers. With the free version, you can have up to three members and three boards.
#24: YouTube Studio
With the YouTube Studio app, you can access features from the Creator Studio dashboard on your mobile device.
This app is especially helpful for anyone who regularly updates a YouTube channel. When you first log in to YouTube Studio, you see an overview of your analytics, including watch time, views, and subscribers. You can also tap the hamburger menu to access features for managing your videos directly from the app. You can also interact with people who leave comments on your site.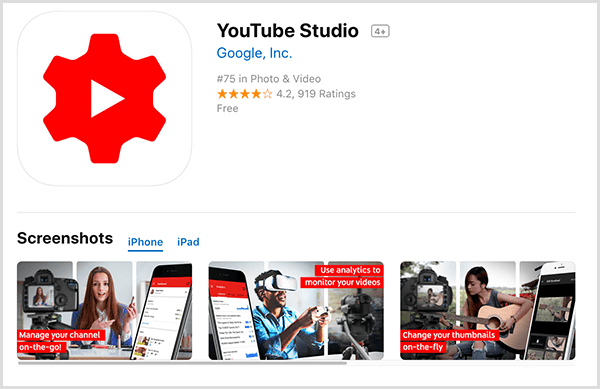 Beyond the basic analytics you see when you log in, the app also has a dedicated analytics component that allows you to see almost every kind of analytics you can imagine.
YouTube Studio is free and available for iOS and Android.
#25: Plover
Plover gives you an easy, cross-platform way to share files with people on the same WiFi network.
To share a file with Plover, visit Plover.io, and you appear as a certain animal, such as a badger or goose. Anyone else on your WiFi who has Plover also appears as an animal. After you select your recipient's animal, you simply select the file you want to share. You can send a file to multiple people at once, too.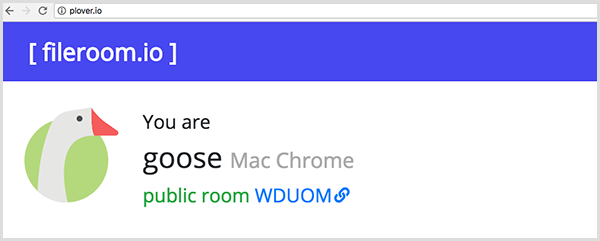 Because Plover is browser-based, it works whether you're using iOS, Android, Windows, or macOS. For instance, you don't have to all be using Apple devices, as you do with Apple's AirDrop. Also, AirDrop has different levels of privacy that make sharing a bit more complicated than Plover does.
Plover says it stores files for transfer temporarily. With that in mind, use caution when sharing files that may contain confidential material. Also, although you could use Plover to share files on a public WiFi network, sharing files on a password-protected network is preferable.
Plover is free and doesn't require you to sign up. You can simply find someone to share a file with and try it.
#26: Smart Compose
Smart Compose is a cool new feature inside the brand-new Gmail.
With Smart Compose, Gmail predicts what you'll type and gives you suggestions to help you finish your email quicker. For example, after you add your recipient's email address, Smart Compose might suggest a subject based on subjects you often use for that recipient. To accept a Smart Compose suggestion, you simply press Tab.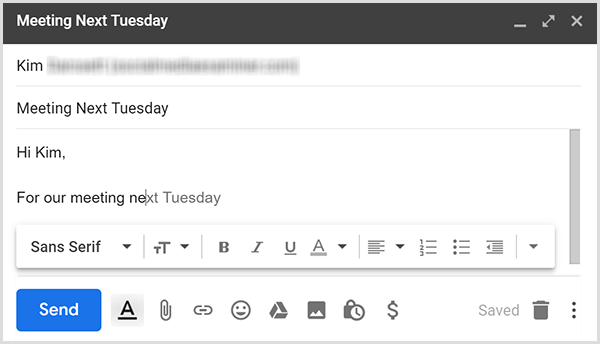 The meeting scheduling capability also works well. In the body of the email, you might mention scheduling a meeting, and Smart Compose will suggest next week. You might write, "Are there times," and then Smart Compose will suggest, "that work best for you?" You can continue to press Tab to fill out the email. The process works pretty seamlessly.
To use Smart Compose, you need to have the new Gmail and turn on experimental features. To switch to the new Gmail, you click the gear-shaped Settings icon in the upper right and select the option to try the new Gmail. For a corporate account, the administrator of your account needs to activate the new Gmail so that all the people who work for the company can access that option.
To turn on experimental features, click the Settings icon, select Settings from the menu that appears, and then select the Enable Experimental Access option.
Smart Compose is available when you access Gmail (free) in a desktop browser such as Chrome, Firefox, or Safari.
Search Discovery to find more tools and apps featured in the Discovery of the Week segment on the Social Media Marketing podcast.
What do you think? Have you tried any of these social media tools? What apps have you found useful? Please share your thoughts in the comments below.
3 Days of World-Class Training—Zero Travel!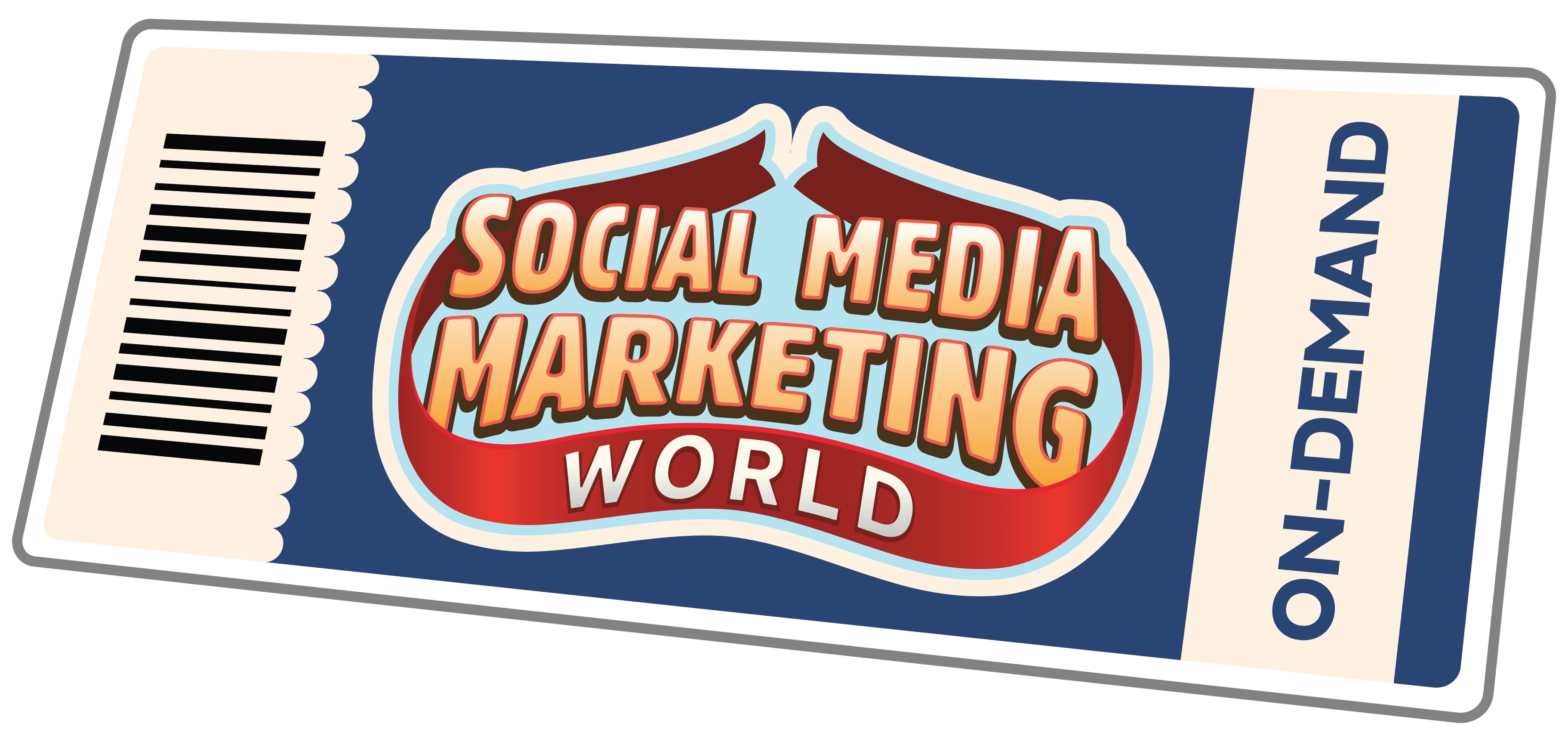 Travel to Social Media Marketing World off the table? Get all of the great content at a fraction of the price with an On-Demand ticket.

That's full access to recordings of every keynote, workshop, and session—the ones people travel thousands of miles to see. Don't wait. Get your On-Demand ticket and enjoy actionable content that you can watch anytime, anywhere.
GET YOUR ON-DEMAND TICKET NOW