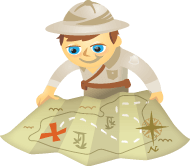 Are you looking for ways to strengthen the impact of the content you create?
It isn't always easy to generate the buzz you're looking for.
Knowing what to publish, when and where can greatly increase the visibility and reach of your content.
In this article, you will find 26 topics, an A-Z guide, with key points that will help you create a social media content strategy that resonates with your audience.
#1: Align Content Development With Social Media Metrics and Goals
Understand the goals of your company's social media content delivery to help you develop a more attainable strategy.
Jayson DeMers suggests, "First you need to know what to measure. The end goals dictate the measurement metric."
He offers metrics for four social media goals:
If you're looking to generate traffic, your metric should be: unique visitors from social websites where you've run your social media campaigns.
If you're looking to create a following, your metric should be: subscribers, followers on your social channels (Facebook, Twitter, etc.).
If you're looking to generate interaction, your metric should be: quantity and type of commentary (Facebook comments, Twitter replies/mentions).
If you're looking to generate revenue (which is the ultimate purpose), your metric should be: the precise dollar value of every lead a social post generates.
Keep this information in mind when crafting your social media content.
#2: Beef Up Your Content Strategy With a Big-Brand Mindset
Small businesses can learn valuable lessons from the big-brand approach to social media.
Rick Mulready suggests three things big brands do very well that small businesses can emulate:
Find where their customers talk and "go deep."
Create content that people want to talk about.
Use social media to listen to customers.
Starbucks, with over 34 million fans on Facebook, is a good example.
On Thursday, June 6, they posted a Facebook offer "Enjoy a Grande Iced Coffee, Iced Tea, or Starbucks Refreshers Beverage for $1 on June 7." The update was shared by 13,931 people and received 1,553 comments. The offer was not tweeted to their 3,852,454 Twitter followers.
By promoting the offer on Facebook, where they have a significantly larger following, Starbucks leveraged the promotion on a platform where they were sure to get higher visibility, giving followers an incentive to follow the brand.
The Conference You've Been Waiting For
As a small business marketer, you can probably only pick one or two events to attend each year. Get an unbeatable conference experience and expert training at Social Media Marketing World in sunny San Diego, California—from your friends at Social Media Examiner.
🔥 As a valued reader, you can save $600 on an All-Access ticket if you act now! Sale Ends Tuesday! 🔥
CLICK HERE TO LEARN MORE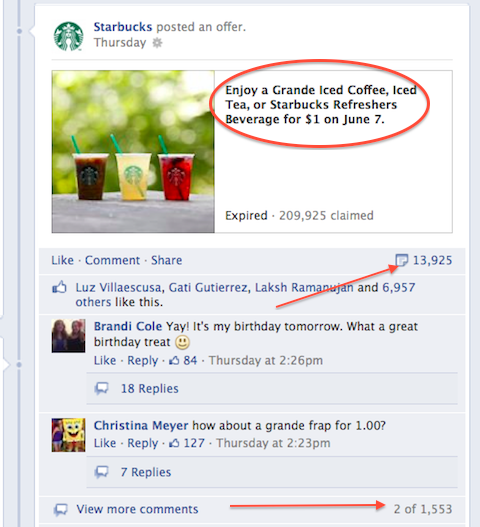 Use a big-brand approach to engage your social media followers.
#3: Concentrate on Increasing Daily Updates
Ensuring that your posts and updates have a good chance to be seen by your target audience is an integral part of a content strategy.
Leo Widrich offers 3 key tactics:
Frequency: Post around 5-10 times a day on Twitter and 1-4 times a day on Facebook for optimal outcome.
Timing: Almost all research studies highlight the main work hours from 8 am to 8 pm as good times to tweet and post to Facebook.
Multiple sites: Post to multiple social sites, in addition to your own blog or website.

Create a frequent and reliable presence on social networks. Image source: iStockPhoto.
Pay attention to frequency, timing and multiple sites, and you'll increase the odds of achieving higher levels of social engagement.
#4: Delve Into Data From Social Media Channels
Data from social channels (e.g., Twitter, Facebook, LinkedIn, Google+ and blogs) can be overwhelming unless you have clear goals to guide what you're looking for and what you'll do with the information once you find it.
Douglas Karr points out, "The sheer volume of social media data makes it incredibly difficult to analyze."
He offers five practical ways you can use social data to benefit your business:
Gauge the real-time market mood.
Identify relevant issues and content.
Determine user interests.
Provide internal operational metrics.
Execute competitive research.
Explore social data with an actionable plan in mind.
#5: Engage in Real Interactions
Lana Bandoim writes, "Social media engagement is often defined as the real interactions that happen on these networks." She points out that social media engagement relies on daily interactions among users to survive. While autoposting tools are one way to communicate, more businesses are beginning to understand that engaging with their audiences in real conversations will bring them better results and add more value to their social streams.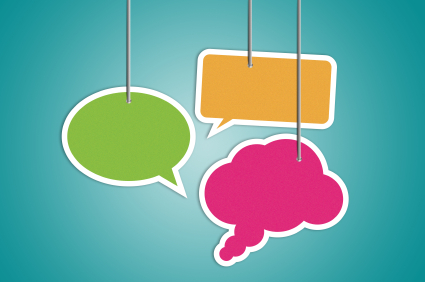 Be available to your audience in real time, when you can have more meaningful back-and-forth conversations.
#6: Follow Facebook's Changes
Got the hang of your Facebook Page? Enjoy it while you can, because based on Facebook's history, the only thing that's certain is that Facebook will change.
A Google search for the words "Facebook changes" brings up a great number of results with a range of topics such as changes to timeline, cover photo policy, implications for merchants, mobile layout and much more.
Rachel Sprung suggests 5 ways marketers can keep updated on Facebook changes:
No one wants to have their Page change features on them without having ample time to prepare. Keep up to date with Facebook developments to make sure you don't miss out on the changes coming down the pike.
#7: Get Acquainted With the New Google Analytics Social Reports
Google's new standalone reports, Data Hub Activity and Trackbacks, give marketers more in-depth insights into social networks and how users respond to a business's content.
As Google describes:
The Data Hub Activity report shows you how people are talking about and engaging with your site content on social networks. You can see the most recent URLs people shared, how and where they shared (via a "reshare" on Google+, for example), and what they said.
The Trackbacks report shows the sites that are linking to your content, and in which context. This can help you replicate successful content and build relationships with those users who frequently link to your site.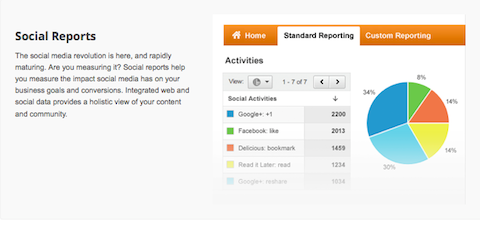 Check out the new Google Analytics reports and apply what you've learned to your content development strategy.
#8: Help Users Find Your Content With Hashtags
Why should businesses care about hashtags? Steve Cooper sums it up with five reasons:
Promotions—hashtags make it easy to track a promotion's activity across many social platforms.
Unification—you can track a hashtag across all the major networks or filter them individually using new tools such as Tagboard.
Conversations—giving a customer your website URL doesn't make it easy to begin a conversation, but hashtags do.
Targeting—unlike going after a general web surfer on the open web, people who use hashtags are likely to engage in social conversations and therefore are more likely to share a positive experience they've had with your brand once you've broken through.
Innovation—because they're so flexible, simple and ubiquitous, more businesses are able to find creative ways to add power behind the hashtag.

A hashtag search on Tagboard will help you follow all the conversations.

Tagboard filters hashtags on major networks.
Use hashtags to include your content in active public conversations.
#9: Introduce Content With Infographics
Infographics are defined as graphic visual representations of information, data or knowledge intended to present complex information quickly and clearly.
Dragan Mestrovic illuminates the benefits of infographics in four persuasive points:
Infographics are shared on the web, Twitter and Facebook more often than other content online.
Infographics are easy to understand, consume and share.
On Twitter, LinkedIn and StumbleUpon, infographics get more shares than other content.
Marketers love infographics because they offer an easy and powerful viral marketing tool to spread the word about your company's products and services.

Infographic of infographics
Infographics are a great way to synthesize information simply and visually as seen in the above image from Vsual.ly. When done well, an infographic is a perfect poster-child for quick and effective dissemination of information via social media.
#10: Justify Frequent Updates and Posts
Why is it that some businesses are posting fast and furiously and others are crawling far behind? Chances are that the businesses posting more frequently had to justify to management the importance of maintaining an active presence.
As we discussed in #5, autoposting does not offer a suitable alternative to real-live human beings who can respond to comments and post breaking news updates.
A tool such as How often do you tweet could shed some insight:


Monitor your social media engagement compared with your competitors'. Share the results with management to help justify a request to dedicate more time and resources to the company's social media efforts.
#11: Keep Klout in Perspective
Klout utilizes Twitter, Facebook, Google+, LinkedIn, Foursquare, Wikipedia and Instagram data to create a Klout user profile that is assigned a "Klout score," a numerical value between 1 and 100.
Many critics suggest Klout scores aren't representative of the influence a person has and discount the scores, as well as the thinking behind Klout.
Mark Schaefer offers an alternate view: "The ability to create and move content is the absolute key to online influence. So think about this—to the extent that you could actually measure that, wouldn't you also be creating an indicator of relative influence?"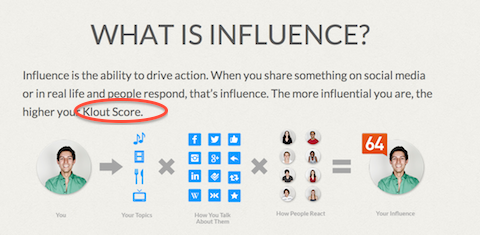 When it comes to Klout scores, don't throw the baby out with the bath water. Instead, ask what you can learn from your competitor's higher score and how you can do what they're doing with their content.
#12: Look to the Future of Social Media
The question of social media's ability to capture leads has been at the forefront of marketers' minds from the beginning. Twitter is the latest network to offer an approach that will let marketers be more proactive with lead generation cards.
Twitter describes lead generation cards this way: "[The cards] make it easy for users to express interest in what your brand offers. Users can easily and securely share an email address with your business without leaving Twitter or having to fill out a cumbersome form.
Attention Agency Owners, Brand Marketers, and Consultants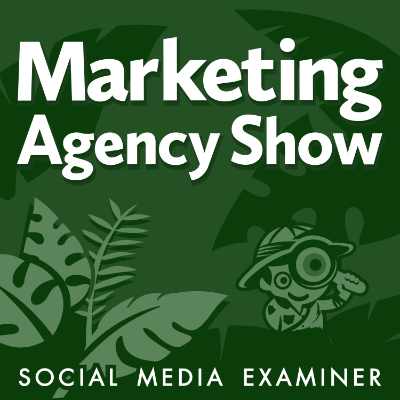 Introducing the Marketing Agency Show–our newest podcast designed to explore the struggles of agency marketers.

Join show host and agency owner, Brooke Sellas, as she interviews agency marketers and digs deep into their biggest challenges. Explore topics like navigating rough economic times, leveraging AI, service diversification, client acquisition, and much more.

Just pull up your favorite podcast app, search for Marketing Agency Show and start listening. Or click the button below for more information.
CLICK HERE FOR THE DETAILS
"When someone expands your Tweet, they see a description of the offer and a call to action. Their name, @username, and email address are already pre-filled within the card. The user simply clicks a button to send this information directly (and securely) to you."
At the time of this writing, Twitter stated, "Currently lead generation cards will only be available to our managed clients; we have plans to launch this card globally and to small- and medium-sized businesses soon."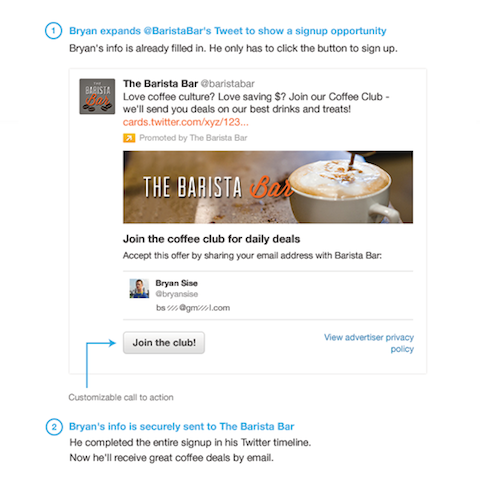 Stay updated on the availability of Twitter's lead generation cards so you'll be ready to use them.
#13: Make Your Blog Mobile-Friendly
I don't know about you, but I seem to be visiting more and more websites on my mobile phone these days. If I land on a page that isn't mobile-friendly and it's slow and difficult to navigate, I'm out of there.
Jon Young provides 8 tips to make your website mobile-friendly:
Only give visitors content they need.
Carefully plan your layout.
Landing pages should be simple.
Design for multiple browsers and device compatibility.
Always include social media icons.
Automate the experience and use mobile redirects.
Provide a link to your full site.
Usability should be top priority.

By using Mobile Meter, we can see what Social Media Examiner looks like on mobile devices.
Don't give readers any reason to leave your site. Be mobile-ready and -friendly.
#14: Network in All the Right Places
What social networks do your customers favor? Are they on Twitter and Facebook, but haven't embraced Google+ yet?
Ryan Little writes, "One recent study on social media usage revealed that the average user has two social media accounts. While some users find pleasure in multiple networks, there are people who have found a single community they love and stick with it, even when the temptations of a new social network arise. And there are others who have used various networks and narrowed their usage down until only one platform remained."
The situation gets a little more complex for businesses. It's important to keep in mind that your customers may favor one network today and in six months discover that another meets their needs better.
Follow your customers and prospects so you can network in all the right places.
#15: Outsource Content Development as Needed
Can your business keep up to date with all the tasks associated with maintaining social presences (e.g., reading and sharing good content, responding to users' comments, asking questions to help engage your audience)?
Tim Devaney and Tom Stein write, "Studies show it takes a midsize company about 32 hours a month to capably handle a single social media platform."
According to Eve Mayer, "The companies that have the most effective social media communications are those that have a combination of internal and external people doing social media." She advises businesses to take several steps toward a successful social campaign:
Decide what you want to achieve.
Don't spread yourself too thin.
Keep some social media in-house.
Send some social media to a consultant, someone who understands social media and can apply that knowledge across many different platforms.
How many hours a month does it realistically take for your business to maintain social presences? Don't let the shortage of internal resources hamper your online capabilities. Outsource social media to cover your bases.
#16: Present Your Human Side With Photos
Photos and other types of visual content are highly shareable on social networks. Pam Moore suggests that when you post photos of your team, it helps to show your business as a human brand and build relationships with your community.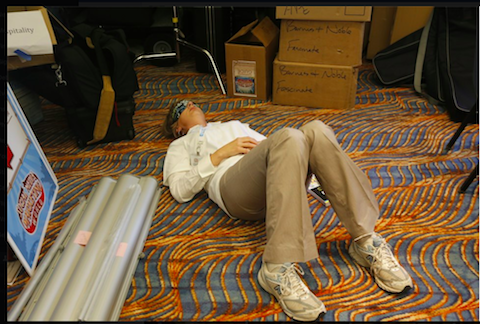 Social media has made it possible for you to share information about your business in a multitude of ways. Photos can show your serious, productive, silly, creative, successful and charitable sides—but above all, be sure to expose your human side.
#17: Question Readers for More Engagement
Questions are a good example of engaging content and have become a frequent go-to tactic, especially on platforms such as Facebook. Belinda Whittaker suggests three types of good questions to ask:
Pure fan engagement questions to help tap into the interests and lifestyles of your fans.
Market and competitive analysis questions to generate conversations and engage with possible leads who are interested in buying that product.
Product/service feedback questions that can serve as a fast focus group to find what people like most and what areas you can expand into.
Are you asking your readers questions? When they answer, do you reply?
#18: Replicate Your Brand Identity From Platform to Platform
Let's say you joined Facebook in 2008 and Google+ in 2012. A difference of four years can seem like eternity in the world of social media. Regardless of the year, you'll want to make sure you have a consistent brand identity today.
Desmond Wong examined how Google, Target, Etsy, Coca-Cola, Disney, Amazon, New Yorker magazine and SEOmoz approach brand consistency across multiple social media platforms. Factors included how they use design and graphics in unison across platforms, and whether they use consistent colors, fonts, icon styles and logos.
If you're in doubt about whether you demonstrate a consistent brand experience, take a look at all of your pages side by side and see if there are any changes you need to make.
#19: Strengthen In-Person Events With Social Media Promotion
At times you may wonder about the relationship between in-person events and social media, and how they're able to coexist.
Jay Baer describes 7 ways to use social media to promote in-person events:
Engage—encourage potential attendees to interact with you early on by crowdsourcing feedback.
Intrigue—create an event page on event listing sites (e.g., Facebook events, Eventbrite).
Invigorate potential attendees with videos, blog posts, press releases, Twitter list of attendees, etc.
Integrate—pick a hashtag for the event to get people talking.
Inform—ask attendees to vote on session suggestions via text messages, consider QR codes on badges.
Propagate—stream live video of your event.
Aggregate—spread the conference presentations as widely as possible; use email links on your website and publish on SlideShare.

SMMW13 highly invigorated attendees.
In-person events, combined with online social networking, provide terrific opportunities for businesses to reap the benefits of both worlds.
#20: Talk With Team Members to Keep Up Momentum and Morale
None of us should work in a vacuum. We need to know what's working and what isn't. But sometimes the people seeing the analytics aren't necessarily the ones who are managing the company's online presences.
Chris Heiler suggests that one critical way to keep your social media team engaged is to provide them with updates on goals. As he says, "You need to keep them updated by sharing your successes with them. Has your website traffic increased significantly since putting together your social media team? Is your blog generating more qualified leads?"
To garner support, show team members the results of their efforts.
#21: Use a Conversational Tone to Engage Readers
Social media has changed the way businesses communicate publicly. In fact, we're often advised to avoid stiff and stodgy business writing and encouraged to adopt a more conversational tone. And yet sometimes we're at a loss to know what that means for our business.
Courtney Seiter suggests you explore your culture, community and conversation as you develop your social media voice. As she says, "Take us inside your brand's experience… listen to the way your community voices their feelings, speak their language, on their terms… and then communicate with personality and authenticity. No strong-arming or hard selling, just talking in a way that's comfortable, conversational and relatable."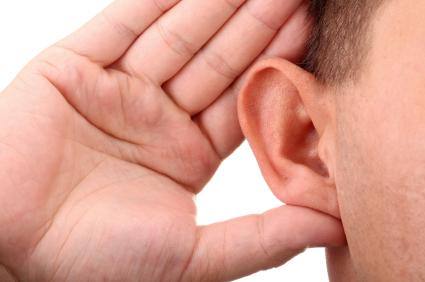 Use a conversational tone to make your content feel more authentic and engaging to readers.
#22: Visit a Number of Search Engines to Find the Perfect Image
With all the attention images receive on social media, it stands to reason that businesses will be on the lookout for interesting visuals.
Joshua Lockhart provides a list of six visual search engines to help you find the image you want. He suggests TinEye, CC Search, Compfight, FlickrStorm, WeSEE and Google Image Search.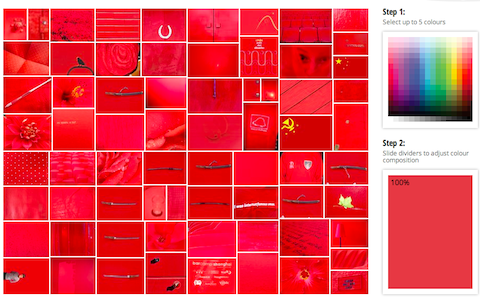 Take a few minutes and check out the visual search engines. When you find one great image you hadn't previously come across, it will make a difference.
#23: Widen Your Writing Style With Online Tools
When you're busy writing online content, it may feel like you don't have the time to stop and look into new writing tools. But when you do, you're apt to find a treasure trove of useful tips.
That's how I felt when I came across Sherice Jacob's unique list of apps, websites and software programs for online writers: WordCounter, Cliche Finder, Creativity Portal, Unstuck, ZenWriter, Byword, Readability, and SychroEdit.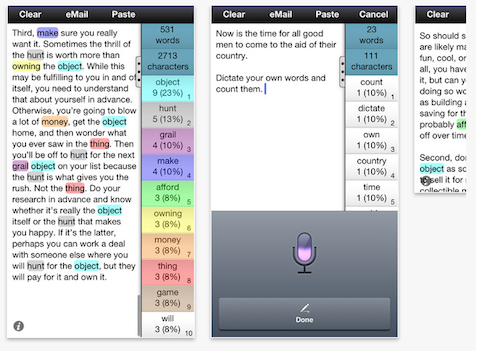 Writing tools can help recharge your battery while fulfilling specific needs.
#24: (E)xpand Your Article With Relevant Tips
Online readers often gravitate to tips-related articles. A search on the keyword "tips" produced 30,400,000 global monthly searches. Suggested keyword terms included every imaginable type of "tips;" for example, photography, makeup, Sudoku, travel, weight loss. Regardless of the industry, people are often looking for tips.
Include tips articles in your content marketing plan for your business to interest new readers.
#25: Yield to Your Customer's Journey
Social channels differ in the roles they play in the customer's journey towards making a purchase.
Lee Odden writes, "Understanding the customer experience from awareness to consideration to purchase folds well into the core principle of Optimize—to empathize with your customer and understand how they discover, consume and act on information. By doing so, you can create a practical digital marketing plan that optimizes for attraction, engagement and conversion."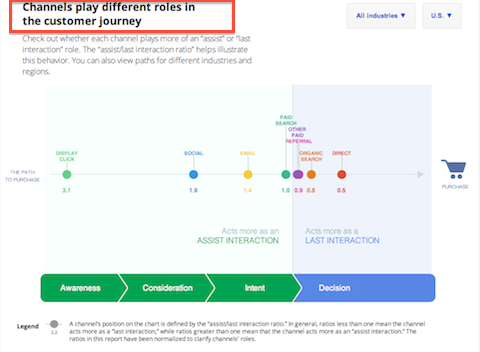 Check out Google's Customer Journey tool to see the differences by channels and industries.
#26: Zero In on Your Customer's Interests and Needs
What do your customers care about? What information will help them in their day-to-day work or make their lives easier and more successful?
If you're going to go to great lengths to craft and publish content, keep your customer's interests and needs front of mind.
Your Turn
There's a lot going on in the world of social media marketing today. We've covered some solid ways to help ground your efforts and explored some of the innovative changes that can affect your presence.
What do you think? Have you tried any of these? Do you want to add any to the list? Please leave your questions and comments in the box below.
3 Days of World-Class Training—Zero Travel!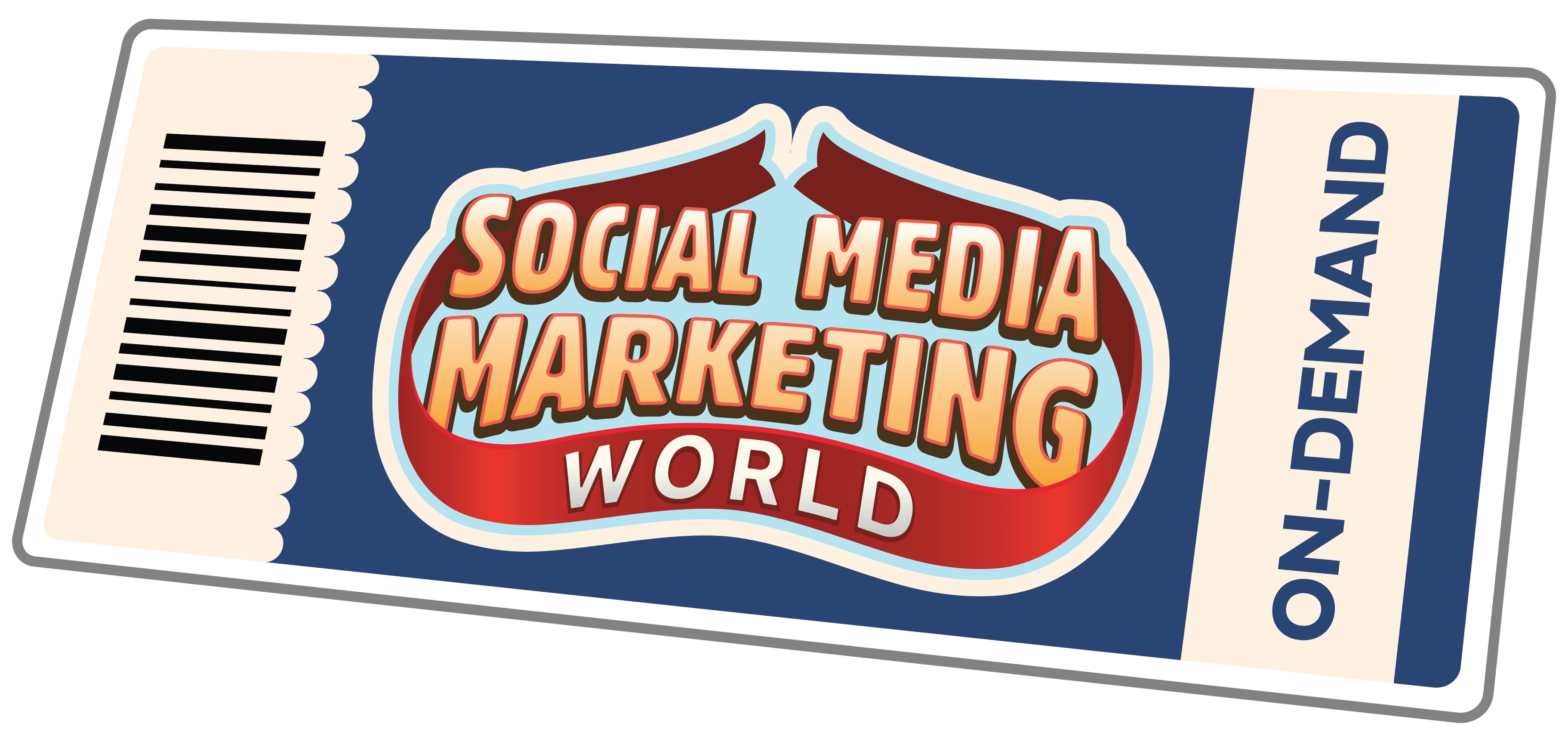 Travel to Social Media Marketing World off the table? Get all of the great content at a fraction of the price with an On-Demand ticket.

That's full access to recordings of every keynote, workshop, and session—the ones people travel thousands of miles to see. Don't wait. Get your On-Demand ticket and enjoy actionable content that you can watch anytime, anywhere.
GET YOUR ON-DEMAND TICKET NOW