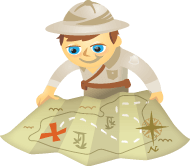 Are you looking for the latest social media marketing tactics?
Do you want to know what the social media marketing pros are doing today?
Keeping up with the latest social media changes is not always easy, but here you'll find ideas worth exploring.
We asked 18 social media pros to share the best marketing tactics worth doing today.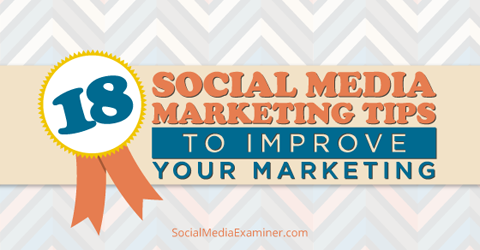 #1: Use Time Stamps With Your Hangout on Air Videos
Live hangout on air (HOA) shows are wonderfully engaging and allow you to establish trust and build relationships like never before… but they can be sort of long by the time you're done broadcasting.
So how do you encourage people to watch some or all of the recorded session? Combine your HOA live broadcast video with time stamps to highlight specific sections.
On Google+ (and on YouTube), the use of time stamps is magical. A time stamp is a simple set of numbers and colons you type in the post text that holds the video of your broadcast (or the description text on YouTube).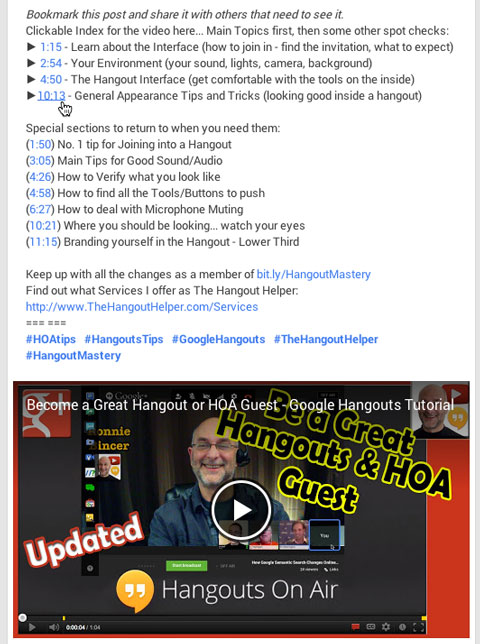 Time stamps use the format of HH:MM:SS where HH equals hours, MM equals minutes and SS equals seconds into the video where you want the player to start. On Google+, time stamps work in comments and in the main text area of a video post, but they do not work with HOA event posts.
When someone clicks on the time stamp, it jumps to play that part of the video.
Think of time stamps as an interactive table of contents for the video. Take your 30-minute HOA video and point to three or four important topic discussions using time stamps and descriptions of the points covered. You'll get more views because people can jump to the topic that interests them most.
Ronnie Bincer, known as the Hangout Helper, is a coach, master trainer and Google+ Trusted Tester.
#2: Socially Tag People Who Are Involved With Your Content
If you want to build stronger connections with high-value contacts, take your activity across more than one social network.
This will increase your visibility by giving you a stronger presence in several social networks.
Get Expert Social Media Marketing Training from the Pros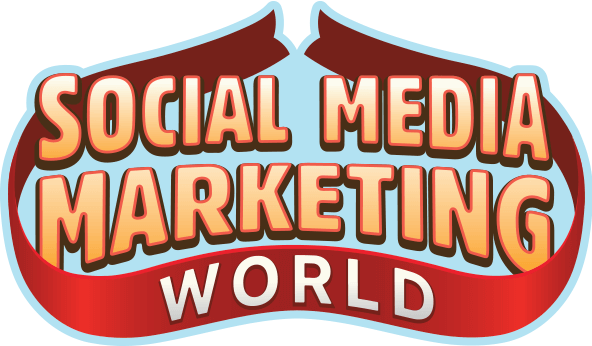 Want to get ahead of the competition or learn how to diversify your strategy?
Learn from dozens of the industry's most trusted experts, rub elbows with other smart marketers, and take your marketing to the next level during this 3-day event in sunny San Diego, CA.
CLICK TO LEARN MORE
First, know whom you're targeting. Generally, I look to connect with bloggers and content creators, but it's even better if you're networking with thought leaders and prospects.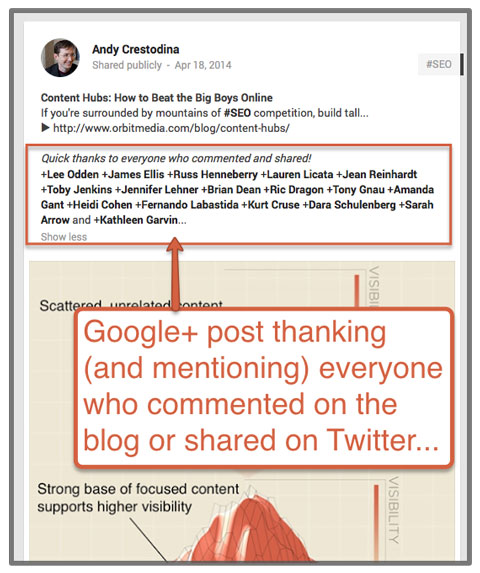 Next, make sure you know where those people are active. There's no value in mentioning someone on a network they pay no attention to.
Watch the timing to take advantage of all opportunities. After you share content in one place, wait to see if it's reshared or generates comments. Then cross over to another network to thank and mention people who engaged.
The key is to watch for actions on one network and respond to them on another network. Here are some examples:
They share your content on Twitter and you thank them with an invitation or message on LinkedIn.
They like your post on Facebook and you thank them next time you share the post on Twitter.
They comment on your post and you thank all of the commenters with a mention when you share it on Google+.
The combinations are endless and two things can happen when you employ this tactic:
The people you target may share it again on the second network. This is likely because they like it.
They may follow you on the second network. Now, you connect to high-value contacts on several networks, not just one.
Smart marketers think cross-channel constantly. They're diversified, yet targeted. They don't put all their eggs in one social network, but they're very focused on specific opportunities, connections and potential collaborators.
Andy Crestodina is co-founder of Orbit Media and the author of Content Chemistry: The Illustrated Handbook for Content Marketing.
#3: Send Secret Promotions With Instagram Direct Messaging
Instagram is a one-feature wonder, which I love; but many marketers have a hard time figuring out how to use the platform to make money, grow their subscribers or build their email list.
Instagram's new direct messaging feature can help.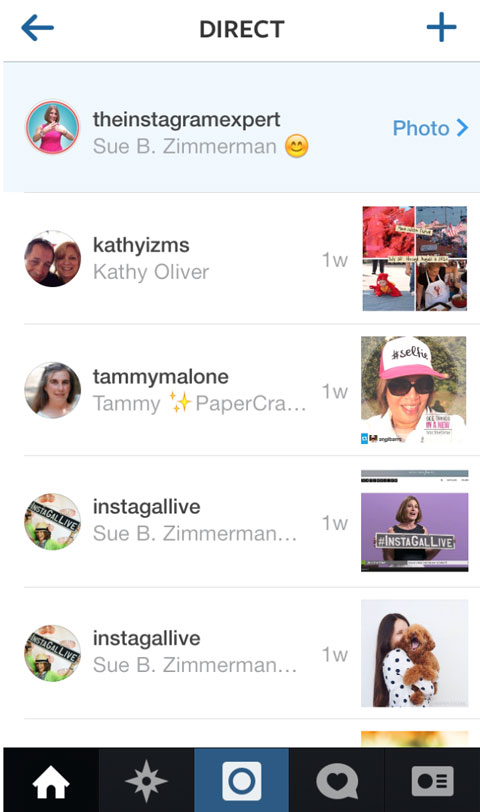 Within the direct messaging feature, you can send a private message with up to 5 pictures to up to 15 people at a time. We've been using direct messages for follower appreciation, secret promotions, even text responders to build email lists.
Because VERY few marketers have caught on to this tactic, the conversion rates are incredibly high!
Sue B. Zimmerman is the founder of the online Instagram course Insta-Results™, author of Instagram Basics for Your Business, a CreativeLive instructor, speaker and business coach.
#4: Use a Team to Respond to Everyone on Facebook
Stop striving for a bigger audience, increased reach, more impressive stats… and instead focus on serving the audience you do have with impeccable care. Respond to every Facebook wall post, every comment, even every @mention and share, if possible.
If your Facebook page receives such a high volume of posts and comments that it's challenging for your company to respond to 80% or more, you may need to deploy more resources. If you're the CEO, you shouldn't necessarily be the one doing the daily engaging. Rather, your highly trained, incredibly passionate community managers should be the ones responding and proactively inviting conversation.
I've always been committed to never delegating my voice—but as a personality-based brand, scaling engagement can prove a real challenge. However, I created an effective workaround by setting up a secondary fan page called Team Mari. I then assigned my community managers as admins of that page and they log into Facebook as Team Mari to respond on my main Mari Smith fan page. Managers greet the addressee by first name and sign off with their first names for that important personal touch.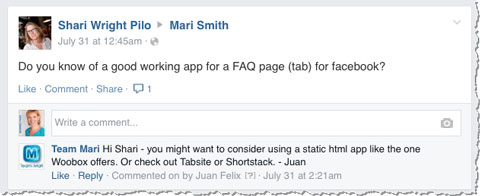 When you focus on high-quality content and engagement, over time the quantity naturally follows. The premise here is that everyone loves to be seen, heard and acknowledged. In doing this, you'll foster deeper relationships and incredible loyalty among your fans—which can ultimately be converted into more profits for your business.
For some Facebook admins, the new Mentions mobile app may help, as it easily surfaces community engagement for responding on the go. Facebook describes the Mentions app as "A new app for actors, athletes, musicians and other influencers to discover and join conversations on Facebook." (For now, Mentions is only available to Facebook users with verified fan pages, which includes admins of such pages.)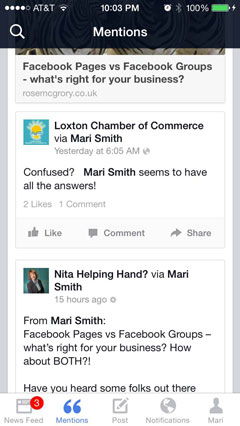 BONUS: Visit Socialbakers' Socially Devoted site to check your Facebook page against industry benchmarks for response time and customer service.
Mari Smith is a leading social media strategist, author of The New Relationship Marketing and co-author of Facebook Marketing: An Hour a Day.
#5: Empower Employees to Share Why They Love Your Company
When it comes to word of mouth and social, company leaders often ask the wrong question. Instead of, "How do I get my employees to share the brand's information?", the question should be, "How can I help employees share their own information?"
Employees are your best advocates and they're inspired to help when they feel your company has a vested interest in them.
So how do you set up your employees for success and enable them to become safely social on your behalf?
Platforms like Dynamic Signal create a healthy content-sharing ecosystem where brands empower employees to share approved content to their trusted networks. By using modern word of mouth, brand messages achieve greater reach, awareness and engagement.
Bryan Kramer is the author of the recently released book, There Is No More B2B or B2C: It's Human to Human #H2H.
#6: Try Paid Advertising on Twitter
In a world of increasing information density, we can no longer rely on the organic reach of social media we've enjoyed for so long. It makes sense to look at other options, including paid components.
I don't think any company has provided more innovative advertising solutions than Twitter. They offer three main Twitter ad options: promoted tweets, promoted trends and promoted accounts.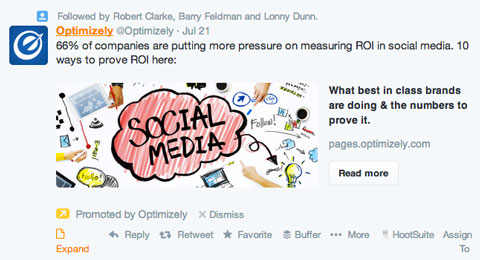 Through promoted tweets, your pre-selected tweet will show up in the feed of a person who fits very precise criteria. Those criteria could be based on where they live, or what they're saying about your product or competitor, for example. You pay only if somebody interacts with your tweet with a retweet, click, reply or favorite.
Here's an inside tip about promoted tweets. After the first customer has clicked, you don't pay for any of the subsequent interactions related to that click.
Here's what I mean. Let's say Sally clicks on your promoted tweet. You pay a small, pre-determined fee for Sally's click. Now let's say Sally retweets your link and 10 of her friends retweet and click your link to buy a product. You only pay for Sally's original click.
That's an efficient form of advertising!
Mark Schaefer is the author of Social Media Explained, The Tao of Twitter, Born to Blog and Return on Influence.
#7: Open Community Boards on Pinterest
I've found Pinterest to be both a great place to discover content and home to a passionate community of social media users I enjoy engaging with. It's also a massive source of website traffic.
Over the last 3 months, Pinterest has become the second-largest source of website traffic from social media for my blog, Maximize Social Business. One of my favorite Pinterest marketing tactics is engaging with group or community boards—boards with multiple people pinning to them.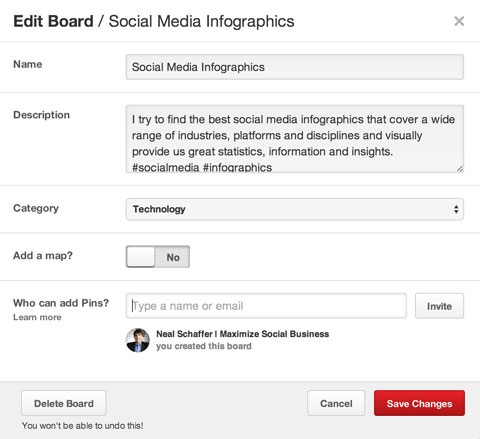 You can join community boards owned by others to gain increased visibility for your pins or create a community board of your own to let your fans help curate content and maintain engagement for you.
When they pin content to your board, it automatically goes out to all of the board's followers. Your board also becomes part of the contributors' profiles and when others follow all of the boards of your contributors, your group board is automatically followed as well!
Community boards are not without risks. You should have a deep trust in the quality and integrity of the pins from any contributors and groups boards you interact with. Your board followers will see pins from your contributors on your group boards, and if those pins are irrelevant or too frequent, your follower count or branding could take a negative hit.
Whether you open up your brand's boards to employees who are already active on Pinterest or reach out to brand ambassadors who are already repinning content from your boards or website, Pinterest community boards deserve your attention!
Neal Schaffer is the author of three books, including Maximizing LinkedIn for Sales and Social Media Marketing and Maximize Your Social.
#8: Give Social Media Shout-Outs
My best social media marketing tip right now falls under the "oldie-but-goodie" category. Simply put, it's the fan/follower shout-out. Social media is no longer a game of large numbers, but rather the accumulation of what Kevin Kelly called "true fans."

In June of this year, I was able to successfully raise over $10,000 in crowdfunding to self-publish my first book. When I looked at the results of the campaign, its success was not predicated on random fans or followers who came across one of my tweets. The majority of contributions came from either dedicated true fans I've built a relationship with over time or the true fans within the audience of my true fans.
The best way to build relationships and accumulate more true fans is to let people know you care about them. Here are my favorite ways to use the major social networks to let your true fans know you care:
Google+: Do a "Best Of" post for an audience member. Link to three to five of their posts and write a little background on why you feel your audience should circle this person.
Facebook: Create a special series of posts that highlights audience members doing great work. Create a eye-catching graphic using Canva so your Facebook fans know these are special people they should follow.
Twitter: Pick a day and tweet out three to five of your audience members' posts to give them exposure to your entire Twitter following. Make sure the last tweet of the day explains why you're doing it. Buffer is a good tool for scheduling these tweets.
LinkedIn: Use LinkedIn's publishing platform to create a post highlighting the work of your audience member. Explain why people should consider adding that person to their LinkedIn network.
These simple activities show gratitude and appreciation for the true fans in your audience who support your work.
Ryan Hanley is the founder of Hanley Media Lab and director of marketing for the Murray Group Insurance Services, Inc.
#9: Find Your Social Media "Why?"
Many companies don't have a clear idea of why they create content on particular social media channels—the business reason.
Here's a simple exercise. Put "Why?" at the top of a piece of paper. Along the left-hand side, write down all of the social media sites your business is currently engaged on (Facebook, Twitter, SlideShare, etc.). Now, list the business reason you leverage each channel.
Lead the Social Charge Instead of Playing Catch Up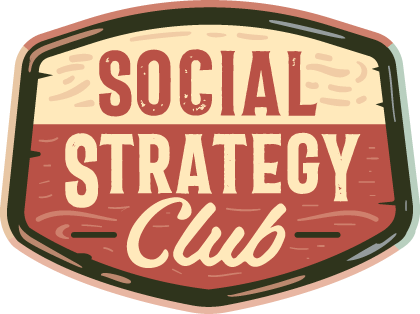 Sick of wondering "What now?" everytime a social platform changes or the market shifts?
Get a look at where the social media marketing industry is headed—before it happens—with insightful trends analysis delivered weekly.
Let the Social Strategy Club be your secret competitive advantage.
CLICK TO LEARN MORE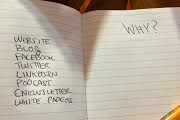 For example, let's say you just started developing content for LinkedIn's publishing platform. Why do you do it? Is it to generate new business, to save costs versus another delivery approach, to keep customers longer or to encourage customers to buy more?
If you don't have an answer, you need to make a decision. Can you really use that channel? Maybe less is more? Maybe your objectives are off? Maybe you're focusing on the wrong metrics?
To be effective in your social media journey, you have to know what the goal is.
Joe Pulizzi is the author of Epic Content Marketing and co-author of Managing Content Marketing.
#10: Run Controlled Experiments
Many people hear or read that they should "post X number of times, in a certain way, with X number of hashtags," and they accept it without testing to see what really works for them. People also worry about Facebook reach, but don't test and compare results across networks to see if Facebook is even the social media site that works best for them.
For example, when Facebook reach was first declining, I tested across all of my social platforms to see which one was giving me the best visibility and found that Facebook still got the best interaction for me. Instagram also performed very well.
To test your own social media tactics, start with a question or hypothesis on what works for you, and then figure out how to run a test to measure it.
Use something simple like an Excel spreadsheet to record your observations.
Andrea Vahl is a social media coach, speaker and strategist and is co-author of Facebook Marketing All-in-One for Dummies.
#11: Serve the Right Content
In a world where everyone is competing for your customer's attention, does your message stand out in the endless sea of content?
For your content to be effective, it has to align with your objectives; reach your audience where they are; and speak to them in the language, tone and style that appeals to them.
Take an honest look at the content from each of your channels for the past 30 days. How are your content marketing efforts faring?
Use the questions below to help make sure your content is worthwhile.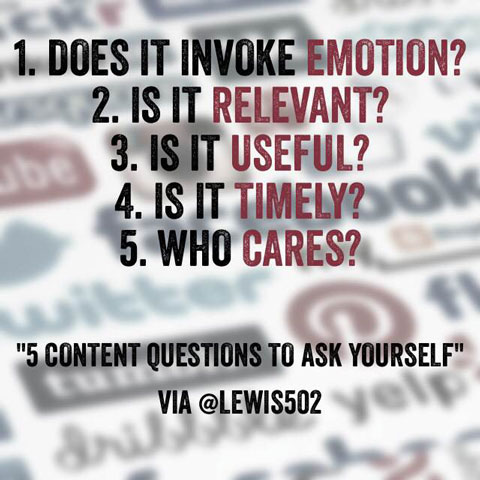 Lewis Bertolucci leads Humana's Enterprise Social Media team as social strategist and digital marketing manager.
#12: Help Your Connections Succeed
The best way to grow your business is to help your most valuable connections grow theirs! I love this tactic because most people are focused solely on promoting their own businesses on social networks.
Here are three ways to help your most valuable connections (MVCs) succeed:
Share a Valuable Resource—If you're doing a good job of observing and listening to what your MVCs share on social networks, you can point them to helpful information they'll appreciate. The more you can personalize and customize what you share with your connections, the better.
Connect Your Connections—If you can help your MVCs grow their networks with the right connections, chances are it will open up doors for them. Be on the lookout for people in your network your MVCs can benefit from being introduced to, and make those introductions!
Promote Your Connections—Social networks provide the perfect opportunity for promoting your connections. Promote your MVCs when they publish new content or have articles written about them. When you share their content, @mention them publicly on LinkedIn and Twitter.
Spend your time helping your most valuable connections succeed, and you'll become more memorable to them as you build influence. This will lead to good things for your business!
Stephanie Sammons is the founder and CEO of Wired Advisor, where she helps financial professionals and firms build digital influence to win clients in a wired world.
#13: Provide a Prize for Sharing Social Content
Incentivized social sharing encourages more people to share your content.
For example, we encouraged registered users of a recent webinar to share details of the webinar to their audience on social networks. In return, they were entered into a competition to win our blogging course.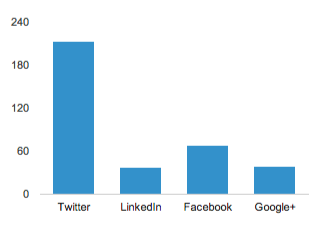 A total of 360 people shared content to LinkedIn, Twitter, Facebook and Google+. This helped dramatically increase awareness of the webinar and registrations.
How can you leverage access to exclusive content for your own webinars?
Ian Cleary is the founder of RazorSocial, one of the world's leading sites for social media tools and technology.
#14: Mix Original and Curated Visual Content
If you can incorporate original visual content and curated viral or popular content into your social media marketing, you'll getter better reach and more organic shares.
When you create original visuals, use template backgrounds so your tips, how-to's, quotes and other text-based images have a similar look and feel. If you don't have a designer on staff, you can find one on Fiverr or create your own background image on Canva.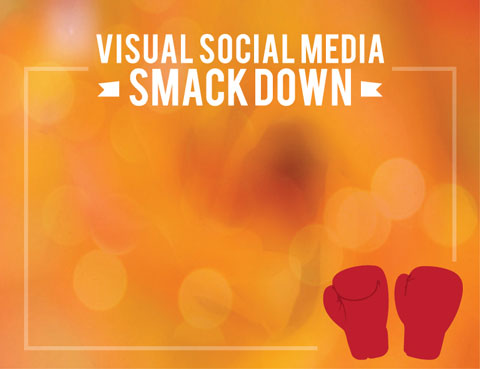 To publish, schedule or post your original images at the same time every day. This puts you on the radar of other businesses looking for someone who publishes great visual content on a regular basis. Those businesses will then return to your page or profile to consistently share your images.
Now you're ready to add some complementary curated visuals into your marketing.
Use Post Planner's Viral Photos Tool to find the most highly shared or viral images from specific Facebook pages, then share them to your page.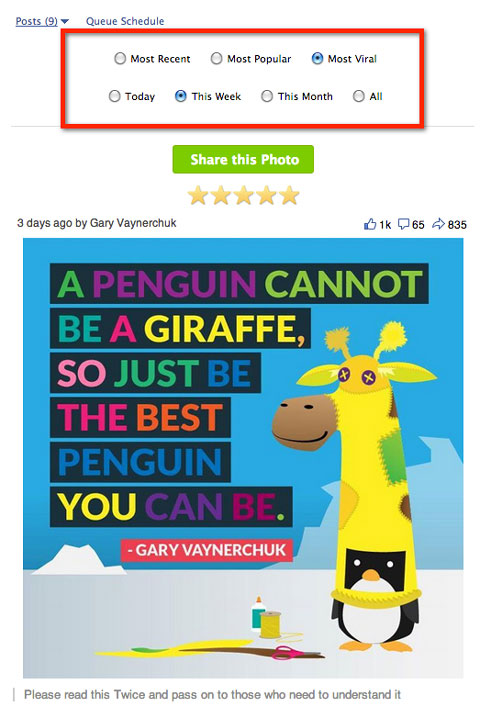 To find content on other platforms, create your own list of users who post awesome visual content, and then regularly share from those profiles/pages.
Check back in and review the engagement trends on your content mix, and create more of what's doing well.
Donna Moritz is the founder of Socially Sorted, winner of the Best Business Blog in Australia 2014.
#15: Repurpose Video on Google+ With Time Stamps
Often people don't have time to watch a 60-minute video, but they'd love to see some of the key points.
Instead of simply sharing video on Google+, use this tip from Alex Garcia. After your video loads to YouTube, take the time to add interactive time stamps that take people straight to sections of a video.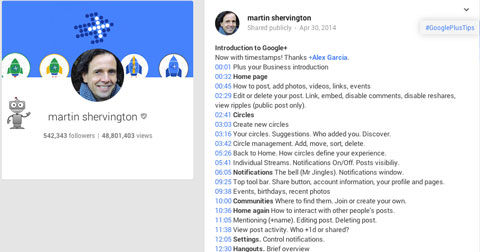 To do this, simply click on Edit Post.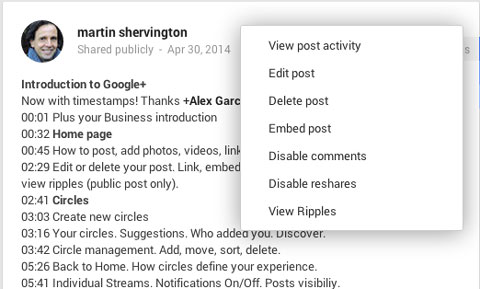 Go in and add the numbers for each section you want to mark and Google makes each one a hyperlink for you.
If you want to mark section headings, you can add an asterisk on either side of a time stamp to make it bold once you save it.
Schedule updates to promote each section and you instantly have a number of ways to post one video multiple times. This is a great way to bring new life to your content and the content of others.
Martin Shervington is the author of The Art and Science of Google+ and a marketing consultant.
#16: Provide Unique Content on Each Social Network
While the content and theme of all of your social media accounts should be consistent, they should not be identical.
For example, if you publish every one of your tweets to Google+, there's no reason for people on Google+ to follow you on Twitter. On the other hand, if you share only select Instagram content to Facebook or Twitter, Facebook or Twitter users who like them will be encouraged to follow you on Instagram.
Provide unique and engaging content on each network to encourage your fans to follow you on more than one site.
Jenn Herman is a social media strategist, Instagram advocate and one of the winners of Social Media Examiner's Top 10 Social Media Blogs of 2014.
#17: Ask Questions to Get to Know Your Ideal Audience
Instead of looking at social media as a "what," look at it as a "who." Who can you connect with, who can you serve and who can you offer value to?
Unfortunately, too many business professionals hop online without identifying their "who." The result? A message that gets lost in the noise.
Want to get to know your target market? Answer these questions!
Who do you want to reach on social media (potential clients, former clients, industry influencers, etc.)?
Can you express who your target market is? Get specific and include traits, characteristics, behavior and motivation.
How are members of your target market spending their time online (e.g., are they looking for tips, coupons, interaction with favorite brands)?
What problems do you solve for your target market (save time and money, grow business, build brand awareness, etc.)?
One of my favorite Facebook pages, Experience Charlottesville, has answered those questions.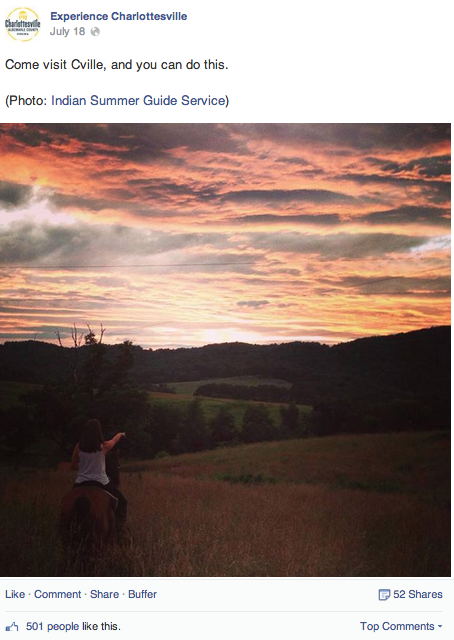 Knowing your target market and providing specific solutions creates meaningful relationships and opens the door to opportunity. How can you speak the language of your consumer and use social media as a digital portal to your target market?
Rebekah Radice is a social media strategist, speaker and trainer and is author of How to Use Social Media to Virtually Crush the Competition.
#18: Stop Being Afraid to Use LinkedIn
LinkedIn is a fantastic networking tool; however, I am constantly surprised by how many people use LinkedIn as if it was a precious porcelain figurine to keep on a shelf and never touch. And this includes some "social media pros."
If you're in the business-to-business space, LinkedIn should be your friend. Here are four tips to restart your LinkedIn efforts.
Emulate the Pros 
Do a search for the keywords your targets may be searching for. Who comes up first? What does their profile look like? Don't be afraid to copy their format and volume of keywords. I'm not suggesting you copy their profile, but you will find that they repeat the same keywords multiple times, and their profile is close to complete, according to LinkedIn standards. Follow the formula.
Contact People Who Viewed Your Profile
A few times a week, I go into Who's Viewed Your Profile and scan the users listed there. I look at their profiles, try to guess why they looked at my profile. If it seems to be a business reason, I push nervousness aside and reach out. Typically I compose a simple InMail to say, "Hi, LinkedIn showed me you viewed my profile. Sorry if this is too forward, but I thought I'd say hi. Is there anything I could help with? Let's connect!" I get answers 100% of the time with this approach.
Pick Up the Phone
Are you looking to meet a certain person?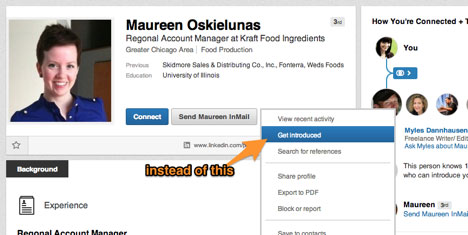 Instead of using the Get Introduced feature, which honestly has had very slim results for me, find a trusted connection and give him or her a call, explain why you'd appreciate help with an introduction and ask for that introduction.
This approach actually gives you a reason to reconnect with someone you know and connect with someone new. Also, when I take this approach, my trusted connection usually says, "You should also talk to so and so…" Before you know it, you walk away with a renewed relationship and a handful of new, well-made connections.
Rearrange Your Skills
You can now move your skills into any order you'd like, not just by number of endorsements. Take advantage of this to highlight your top skills. Go to Edit Your Profile, then click Edit on the Skills & Endorsements section. Now just drag each category to reposition it.
You may find that you get more endorsements for the first 5-10 skills listed, so it's also a way to increase endorsements for what matters most to you.
There is so much to LinkedIn and they are constantly releasing new features. So dive in, be smart and be fearless. You won't regret it.
Mana Ionescu is a digital marketing strategist and president and founder of Chicago digital marketing company Lightspan Digital.
Who are these experts?
The social media marketing experts who contributed to this article are all speaking at the Social Media Success Summit.
Social Media Success Summit 2014 is a live online conference that will empower you to use social media to gain more exposure, increase traffic, cultivate loyal fans and grow your business.
Imagine soaking in knowledge from your office chair.
More than 45 of the world's leading social media pros will show you how. The event is spread over four weeks in October.
Join more than 3,000 fellow marketers at the online mega-conference designed to empower and inspire you with social media marketing tactics—brought to you by Social Media Examiner.
Why should you attend Social Media Success Summit?
You'll be led by 45+ of the world's top social media marketing pros—live from your computer wherever you are in the world! 
You'll discover powerful business-building tactics as the experts reveal their newest social media marketing tips and practical, real-world, proven examples.
You'll be able to take your Facebook, LinkedIn, Google+, Twitter, Pinterest, Instagram, YouTube, blogging, podcasting and video marketing to an entirely new level.
Click here for dates, times and the agenda.
What do you think? Do you use any of these tactics? What's working well for you today? Please share your thoughts in the box below.
Experience The World's Largest Social Media Conference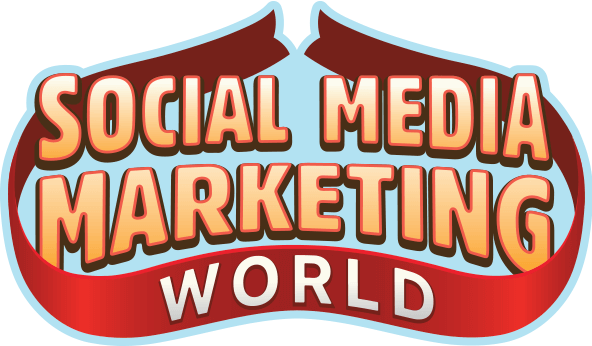 Quality marketing training, actionable takeaways, and beneficial connections—that's just a fraction of what you can expect at Social Media Marketing World! Join thousands of smart marketers in sunny San Diego this spring and level up your marketing.
🔥 Sale ends Tuesday! 🔥
GET TICKETS NOW