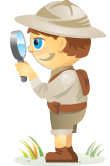 There are some interesting studies surfacing lately in the world of social media.  Here's a summary of three recent research findings covering the benefits of social media marketing, how forums help brands and how businesses are employing social media marketing.
#1: 50% of Small Businesses Say Lead Generation is Biggest Benefit of Social Networking
According to the "Small Business Marketing Forecast 2010" from Ad-ology, lead generation is the biggest benefit of social networking for U.S. small businesses.

Got a blog? Are you on Facebook or Twitter? How about your readers—are they using social networks?
Want to make it easy for readers to share your great content with their tribes? If so, keep reading as I share six social media add-ons you can effortlessly integrate into your blog today. Your immediate result: much better engagement with your readers. And by the way, I've used them all—many on this very site.
An aside… The key to encouraging social activity is making it easy for people to act. The less friction there is between desire and action the more likely people will share your content or reach out to you. Fortunately these six excellent tools make encouraging activity easy—and dare I say, fun!