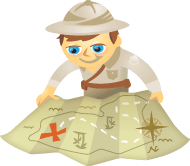 Great blog posts don't magically engage readers. But by applying a few good tactics, your blog can attract and retain your ideal readers.
Here are seven powerful blog posting habits:
Tip #1: Clear Targeting
The first rule for creating effective content for your business blog is to completely understand why you're blogging. Have a thorough understanding of your ideal reader's (your customer's) profile and of your core message as it relates to your business. If you have a really clear idea about who you're writing for, it's going to be easier to write. Your blog posts will be on target and on purpose. You won't be meandering off into subjects that are irrelevant to your audience.

Got a blog? Are you on Facebook or Twitter? How about your readers—are they using social networks?
Want to make it easy for readers to share your great content with their tribes? If so, keep reading as I share six social media add-ons you can effortlessly integrate into your blog today. Your immediate result: much better engagement with your readers. And by the way, I've used them all—many on this very site.
An aside… The key to encouraging social activity is making it easy for people to act. The less friction there is between desire and action the more likely people will share your content or reach out to you. Fortunately these six excellent tools make encouraging activity easy—and dare I say, fun!