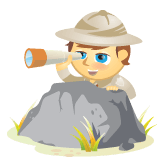 UPDATE: Congrats to Shea Craig, winner of 2 free tickets, and Amie Baumwell, winner of 1 free ticket, to Content Success Summit. Here is Shea's winning entry.
Want to win a free ticket to the largest online content marketing event of the year?
Social Media Examiner has worked hard to bring you our very first Content Success Summit.
And we've come up with a fun way to get you involved.
First, what is this event?
Content Success Summit 2013 is a large online conference dedicated to help marketers and business owners master content marketing.
More than 400 businesses have already signed up; these are small businesses just like yours that want to learn how to develop a content marketing strategy and the latest trends.
Twenty-two of the world's most respected content marketing experts will share their strategies with you.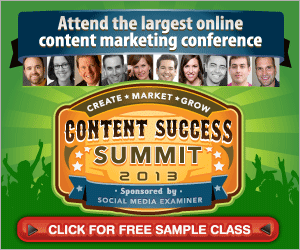 Your instructors are the world's top content marketing experts.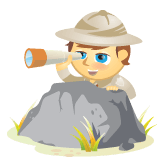 Do you want to attract a steady stream of new customers?
Are you looking to create better content, but you need fresh ideas?
A lot of marketers are still unclear about what content marketing means.
This article will explore the benefits of content marketing and preview an exciting new opportunity from Social Media Examiner to help take your content marketing to the next level.
Smart Content, Big Rewards: An Example
Today, businesses of all sizes are using content marketing to slay the competition, attract large followings of loyal customers and explode their business' growth.
But when tiny Magnolia Hi-Fi started using content, the Internet wasn't even around. Did that stop them? Heck no!
Back then, they had just transitioned from a neighborhood greeting card and photography store to an audio specialty store. Competition was fierce and they didn't even have a marketing plan. So they hired a salesman (who knew a lot about educating prospects with great information) to develop a solid profitable marketing plan.
The plan was to give prospective buyers something to focus on other than price – content.
They created a series of stereo buyer's guides, which offered educational content that answered prospects' questions about buying audio equipment. These were distributed as newspaper inserts (remember there was no Internet at the time!).