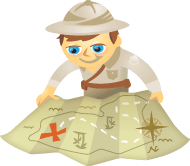 Do you have a business blog?
Are you happy with the marketing role your blog plays?
Many businesses consider blogs "a cost of doing business," or code for "We're not sure what it does but we're afraid to stop doing it."
In this article I will explore why and how to make your blog the hub of your content marketing plan?
Why make your blog your content marketing hub?
To put a slightly different spin on what Chris Brogan says, blogs are your home base; they are at the center of your content marketing system.
Whether you're a small business or a Fortune 100 company, blogs should be at the heart of your content marketing because blogs fuel social media, search optimization and the sales process.
The top five reasons to use a blog as your content hub are:
125 Comments