Simply said: They loved it!
Watch the below video or keep reading to hear what others who attended our last Social Media Marketing World had to say.
Click play to hear what people said about our last event.
Here are some words from attendees (your results may vary):
"If someone asked me if they could only go to one conference a year, where would it be? I would say it has to be Social Media Marketing World. Best self-investment you will ever make." – Matthew David Smith
"The knowledge I gained will make the event pay for itself! I will BEG my boss to send me back next year! Thanks SME!!" – Julie Lowe
"I appreciate that the sessions dove into more advanced content, rather than basic or 101 material." – Madeline Kronfeld
"I loved the conference. I came home so pumped to implement everything I had learned. I will definitely be flying back from Tasmania next year." – Karyn Hogan
"I thought everything was amazing! I learned a ton and met some really awesome people. I think it was the perfect mix of education and networking." – Christy Bernard
"Outstanding job — this is one of the most well-executed, high class conferences I have attended." – Lisa McManus
"I had a very enjoyable experience at this conference. I have to say it was the people attending that were the highlight for me. Everyone was open to sharing ideas, tools, experience, etc. and I had some of my best conversations at the bar :)" – Megan Palkert
"I learned more about social media in those 2 days than I have in the past 2 years! It inspired me to do more, and I can't wait to get started!" – Kim Pekin
"The quality of the content and speakers were a huge draw. They gave practical tips that I can implement in my everyday work — not high level theory." – Ashley Levesque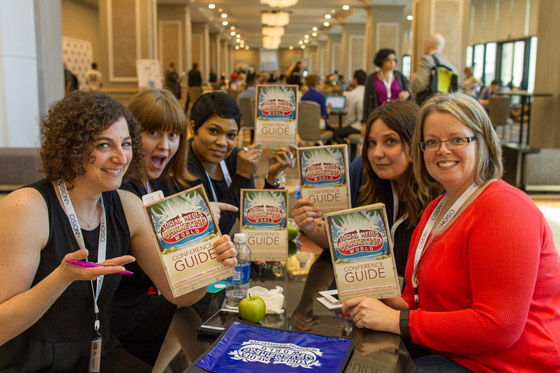 "All the speakers were great. This is by far one of the best conferences I have been to for social media." – Doug LeBlanc
"The attention to detail and quality is amazing and I will continue to recommend SMMW as one of a handful of 'must-attend' events." – Lee Odden, speaker
"The content and speakers were second to none — I was super impressed. And I was surprised at how much I enjoyed having the extra time to network — usually conferences are go-go-go but it was nice to take a break and some nice connections happened." – Donna Moritz
"Although it was a lot of info for two days, I didn't feel drained at the end of the day, just motivated! I also liked that it wasn't a sales pitch for each speaker like some conferences I have attended." – Angela Morris
"My favorite thing was the format. Some conferences can be boring — not SMMW! I didn't know who many of the speakers were before the event, but I was stunned to learn during and after SMMW how well known and knowledgeable many of them were. Congrats on assembling such a star panel!" – Dave Woods
"One of the best conferences I've attended in recent years. Great speakers, networking was excellent and it was extremely well-organized." – Crystal King
"Loved that the speakers weren't hiding between sessions rather networking and engaging with everyone." – Brian Fanzo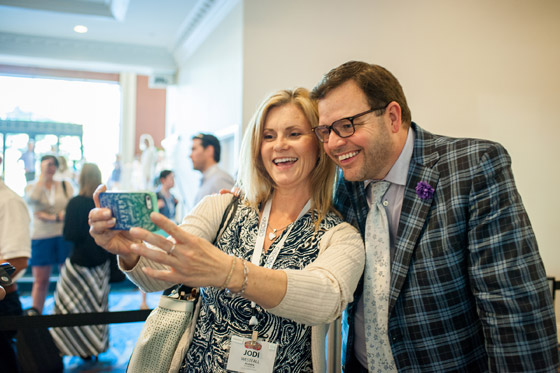 "The sessions provided actual usable knowledge, not a sales pitch or high-level fluff. That's so unusual to find in a conference and extraordinarily valuable." – Holly Chessman
"I met people who will be life-long friends." – Chris White
"You guys are amazing. This was honestly (and I'm not just saying this) the best conference I've attended in my professional life. The whole staff did an amazing job. It was a conference like no other and you all should be very proud of the amazing job you did. I really, really hope to come back next year. Thank you, thank you, thank you. This was JUST what I needed!" – Laura Kaslow
"I really appreciated the focus your team put on networking and making it easier to break the ice." – Grace Taylor Segal
"I would say the fact that almost all of the speakers were very accessible and approachable during the event. They didn't just run off. You could do the official Q&A after the session, you could go up and talk 1-on-1 with them. You ran into them in the halls and at networking events — even the hotel bar. 🙂 " – Julie Lowe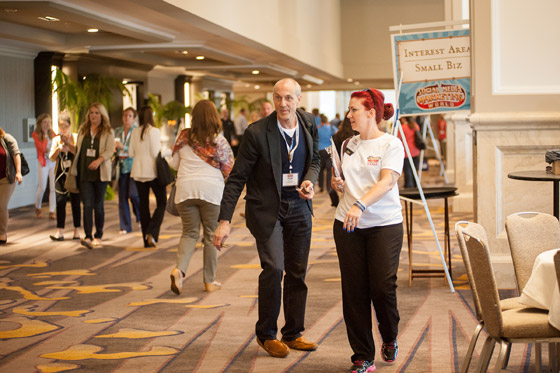 "The staff was SO helpful — excellent and fun. This was an awesome conference for someone in a nontraditional industry (accounting) — really looking forward to next year." – Ashley Levesque
"It is hard to say whether I loved the networking or the speakers more! I loved the opportunity to meet and talk with so many of the speakers during networking events and build lasting relationships. I have pages and pages of notes with strong takeaways to put in place from the excellent speakers." – Alexandra Briggs
"No one was aloof. The speakers were approachable. The staff was extremely friendly and helpful. Format of the conference was very good." – Nelka "Nickie" Stowers
"The quality of the speakers was excellent, and it was exciting to see so many of the people whose advice I read on a daily basis. The keynotes were all really excellent and packed with entertainment and great info. I have to say I was very impressed!" – Michelle Stute
"This was a fantastic conference — one that I'm very happy I took the time and expense away from day to day duties so that I could attend. The speakers had a cohesive message throughout — not sure it was intentional, but it was great to pick up on from multiple people, multiple tracks — all with same view." – Julie Malone
"Hearing from experts in their fields was very valuable. It made me want to read all their books! I found the conference incredibly energizing as a whole." – Rachael McGovern
"It's fun. Love the heavy concentration on networking. Love the vibe. Yours is a wonderfully upbeat and sharing community. There are very few dull moments." – Barry Feldman
"Very valuable to me was the closed LinkedIn group. I was able to find others in my industry before the event, we planned a group dinner before the [event] & were able to discuss all kinds of things about the industry. That is SO powerful. I didn't feel like I had anyone to talk to about this stuff before now. You literally could have changed the course of my career and life. How cool is that?!" – Julie Lowe
 "90% of all the sessions I went to were very relevant to me. I'm excited to go back and visit the ones I missed out on. It's a good thing when you have trouble deciding which tracks to go see since they all seemed sooo good." – Katrena McGrigor
"This was by far one of the best conferences I've ever attended, based on the high level of speakers and sessions. All of the sessions I attended were full of specific, useful content, NOT generic advice or mid-level admins giving their case studies (which I often see)."  – Lindsay Nyquist
.
Home | Agenda | Networking | Speakers | Travel | Hotel/Venue | About | FAQ | REGISTER