Lunch Table Talks
Looking to have an in-depth conversation about one of the many hot topics in social media marketing? You can grab your lunch on either day and join a conversation that interests you in the Networking Plaza or Foyer (see map).
Quick links to other pages: Networking Resources Page | Lunch Meetups | Info Page
Here's How It Works:

WHEN: At lunchtime on Thursday or Friday, grab your lunch in the Networking Plaza (Table Talks run 12:30-1:30PM on Thursday and 12:15-1:15pm on Friday), and then look for the Table Talks set up near the bookstore or in the Networking Foyer. You can also consult with the Table Talk Info Desk in the Networking Foyer. Map below.
WHAT: Choose a topic from the list below that most sparks your interest. There will be facilitators (often a speaker) at each table to keep the conversation moving and interesting. Come ready to learn and discuss.
Map of Table Talks – New map coming soon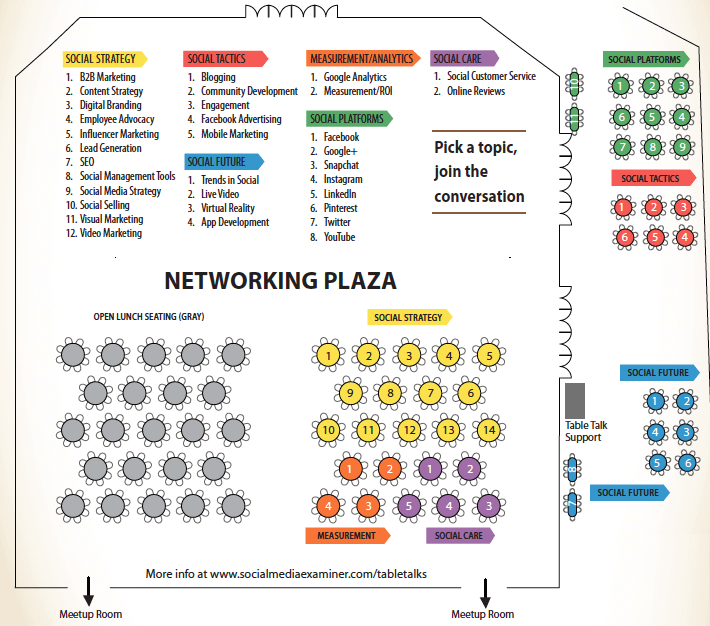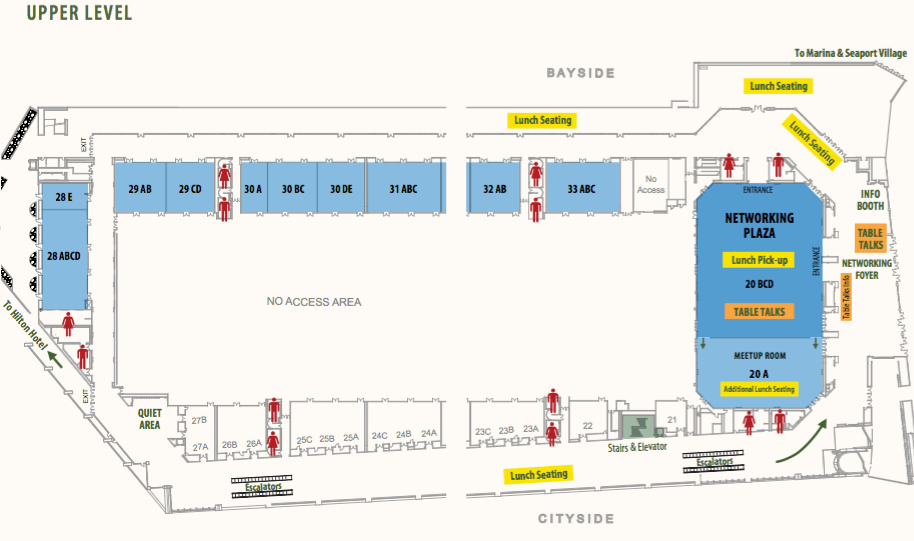 Click for above map in PDF.
Social Strategy – Yellow Tables – Updated lists coming soon
B2B Marketing
Content Strategy
Digital Branding
Employee Advocacy
Influencer Marketing
Lead Generation
SEO
Social Management Tools
Social Media Strategy
Social Selling
Visual Marketing
Video Marketing
Social Tactics – Red Tables
Blogging
Community Development
Engagement
Facebook Advertising
Mobile Marketing
Social Future – Blue Tables
Trends in Social
Live Video
Virtual Reality
App Development
Measurement/Analytics – Orange Tables
Google Analytics
Measurement/ROI
Social Care – Purple Tables
Social Customer Service
Online Reviews
Social Platforms – Green Tables
Facebook
Google+
Snapchat
Instagram
LinkedIn
Pinterest
Twitter
YouTube
HOW: Enjoy lunch, engage in lively discussions and ask questions of experts and peers about burning social media topics.
NOTE: Table Talks run from 12:15 – 1:30pm on Thursday and 12pm to 1:15 on Friday, so there's plenty of time to get there, eat/chat and then be ready for the first track session after lunch.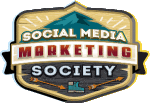 Sponsored By: The Table Talks are brought to you by the Social Media Marketing Society, where we keep you on the leading edge of social media marketing.
QUESTIONS: Email Deb Mitchell at DebMitchell@socialmediaexaminer.com