Networking Resources
This page is your go-to guide for all things networking related at Social Media Marketing World.
Quick links to other pages: Table Talks | Lunch Meetups | Restaurant Coupons (download) | Offsite Meet Up Reservations | Restaurants | Tips for International Attendees | Info Page
Social links:
Twitter Leader board | Facebook Event Wall | Instagram photos | Twitter photos | Tweets | Facebook Hashtag search | Facebook Photo Album | LinkedIn Private Group | Social Statistics | Hashtag: #SMMW16 or if you need help quickly: #SMMW16help
Quick links on this page:
Networking Ambassadors | Pre-Event Resources |Networking Tips | During the Event
Pre-Event Resources (top)
Networking Survey
To help you make better connections during the event and to help us make the event better, please take this quick survey.
LinkedIn Private Group: This is a great place to find attendees, ask questions and share information on the kind of people you are looking to meet. Go here to join the group and start networking. If you have problems accessing, send an email to our support team and they can help. We encourage you to download the LinkedIn Groups app from the app store as this makes it really easy to stay up to date.
Facebook Event Page: We provide daily updates about the event and the event page is a great place to network. Beware that this is open to the public so you may meet some people will not be attending the event. Join the page here.
Download the Event Mobile App:
Download our event app for easy access from your computer or tablet. You can view the agenda, speakers and network with other attendees. It's also easy to join. From your computer or tablet, visit: https://events.bizzabo.com/smmw16/app. From your mobile iOS or Android: 1) Download Bizzabo; 2) Search for: SMMW16; 3) Click 'Join. NOTE: adding a session to your calendar does not reserve your seat. All sessions are first-come, first served except for the Sunday Workshops.
Here's a helpful tutorial on the mobile app:
Slack Group: Looking for a great way to connect with attendees before the event? We've created an online chat space using an application called Slack where you can connect with other marketers in the same industry, job function or share the same interest.
You just have to do four things to get going in Slack:
Use this link to sign up for our SMMW16-Group Slack page.
Look for an email from Slack that will have a link for you to create a profile in Slack (please add your first name and last name so it's easy for people to find you).
Create your profile in Slack.
Once you're all signed up in Slack join the channel(s) of your choice. (You can find an updated list of all the channels and pending channels we have in Slack HERE )
If you are new to Slack, I created a three-part video series that you may find helpful:
Part Two: Getting Started with Slack
Part Three: Slack DM Notification Settings
Twitter Discussions
>>Click here to tweet that you are attending.
Twitter Chats: Signin to TChat.io using your Twitter account. Use the #SMMW16 hashtag to have chats with fellow Twitter folks attending the summit (kinda like a chat room).
Twitter Speaker List: Follow this Twitter list of our presenters.
Tweet Your Favorite Presenters: Click on the names of your favorite presenters to tweet them that you're looking forward to hearing them speak at Social Media Marketing World.
Adam Rucker, Aggie Nixon-Kirshner, Alexandra Rynne, Alisa Meredith, Amber Armstrong, Amy Barton, Amy Locurto, Amy Porterfield, Amy Schmittauer, Andrea Vahl, Ann Handley, Artie Beavis, Azure Collier, Bernie Borges, Brian Carter, Brian Fanzo, Bryan Hurren, Brian Solis, Bryan Kramer, Callan Green, Calli Cholodenko, Carlos Gil, Carmyn Howe, Cassie Roma, Chris Brogan, Chris Ducker, Christopher Penn, Christian Karasiewicz, Cliff Ravenscraft, Dan Gingiss, Dan Miller, Dan Moriarty, Darren Rowse, Daniel Lemin, Daniel J. Lewis, David H. Lawrence XVII, Dennis Yu, Derral Eves, Donna Moritz, Dorie Clark, Dustin W. Stout, Fiona Birch, Gary Vaynerchuk, Guy Kawasaki, Heidi Cohen, Holly Homer, Ian Anderson Gray, Ian Cleary, Ian Lurie, Jacob Sapochnick, James Moat, Jason Miller, Jay Baer, Jeff Korhan, Jeff Lesser, Jeff Sieh, Jenn Beening, Jenn Herman, Jeremy Vest, Jessica Howell, Jessica Mack, Jessika Phillips, Joe Pulizzi, Joel Comm, Joel Price, John Jantsch, John Lee Dumas, Jon Loomer, Jonathan Leake, Juntae DeLane, Justin Levy, Kari Embree, Karianne Stinson, Kathy Klotz-Guest, Kim Garst, Kriti Kapoor, Konnie Brown, Laura Rubinstein, Lauren Gaggioli, Lauren Harper, Laurie Meecham, Lee Odden, Levi Bethune, Lewis Howes, Lisa Larson-Kelley, Lou Mongello, Louis Gray, Madalyn Sklar, Marcus Sheridan, Mari Smith, Maria Saltz, Mark Lack, Mark Mason, Mark Schaefer, Mark Traphagen, Martin Jones, Martin Shervington, Marty Baker, Matt Roze, Matt See, Melonie Dodaro, Michael Delgado, Michael Hyatt, Michael Port, Mike Bruny, Mike Stelzner, Mikey Kilun, Mitch Joel, Monique Johnson, Natalie Jill, Nathan Chan, Neal Schaffer, Park Howell, Pat Flynn, Paul Colligan, Pauline Stockhausen, Peg Fitzpatrick, Phil Mershon, Ray Edwards, Rebekah Radice, Rich Brooks, Rick Mulready, Robert Rose, Ron Ploof, Rory Vaden, Ryan Hanley, Saba Sedighi, Sandy Carter, Shaan Puri, Shane McLaughlin, Shaun Ayala, Shaun McBride, Stephanie Sammons, Steve Dotto, Sue B. Zimmerman, Susan Beebe, Syed Balkhi, Tim Schmoyer, Tim Washer, Tori Tait,  Tyler Anderson, Umang Shah, Ursula Ringham, Vincent Ng, Vincenzo Landino, Viveka von Rosen, Wes Schaeffer, Zach King, Whitney Drake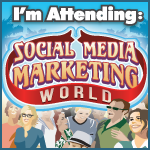 Pre-event Networking Sessions:
We are hosting 2 pre-event networkings sessions on Blab.im. Phil Mershon, event director, and Mike Ambassador Bruny, Networking Ambassador will answer your conference and networking questions live. The dates and times are below:
Networking Tips (top)
View all of our networking tips videos on this YouTube channel:
Tips for International Attendees
We've created a page just for you. Go here for tips on networking with other international attendees, plus a bunch of travel tips.
Articles to Help You Prepare
During the Event (top)
Here are some of the many ways you can make the most of the networking opportunities at the conference.
Name Badge Interest Stickers:
Add as many of these stickers to your name badge as reflect you and the types of people you'd like to connect with during the conference.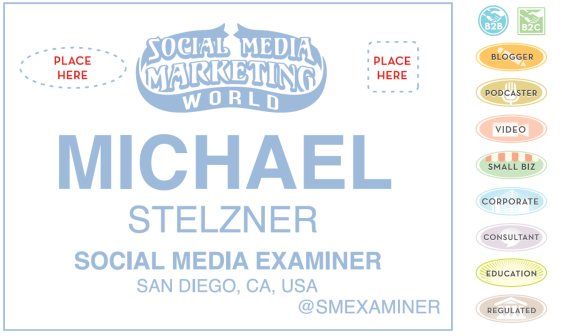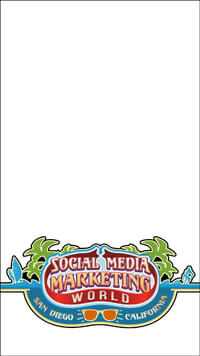 Snapchat GeoFilter:
Are you on Snapchat? Then watch for our Geofilters throughout the event.
Conference Networking for Introverts (Workshop):
Looking to get the most out of the conference without losing all of your energy?  Looking to manage the sea of people so you can find the few you really want to connect with? This workshop will show you how.  Sign up HERE to hold your seat (password: SMMW2016).

Non-Event Meal Times (and more)
If you're arriving early or staying late, you might like to find a few attendees to share a meal. We've come up with a way to help you to share a meal at one of the different meal times outside of what's provided by the conference. Just go to this sign-up sheet and add your name to a group on any or all of the different tabs. If you have a friend, make sure you go together. If you'd like to play host, slot yourself in and Lindsey Miller Petersen will tell you what to do. Have questions? Send an email to: Lindsey
Power Networking Walks and Runs:  On the full days of the conference we will have 6 a.m. walks / runs. This is a great way to get in a little exercise and connect with someone else in a low-stress environment. We'll leave from the main Marriott lobby at 6 a.m. (Staying at another hotel?  Be on the lookout for a hotel ambassador who will lead you over to the Marriott from your hotel at 5:45 a.m.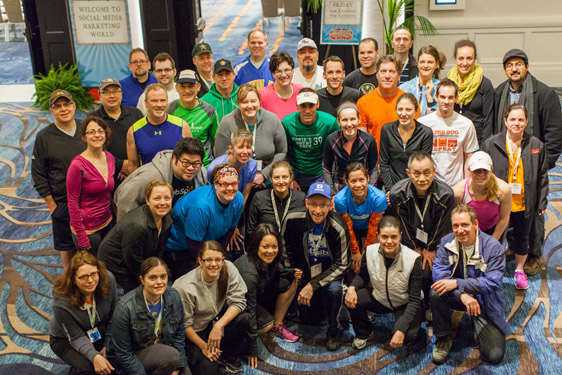 Table Talks: (go here for details: http://www.socialmediaexaminer.com/smmworld/tabletalks)
Want to discuss specific social media topics with your peers?  We'll be offering Table Talks in the Networking Plaza and Foyer on both days at lunch.  Grab your lunch in the Networking Plaza and find a table of interest and connect with speakers and peers.  Here is a partial list:
Measurement

– Google analytics, ROI, measurement tools

Social Tactics

– Engagement, community development, advertising

Social Platforms

–

Facebook, SnapChat, Twitter, Periscope, Blab, etc..

Social Strategy

–

Social Selling, tools, management, live video

Social Future

-Trends, mobile, app development, virtual reality

Social Care –

Social customer service, corporate social
Don't see your topic? Go to the Table Talk help desk in the Networking Foyer for help.
Meetup Room (for a full list see: socialmediaexaminer.com/meetups)
Looking to network with peers who share a similar passion, industry, job function or interest? You can grab your lunch on either day and go to designated areas to meet others who share a common interest. The room is also available during all other networking breaks. Here is a list of some of the groups: 
Industry

– corporate, B2B, non-profit, regulated, education, etc…

Small Biz

– owners, marketers, solopreneurs

Agency – owners, consultants
Content Creators

–

Podcaster, Blogger, Video marketer

Job Function

–

Manager, Director, VP, Specialist
Located in Ballroom 20A.
Networking Embassy
If you're looking to connect with a specific kind of person, we can help. We have a dedicated staff that's sole focus is to help you make meaningful connections. If the person is attending we will find them and make a connection. Find us in the Networking Plaza on Monday or Tuesday.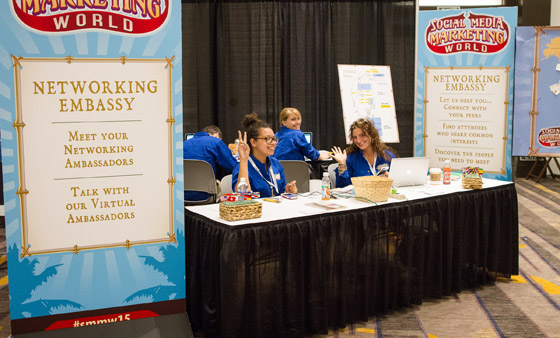 Networking Parties (more details on this page: http://www.socialmediaexaminer.com/smmworld/networking/)
While many folks assume that parties are for networking, we take things to the next level by making it easier for your to find new friends, colleagues and (in one case) your future employer or spouse. Be sure to play Networking Bingo to win cool prizes on the USS Midway. Sing with the Social Karaoke band on the Inspiration Hornblower. If you need help making connections at the parties, look for one of our party ambassadors wearing a blue button-down shirt like this.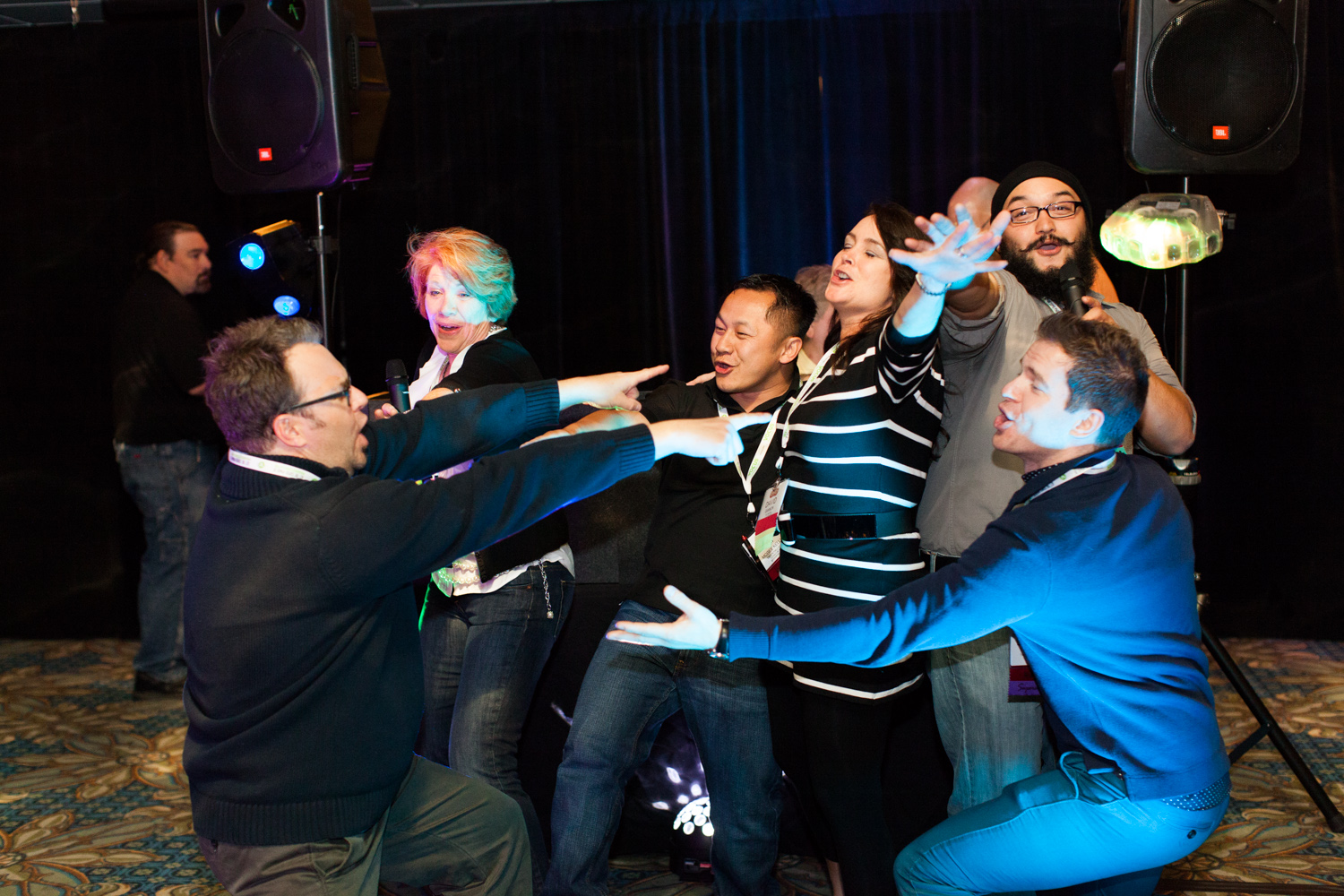 Meet Your Networking Ambassadors (top)
Your networking ambassadors are here to serve you during the conference and Mike Bruny will help you before, during and after the event. You can reach Mike here. Click on their names to see their bios.





Mike "Ambassador" Bruny 
Jillian Vorce 
Natalie Cutler-Welsh