Attendee Info
In 2017, we had over 130 speakers and over 3,000 attendees from over 50 different countries descending on San Diego to create a historic event for social media marketers.
This is where we will include up-to-date details you'll need to know as an attendee at Social Media Marketing World, including networking opportunities, venue details and more.
Bookmark this page
AND THE WINNERS ARE!
Thanks to all who participated in the VRguest contest. These winners will be contacted to chose their free stay in one of VRguest's vacation rental!
They will be traveling to places like Anna Maria Island, Florida, Telluride, Colorado, Savannah, Georgia and Playa del Carmen Mexico.
The next contest begins April 1st with free stays to be won in Costa Rica, Aruba, Vail Colorado and Hawaii. Every month the contest starts again and you can win.
If you have not signed up go to travelstars.vrguest.com to get started.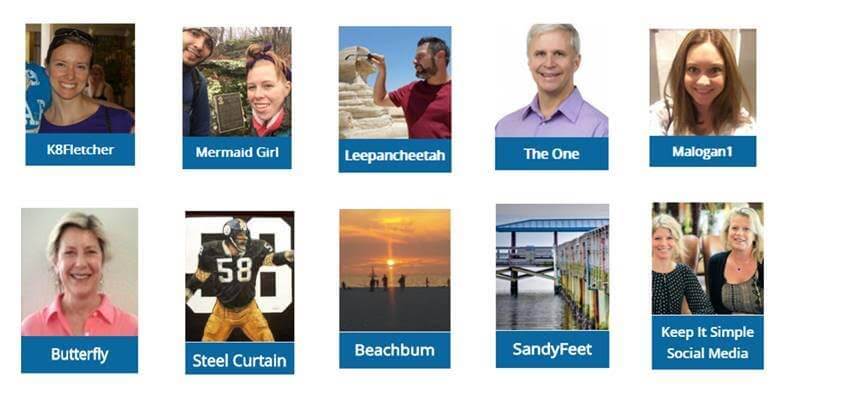 OPENING NIGHT NETWORKING BINGO WINNERS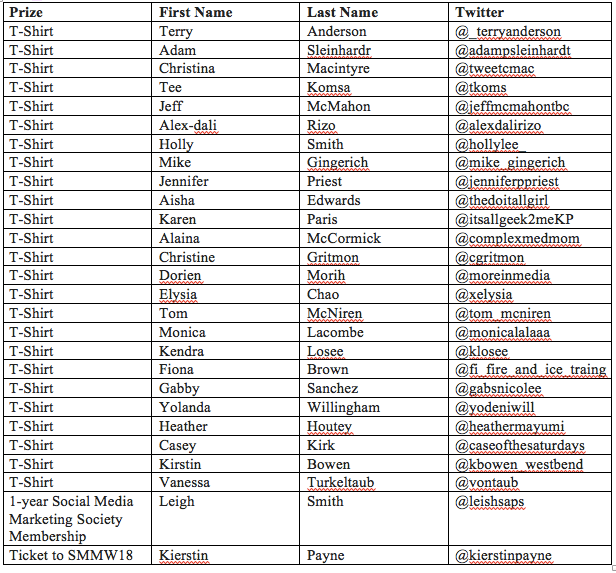 Quick links to other pages: Networking Resources | Tips for International Attendees | Table Talks
Travel and agenda: Travel Details | Hotel/Venue | FAQ | Excursions | Agenda | Speakers | Sponsors | Detailed Agenda
Social links: Facebook Event Page | Instagram photos | Instagram Wall | Twitter photos | Tweets | Facebook Hashtag search | LinkedIn Private Group | Hashtag: #SMMW17
TWITTER TRENDS: We are trending on Twitter – Check out our stats herehttps://www.tweetbinder.com/rsmini/2ip5vyA19gY
Download the Mobile App: When you download Bizzabo, you'll get instant access to the agenda, hotel maps, and session descriptions, right from your phone or computer. You can also use it to connect with other attendees, find people in your industry, tag people you want to meet, and even send private messages through the app.
From your mobile iOS or Android: 1) Download Bizzabo 2) Search for: SMMW17 3) Click 'Join. 'You can also just click this link.
From a desktop you can view the event by going here.
View the Detailed Agenda: The full schedule (individual session times) can be viewed here. If you prefer to see it in a matrix, click here.
Do You Have Dietary Restrictions?: If you have any special restrictions we want to know. Vegetarian? Vegan? Kosher? Gluten or lactose free? Please add any food restrictions to your personal profile now and we'll have information about your meals ready for you at registration.
Get Your Event T-shirt: You can order your Social Media Marketing World T-Shirt now and we will have it waiting for you on-site at Social Media Marketing World 2017.  Available in Men and Women cuts.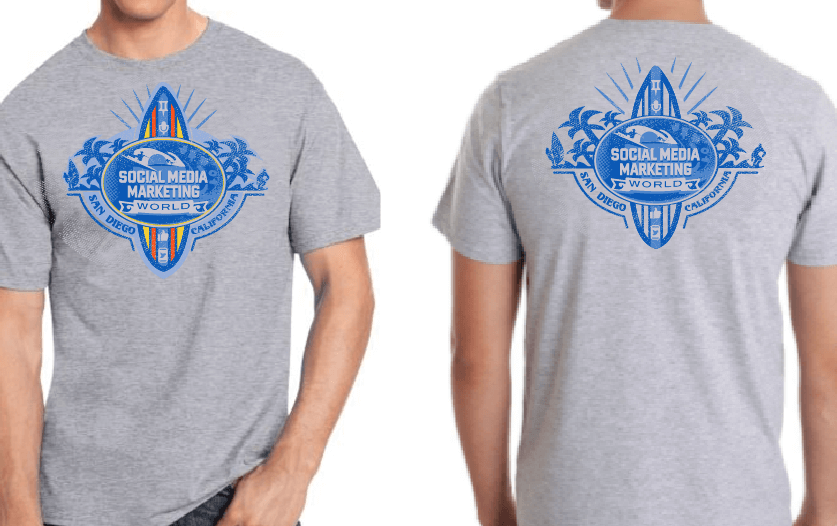 Networking
Lunch Table Talks: On Thursday and Friday during lunch you can take advantage of our structured opportunities with our Lunch Table Talks.
Join the WORLD17 Chorus: Do you like to sing? Enjoy being on stage? We are looking for 40 to 50 singers to join our third annual Social Media Marketing World Chorus. If you're interested, please fill out this form. Send any questions to joanne@socialmediaexaminer.com.
Share your excitement: Click here to tweet that you are attending. Be sure to use the event hashtag #SMMW17
Evening Parties
Opening-Night Networking Party: USS Midway Aircraft Carrier
Kick off Social Media Marketing World 2017 in style with an exclusive event aboard a Naval aircraft carrier—the USS Midway—the world's largest ship until 1955!
On March 22nd, you'll network with the top social media pros surrounded by warplanes.
Enjoy a once-in-a-lifetime networking opportunity as you experience giant hangar bays, view San Diego from the 4-acre flight deck, fly flight simulators and explore this massive ship.
Enjoy food, warplanes and conversation at our opening-night networking party.
This party will be Wednesday, March 22 from 7 to 11:00 pm. Access is included with your Social Media Marketing World registration. Name badge required for entry.
Shuttles will leave from the San Diego Convention Center from 6:45 to 8:30pm and then from the event hotels from 8:30 to 11:30pm.
The USS Midway is located at: 910 N Harbor Dr, San Diego, CA 92101
Second Night Networking Party: Underwater Wonderland at Parq Event Center
Discover a trove of social media treasure in the secret underwater world of Atlantis. You'll be able to grab a mic and sing along with our live band social karaoke or go downstairs to enjoy a laid-back tiki lounge filled with smooth jazz, bubbly craft brews, and conversation.
This party will be Thursday, March 23 from 8 to 11:30 pm. Access is included with your Social Media Marketing World registration. Name badge required for entry.
Shuttles will run from the San Diego Convention Center and the event hotels to Parq Event Center between 7:45pm and 11:45pm.
Parq Event Center is located at: 615 Broadway, San Diego, CA 92101
Conference Content
You'll choose from 120+ expert-led sessions and workshops in multiple social media marketing and content tracks (you get access to all). We will post the agenda so you can start planning your schedule a few weeks before the event.
Recordings Pass: All registered attendees to Social Media Marketing World will receive a recordings pass for no additional charge. Recordings become available after the conference ends and all will be posted within two weeks.
Event Hotels
We have room blocks at the Manchester Grand Hyatt, the Omni San Diego Hotel, and the Marriott Marquis San Diego Marina. Go to this page to get updates on room availability and find purchase links.
Event Venue
San Diego Convention Center, located at 111 W. Harbor Drive, San Diego, CA 92101, For a map of the area go here (coming soon).
Travel and Transportation
International Attendee Resources Page: Here are tips for our hundreds of international attendees.
Transportation: Options include Lyft, Uber, shuttles and more. Click here for details.
When You Arrive
Name badge: Your name badge (received at check in) provides you access to all workshops, sessions and networking events. Your badge must be with you at all times to access all sessions and parties.
Check-in: Enter the first floor of the San Diego Convention Center (outside of Hall D) on Wednesday, March 22 starting at 9:00am. Registration will remain open until 8:00pm and will reopen on Thursday, March 23 at 7:00am.
Don't like waiting in lines? Make sure your user profile is up-to-date so you can speed through the line at registration. Simply click here and login.
Meal Planning
Dinner is provided Wednesday on board the U.S.S. Midway. A light breakfast and full lunch are provided on Thursday. A full breakfast and lunch are provided on Friday.
Thursday Night Dinner Meetups: For dinner on Thursday you're on you're own to eat with your peers at one of many fine restaurants surrounding the convention center. Go to this sign-up sheet and add your name to a group on any or all of the different tabs. Here is a list of San Diego restaurant coupons.
If you'd like help in making dinner plans on Thursday evening, visit the concierge at your hotel or the San Diego Convention Center. You can also utilize Open Table (change the parameters based on your party's size). You're looking for restaurants hear this address: 111 W. Harbor Drive, San Diego, CA 92101.
Opening Keynote and Sessions
Social Media Marketing World sessions will begin Wednesday March 22 at the San Diego Convention Center.
Important times:
9am to 8pm: Check-in (workshop attendees only from 10am to noon)
12pm to 5:30pm: Workshops
7pm: Evening networking event
Other Questions?
All other questions (registration, travel, etc.): Email world@socialmediaexaminer.com or call +1 858.413.7488 and our team will help you out.