In this comprehensive online course, Michael Stelzner (founder of Social Media Examiner) will show you:
How to implement a blogging strategy that helps you attract quality prospects, elevate your industry prominence and improve your sales

Creative ways to craft content that your readers will love to share and you'll enjoy creating

Unique tactics to launch (or relaunch) your blog with the support of industry experts

How to leverage social media to maximize the reach and influence of your content

How to track, monitor and enhance your blog for a unique competitive advantage
Plus, you'll learn in a live environment with the support of your peers.

If you want to make blogging work for your business, this hands-on course is just what you've been looking for. Click here to register at a 50% discount.

"I've been marketing on the web for over 10 years and the events put on by Social Media Examiner provide not only excellent education and superior networking opportunities, they are also very well organized. Worth the money." George Williams



Dear Fellow Marketer;

Have you ever looked at successful blogs and thought, "I wish I had that?"

If so, you and I are a lot alike.

When I started Social Media Examiner, there were thousands of other social media blogs. But I didn't let that stop me.

I grew Social Media Examiner into one of the largest business blogs in the world—and it rapidly grew our business into a multimillion-dollar company.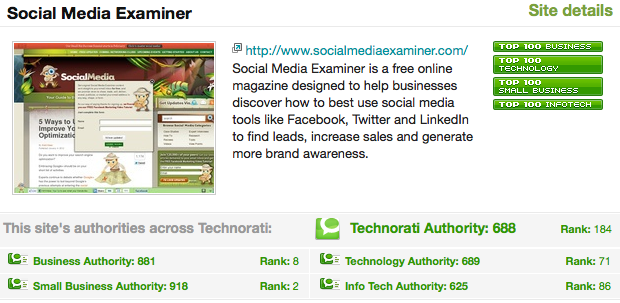 Social Media Examiner is one of the world's largest business blogs.

All of our growth came from the blog. We never advertised. Instead, we built a steady base of more than 600,000 monthly readers on the back of excellent content (and smart strategy).

Business blogging allows you to become "the source" that people turn to, reference and frequent. And when that happens, you can rapidly grow your business.

That's what Blogging Fundamentals for Business is all about. I'll reveal to you the very principles and techniques I used to build Social Media Examiner. And I'll show you how they can work for you.

Over the course of two weeks, this workshop provides you with the strategy, plans and tools you need to build a successful business blog (or revive a struggling one).

The course will show you precisely what you need to know and do to achieve blogging success.

Keep reading to learn how this online workshop works.

Here's to a bright future together!


Michael A. Stelzner
Founder, Social Media Examiner
and fellow marketer
P.S.
In case you're wondering, blogging involves creating and publishing engaging content that connects directly with customers and prospects via your own website. The result: you'll increase your business exposure, build strong brand advocates, generate quality leads and achieve sales growth.
P.P.S.
You don't need to do this alone. If you like the thought of joining a welcoming community of like-minded peers (
our last event had 2400 attendees
) who'll share their experiences and wisdom as you journey together down this road, keep reading...
P.P.P.S. Act now and save 50%! Click to register.


WHO
:
This event is ideal for any marketer or business owner focused on business-to-business OR business-to-consumer.
Thousands of small businesses
and many big brands attended our last event, including folks from Kraft Foods, Salesforce.com, NASA, Fox Broadcasting, Wells Fargo, Home Depot, American Express, Dell, Staples, Mary Kay, Caterpillar, Kodak, McGraw-Hill, American Heart Association, Autodesk, Kaiser Permanente, About.com, Ogilvy, Marriott, HP, Vanguard, Motorola, Verizon Wireless, Raytheon, IBM, IDC, Random House, GE Capital, Rubio's, Constant Contact, Kawasaki Motors, General Motors, Expedia, VMware, Bruegger's, Intuit, Cox Communications, Procter & Gamble, SAP, Time Warner Cable, Johnson Controls, Showtime, Vodafone, CBS Sports and UPS.
WHAT
:
This fully online workshop will help you master the fundamentals of successful business blogging and is taught by the founder of one of the world's largest business blogs—Michael Stelzner of Social Media Examiner, author of the book Launch. He will cover
blogging strategy
,
creating great content
,
blogging metrics
and technology,
launching
(or relaunching) a blog and
blog promotion tactics
. A
certificate of achievement will be presented
to attendees who successfully complete a post-event exam.
WHERE: At your home or office! You attend this live event using your computer (no long-distance bill or travel expenses!).

WHEN: Starting July 10, 2012 (spread over two weeks to improve learning and accommodate your schedule; scroll down for the full schedule). Plus you'll get recordings and transcripts of all live sessions.

WHY: You'll be able to quickly implement effective blogging techniques, attract great customers and prospects and gain a unique competitive advantage. You'll also discover how to best create and source valuable content, free tech add-ons to enhance your blog's user experience and how to employ social media marketing techniques to drive more traffic to your blog. This event will help your business maximize the full potential of business blogging.

HOW: Registration is limited. Scroll down for the event costs. Click here to secure your spot at our limited-time 50% discount.
Workshop Overview

This online workshop takes place over two weeks and you can attend from the comfort of your home or office.

We use WebEx to broadcast the live sessions and have a toll-free phone number you can call to ask your questions live during the sessions.

All live sessions are recorded and transcribed for playback at your leisure. Each session is 60 to 90 minutes long.

Here's the agenda:


This is a step-by-step course and all sessions are taught by Michael Stelzner.



---
SESSION 1: Setting a Course for Blogging Success

TOPIC: Blogging Strategy

Social Media Examiner founder Michael will reveal a comprehensive strategy to achieve long-term blogging success. He'll show you how to develop a blogging plan that works for your business. He'll also introduce systems that help you discover and store ideas that will keep your blog fresh and relevant. You'll walk away with a detailed understanding of whom you want to reach and a plan to reach them.
DATE AND TIME: July 10, 2012 at noon Pacific (3pm Eastern).
---
SESSION 2: Building Your Blog for Growth

TOPIC: Blogging Metrics and Technology

When you start a new blog (or revive an old one), you need to ensure it supports the needs of your growing business. In this session, Michael will discuss topics such as hosting your blog on your company website, blog design, increasing blog performance and determining the right metrics to track. He'll also reveal important enhancements to optimize your blog for social media, search and smartphone readers. You'll become equipped to accommodate the massive traffic a successful blog can bring.
DATE AND TIME: July 12, 2012 at noon Pacific (3pm Eastern).
---
SESSION 3: Crafting Sharable Content That Creates Raving Fans

TOPIC: Content Creation

Have you ever wondered why some blogs seem to hit regular home runs with their content while others frequently strike out? In this session, Michael will show you precisely how to create the types of content that people love to share. He'll explore the elements of great content and reveal six types of content you can draw from to create a loyal base of regular readers. He'll explore fun ways to simplify the content-creation process. He'll also reveal how to attract outside writers who will create outstanding content at no cost. You'll walk away inspired with new ideas that will help your blog attract the attention of future customers and industry experts.
DATE AND TIME: July 17, 2012 at noon Pacific (3pm Eastern).
---
SESSION 4: Launching (or Relaunching) Your Blog for Success

TOPIC: Launching Your Blog

With the right marketing plan, your blog launch can quickly propel your growth. In this session, Michael will reveal marketing and promotion ideas that will help your blog launch with a big splash. This session will help you develop a powerful launch strategy that quickly grabs the attention of key players in your industry. He'll share how to get some of those experts involved to help ensure your success. You'll walk away with a proven plan to get your blog the kind of traffic you need to quickly grow.
DATE AND TIME: July 19, 2012 at noon Pacific (3pm Eastern).
---
SESSION 5: Driving Recurring Traffic to Your Blog

TOPIC: Blog Promotion

With the right mix of marketing techniques, you can quickly increase your blog's traffic and growth. When this happens, you'll become less reliant on others and be able to grow your business. In this session, Michael will show you how to leverage social media to maximize your traffic. He'll also reveal special promotional tactics that enable you to grow your own list of loyal email subscribers. This session will help secure your industry prominence and enable significant sales growth for your business.
DATE AND TIME: July 20, 2012 at noon Pacific (3pm Eastern).
---
REMEMBER: If you can't make a live session, no worries... Recordings will be posted same day.
These are original educational experiences that have been created specifically for this workshop
—each containing insights, strategies and up-to-date tips that you can use to transform your business.
About the Instructor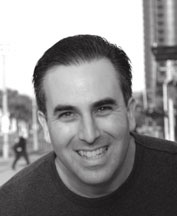 Michael Stelzner is the founder of Social Media Examiner—one of the world's largest business blogs that answers social media questions with useful how-to articles, in-depth case studies, expert interviews and original research. He's the author of two popular books,
Launch: How to Quickly Propel Your Business Beyond the Competition
and
Writing White Papers: How to Capture Readers and Keep Them Engaged
, as well as the popular
Social Media Marketing Industry Report
.
As an innovative thought leader and experienced marketer, Stelzner has gained the full respect of social media leaders and business marketing experts alike. In less than 18 months, SocialMediaExaminer.com grew from infancy to boasting over 94,000 daily email subscribers and now has more than 600,000 monthly readers and 150,000 email subscribers. The principles that Stelzner teaches are the very concepts that helped him build two highly successful businesses that made him a leading expert in both industries.
How to Register/Event Cost

Traditional workshops—featuring world-class experts—often cost thousands of dollars to attend. And that doesn't include the added costs of travel, meals, hotel accommodations, rental cars and lost work time. Ouch! Not at Blogging Fundamentals for Business!

With Blogging Fundamentals for Business, you have no costs for travel, meals, hotels, cars or lost time! Why? Because it's an online event.

The registration fee for Blogging Fundamentals for Business is just $297. But, if you act now, you can save 50% off!

EARLY BIRD SALE: SAVE 50%:

One Ticket, One Payment: Get one ticket to Blogging Fundamentals for Business for only $147. Click here to reserve your seat.


One Ticket, Two Payments: Would it be easier to spread out the payments? Get one ticket for two monthly payments of only $77 each (one now, one 30 days later). Click here to reserve your seat.

We accept Visa, MasterCard, American Express, Discover, JCB, Diners Club and PayPal. (Note: PayPal is only accepted for the single payment option.)

The event begins July 10 and runs through July 20 (scroll up to see sessions and dates).

Sample It Guarantee: You can try the first two sessions of the event and still cancel for a full refund if you determine this event is not for you. Scroll down for more about this guarantee.

If you learn just one strategy that will attract better clients or customers and increase your blogging success, the investment in your professional development will have paid for itself many times over.

Still have questions?? Chat live with us now:



Common Questions Answered

I can't attend all the live sessions. Will I get a recording?

Yes. For each session, we'll provide a recording you can watch online or download to your desktop, so you won't miss a thing. If you have other commitments (like a day job) or if a session occurs at an inconvenient time, no need to worry. Even if you attend a live session, you'll still get the recording. You'll get access to recordings for 12 months from the day you purchase your ticket.

When are the session dates?

Here are the dates and times of each session. If you can't make a live session, you won't miss a thing! You automatically receive session recordings and transcripts. (Note: When you register, you'll get a downloadable schedule for Outlook, iCal or Google.)
July 10, 2012 at noon Pacific (3pm Eastern).

July 12, 2012 at noon Pacific (3pm Eastern).

July 17, 2012 at noon Pacific (3pm Eastern).

July 19, 2012 at noon Pacific (3pm Eastern).

July 20, 2012 at noon Pacific (3pm Eastern).
Are you outside the United States? Click here for a time converter. Note: Select location: U.S.A. - California - San Diego.

Where is the event located?

At your home or office. Because this is an online event, there is no physical venue and no travel expenses. And you'll get the recordings, so if you miss a live session, no worries.

Will there be transcripts?

Yes. We'll provide FREE transcripts of each presentation in Adobe PDF. This will allow you to study and scan the content of each presentation.

How long are the sessions?

Each of the sessions lasts from 60 to 90 minutes.

How can I ask questions during the workshop?

Two ways. First, during the live presentations, you'll be able to dial a toll-free number (U.S. and Canada) and speak directly with the presenter during the live Q&A portion of each session. Second, we'll leverage Social Media Examiner's Networking Clubs as a place where you can post questions and get answers from your peers and the instructor (and this can happen the moment you sign up!).

What if I still have questions?

Two options here... First, you can use our live support chat window above. You can also send an email to workshops@socialmediaexaminer.com and we'll get back to you right away.


The "First Two Days Sample It" Guarantee

This event offers excellent blogging advice. Experience the first two sessions and see if it feels right for you. Just give it a try.

And if you believe it's not right for you and you don't want to sit in on any more sessions or use the materials, just drop us a line at orders@socialmediaexaminer.com within 72 hours of the workshop start (no later than July 12), and we'll gladly refund your money and cancel your access. No hassles. No hard feelings.

Our goal is to serve you to the best of our abilities and help you gain measurable results. In fact, just a few weeks from now, you'll be amazed when you look back at where you started and where you're headed.